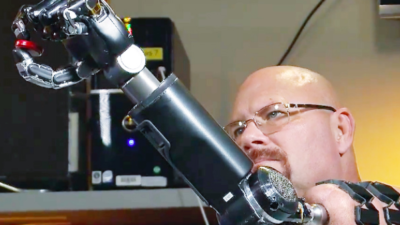 Global Robotic Prosthetics Market Trends, Applications, Analysis, Growth, and Forecast: 2018 to 2027
find_in_page Our Research Methodology is based on the following main points:

Data Collections and Interpretation
Analysis
Data Validation
Final Projections and Conclusion



Request for Sample

Why Choose Us

360 Degree Approach
Growth Consulting
24/7 Research Support
Comprehensive-Level of Customization
Comprehensive-Level of Customization
Competitive Intelligence
Single-Country/ Region Intelligence
Post-Sale Service Assistance
Access to Lead Analysts
Available in PDF, Excel, Word/ PPT

MarketResearch.biz delivers in-depth insights on the global robotic prosthetics market in its upcoming report titled, "Global Robotic Prosthetics Market Trends, Applications, Analysis, Growth, and Forecast: 2018 to 2027". The global robotic prosthetics market is estimated to register a CAGR of X.X% in terms of value during forecast period 2018–2027. The report offers in-depth insights, revenue details, and other vital information regarding the target market, and the various trends, drivers, restraints, opportunities, and threats till 2027. The report offers insightful and detailed information regarding the various key players operating in the market, their financials, supply chain trends, technological innovations, key developments, apart from future strategies, acquisitions & mergers, and market footprint. The global robotic prosthetics market t report has been segmented on the basis of product, extremity and region.

Robotics research merging with the latest medical technology has given rise to a new concept of robotic prosthetic also refer to microprocessor controlled prosthetics or MPC prosthetics. Robots are used extensively for assisting humans in physically and repetitive demanding work or for those things that require precision and accuracy in every industry. In medicine, a prosthetic is an artificial device that replaces a missing body part, which may be lost through trauma, disease, or congenital conditions. Prosthetics are intended to restore the normal functions of the missing body part. Prosthetics is described as mechanical limbs which are managed by nerve impulses and microprocessors. A major goal of robotic prosthetics is not only to make it easier for the user to return to previous activities, but do so with as little pain and unnatural exertion as possible. The prosthetic incorporates more than 100 sensors. A process called targeted muscle reinnervation can connect nerves carrying messages from the brain, like "close hand," to a muscle over which has a set of electrodes placed. Those electrodes in turn send the signal to the motorized hand to close. Sensory feedback is being developed in a similar manner.

Medical technology with help of robotic research and IT creates a new generation of prosthetic feet, legs, hands, and arms to give users a more natural feel and capability. Developments began with comparatively simple microchip-controlled actions, then processors that translate muscle movements into prosthetic responses and clinical trials on controlling prosthetic movements through computer-interpreted brain waves. The Revolutionizing Prosthetics program seeks to address these challenges by restoring near-natural hand and arm control to people living with the loss of an upper limb. The resulting technologies could improve warfighter rehabilitation, restore function and independence to individuals living with amputation or paralysis, and offer wounded warriors the prospect of eventual return to duty.

Global rise in number of amputation cases owing to various risk factors such as accidents, severe injuries, cancerous tumors in the bone or muscles of limbs, limb infection are key driving factor for the growth of robotic prosthetics market worldwide. Some other causes such as obesity, diabetes, vascular disease, stroke, and arthritis also contribute to the increasing number of amputation cases, growth of medical device industry have accelerated the market, supported by innovative product development by key players in the market, and integration of IT into healthcare leading to increase in new developments in this field. The cost for all the surgical procedure needed for operating robotic prostheses are very high, thus results in hindering the growth of robotic prosthetics market specially in developing regions.

The emergence of more powerful and more compact robotic technologies, biomechatronic-based prosthetics, 'skin' sensor give more sensitivity for precision tasks, agonist-antagonist myoneural interface that allow for fine-grained control of a human prosthetic, using a 3D printer and increasing introduction of new advanced products, such as SYMBIONIC LEG 3, RHEO KNEE, PROPRIO FOOT, and POWER KNEE, building exoskeletons have made significant gains over the past few years. Now, the prosthetics field is growing into building exoskeletons. Such exoskeletons are artificially intelligent, wearable, a bionic device helps in enabling users of the wheelchair to walk again. Robotic prostheses are becoming more and smarter as the time is passing. Also, such kind of robotic prosthetics has moved to actual physical replacement from simply aesthetic replacement with all biological limb functions.

Global Robotic Prosthetics Market Segmentation:

Global robotic prosthetics market segmentation by product:

MPC Prosthetic Arms
MPC Prosthetic Feet/Ankles
MPC Prosthetic Legs/Knees
MPC Prosthetic Hands

Global robotic prosthetics market segmentation by extremities:

Lower body prosthetics
Upper body prosthetics

Global robotic prosthetics market segmentation by region:

North America
Europe
Asia Pacific
Latin America
Middle East & Africa

Particular
Scope
Region

North America
Europe

Germany
UK
France
Italy
Spain
Russia
Rest of Europe

Asia Pacific

China
India
Japan
Australia
South Korea
Rest of Asia Pacific

Latin America

Brazil
Mexico
Rest of Latin America

Middle East and Africa

GCC
South Africa
Rest of Middle East and Africa

Historical Period
2015-2020
Base Year
2021
Forecast Period
2022–2031
Revenue in
US$ Mn

Touch Bionics Limited
HDT Global Inc.
SynTouch Inc.
Shadow Robot Company Ltd.
Stryker Corporation
Smith & Nephew, Inc.
Aethon Inc.
ReWalk Robotics Ltd.
Medrobotics Corporation.
KUKA Roboter GmbH
Intuitive Surgical, Inc
Mazor Robotics Ltd.
OUR
CLIENTS
Don't just take our word. We are trusted by these great companies!