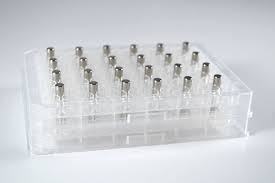 Global Immunoprecipitation Market Analysis, Drivers, Restraints, Opportunities, Threats, Trends, Applications, and Growth Forecast to 2029
find_in_page Our Research Methodology is based on the following main points:

Data Collections and Interpretation
Analysis
Data Validation
Final Projections and Conclusion



"Global Immunoprecipitation Market" is an upcoming report that will be generated by MarketResearch.biz. The study and analysis will be conducted using expert opinions and inputs, as well as comprehensive primary and secondary research efforts to determine various aspects of the global immunoprecipitation market. The global immunoprecipitation market segmentation allows for deeper thought and understanding, to decisively assess, analyze, and study. Besides revenues for segments, global, regional, and country-wise market revenue segmentation will be compiled in a fastidious manner for clear flow and understanding. The global immunoprecipitation market report will be segmented on the basis of product outlook, type, end-use, and region.

Overview:

Immunoprecipitation is the process of precipitating a protein antigen out of a solution using an antibody that specifically binds with that specific protein. It is a process that can be used to and concentrate a particular protein from a sample containing thousands of other proteins.

Dynamics:

The global immunoprecipitation market is expected to witness a higher CAGR over the forecast period. The increase in the number of research activities in the life science sector and technological advancements in immunoprecipitation techniques are fostering the growth of this market.

 Innovations in genetic and cellular therapies have given rise to new techniques for biological therapies that could potentially be fruitious. Another factor that widening the scope for new discoveries are the increased number of research activities carried out in the immunotherapy microbiome and genomics.

There has been a steady growth in R&D for genomics aimed at disease study, the construction of personalized treatment, and drug development. In order to enhance the healthcare systems of their respective regions, many authorities are undertaking initiatives to advance genome research.

Chromatin immunoprecipitation is an experimental technique that is used to investigate the interaction between proteins and DNA in the cell. Advancements in this technique have led to a bead-free chromotrap immunoprecipitation technique. Epigenetic advancements through chromotrap immunoprecipitation sequencing are slated to generate higher growth opportunities for the global immunoprecipitation market.

With respect to the product, the market is segmented into reagents and kits. The reagent segmented dominated this market in 2018 owing to the implementation of differing beads, antibodies, and buffers. Since the introduction of magnetic beads, there has been a surging demand and this will positively steer the global immunoprecipitation market. The kits segment is also expected to index significant growth over the forecast period.

In terms of end-use insights, academic and research institutes were the largest revenue-generating segment. The increase in collaborations between academia & organizations, the increase in government funding for R&D activities and extensive research focused on molecular biology and genomics is fostering the positive growth of this market.

With regard to type insights, the individual protein immunoprecipitation segment held the largest revenue share of the global immunoprecipitation market in 2018. The Tagged Protein IP and the Chromatin IP are anticipated to exhibit exponential growth due to technological advancements.

Regional Analysis:

The market in North America held the largest revenue share in 2018 owing to an increase in R&D investments by biological and pharmaceutical companies in the region. The Asia Pacific market is slated to index significant growth over the forecasted period due to increasing disposable incomes and infrastructural developments in countries such as India and China.

Global Market Segmentation:

Global market segmentation, by product type:

Kits
Reagents
Antibodies
Beads
Others

Global market segmentation, by type:

Individual protein
Protein complex
Chromatin
Ribonucleoprotein
Tagged proteins

Global market segmentation, by end-use:

Academic & Research Institutes
Pharmaceutical & Biotechnology Companies
Contract Research Organizations

Global market segmentation, by region:

North America
Europe
Asia Pacific
Latin America
Middle East & Africa

Particular
Scope
Region

North America
Europe

Germany
UK
France
Italy
Spain
Russia
Rest of Europe

Asia Pacific

China
India
Japan
Australia
South Korea
Rest of Asia Pacific

Latin America

Brazil
Mexico
Rest of Latin America

Middle East and Africa

GCC
South Africa
Rest of Middle East and Africa

Actual Year
2020
Estimated Year
2021
Forecast Period
2021–2030
Revenue in
US$

Thermo Fisher Scientific
Abcam PLC
GenScript Biotech Corporation
Merck KGaA
Bio-Rad Laboratories
Takara Bio Inc.
BioLegend
Rockland Immunochemicals Inc.
Abbkine Scientific Co. Ltd.
Cell Signaling Technology Inc.
Geno Technology Inc.
OUR
CLIENTS
Don't just take our word. We are trusted by these great companies!