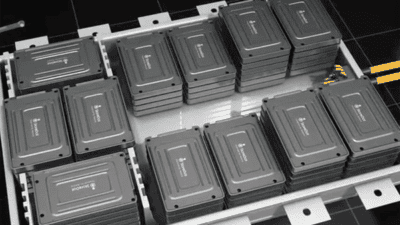 Global Electric Vehicle Battery Market Report 2019: Insights, Trends, Driving Factors, Focus Points, Potential Markets, Developments, Company Share Analysis, and Forecast 2020 – 2029
find_in_page Our Research Methodology is based on the following main points:

Data Collections and Interpretation
Analysis
Data Validation
Final Projections and Conclusion



"Global Electric Vehicle Battery Market Size and Revenue Shares, Growth Rate, and Global Market Forecast till 2029" is a forthcoming report tracked and created by the market analysts at MarketReseach.biz. The report offers insights related to the global market related to present scenario, and future prospects. It provides primary and secondary drivers, restraints, trends and opportunities for the global electric vehicle battery market. The report also includes revenues and growth rates for regional markets and key countries. Similarly, segment revenue and CAGRs are provided in the report. Company profiles section includes details for prominent players, their strategies, key developments, launches, revenue, business operating segments, geographical presence, competitive landscape, and SWOT analysis. The additional data includes PEST analysis, Porter's Five Forces analysis, value chain analysis among other additional data. The global market is segmented into battery type, vehicle type, propulsion, and region/ country.

Dynamics: Global Electric Vehicle Battery Market

Carbon dioxide emissions from automobiles can be curbed by approximately 50% as compared to vehicles powered by fuel cells, as electric vehicle batteries are powered entirely by electricity, which is cheaper and cleaner energy source than other fossil fuels. This is a major factor expected to support demand for batteries and fuel growth of the market. For instance, a Union of Concerned Scientists (UCS) study in 2012, concluded that emissions from electric vehicles are less than those of regular or conventional fuel-based vehicles, regardless of the mix of fuels used to generate the electricity for battery charging. In addition, according to a 2012 study conducted by the United States Council for Automotive Research (USCAR), electric vehicles (EVs) emitted 62 g/km of CO2, while internal combustion engine vehicles emitted 187 g/km of CO2.

Various initiatives by governments, along with various players in the market to promote adoption of electric vehicles is expected to continue well into the future. Also, governments of some countries offer subsidies to support production of electric and hybrid cars. These are additional major factors projected to have a positive impact on the growth of the target market in the years to come. For instance, the Indian government provides direct subsidy to buyers of electric cars and scooters along with benefits such as nil VAT and 50% reduction in road tax for buying non-polluting vehicles currently (2017). Furthermore, in 2011, the National Plug-in Vehicle Initiative was promoted by The Electric Drive Transportation Association (EDTA) comprising battery and component manufacturers, automakers, utilities, associations, and government entities dedicated to realizing the potential of the electric vehicle industry.

Furthermore, government investments to support manufacture of batteries and their components also play a major role in growth of the global electric vehicle battery market. For instance, the US government provided grants of US$ 1.5 Bn to several US-based manufacturers to produce batteries and the related components, and to expand battery recycling capability. In addition, major players along with universities in Michigan received grants of over US$ 1 Bn. A123Systems and Johnson Controls received grants of total of around US$ 550 Mn to establish a manufacturing base in Michigan, and other companies such as Dow Kokam and Compact Power, received grants of over US$ 300 Mn for producing battery cells and related materials.

However, fluctuating raw material costs could have an impact on the overall production cost of the batteries, which is a major factor that could hamper revenue growth of the market.

Segment Analysis: Global Electric Vehicle Battery Market

By Battery Type:

The Lithium-Ion battery segment is expected to dominate in the global market and is projected to continue with its dominance over the next 10 years, due to factors such as power to carry out multiple charge and discharge cycles, high energy output and power per unit of battery mass, as well as lightweight and smaller in size than the other batteries. Furthermore, reduction in price of lithium-based batteries in 2005 has resulted in increased adoption and installation by auto manufacturers in PHEVs and BEVs. For instance, according to the Commission for Environmental Cooperation 2012 report, around 50% of batteries used in battery powered vehicles will be lithium-based and the remaining will be NiMH-based by 2030. Moreover, raised funding by various regulatory bodies for production of advanced lithium-ion batteries is another major factor driving growth of the segment. For instance, the European Investment Bank funded US$ 226 to Nissan, which is an auto manufacturer, for the production of 100% electric Nissan LEAF and advanced lithium-ion batteries in Sunderland in 2012.

By Propulsion:

The PHEV segment is expected to record highest revenue contribution in the target market. The major factor expected to drive adoption of PHEVs over the forecast period is capability of PHEVs to function on two or more power sources. Plug-in hybrids combine petrol, diesel, or alternative fuel engines, along with a battery and electric motors. In addition, recent advancements in PHEV technology, such as production of plug-in hybrid batteries with capacity of more than 100 miles/ gallon and extended battery life, is augmenting revenue growth of the PHEVs segment. Furthermore, recently launched PHEVs have the ability to displace a significant volume of fuel in the next 10 to 20 years. It is estimated that PHEVs can help to lower consumption of fuel by about 45%, in comparison to combustion engine vehicle.

By Vehicle Type:

The passenger vehicles segment is expected to record largest revenue share in the global electric vehicle battery market. Rising number of initiatives by the government to promote adoption of electric vehicles and to reduce dependency on fossil fuels and lower VOC emissions is a major factor expected to support growth of the electric vehicle battery market to a significant extent.

Region Analysis: Global Electric Vehicle Battery Market

Europe Market:

Growing demand for EVs from key countries in Europe is among the major factors fueling growth of the Europe electric vehicle battery market. For instance, prominent players such as Mitsubishi sold about 28,175 units of EVs in Europe, accounting for around 23% of total electric vehicles sold in the region in 2015, followed by Renault with over 16,000 electric vehicles sold, and Volkswagen with over 15,000 electric vehicle registrations in 2015. Moreover, according to the same study, the Netherlands accounted for highest sales of electric vehicles in Europe, followed by Norway and the UK respectively. Government initiatives for encouraging consumers to purchase new electric vehicles through offer of subsidies and incentives, which is expected to drive growth of the global electric battery market. From January 2016, the France government started to offer premium incentives under the 'bonus-malus' system to individuals who purchase electric and hybrid-electric automobiles, with bonus ranging from US$ 882.4 to US$ 7412.3 based on emission levels of CO2. Technological advancements in electric vehicle battery and charging stations, coupled with growing government support in countries in the region and the auto industry in Europe are key factors driving growth of the Europe electric vehicle battery market. The world's largest electric vehicle (EV) fast charging station was opened in Norway in September 2016, allowing up to 28 electric vehicles to be charged in 30 minutes or less, which is a major advancement in electric vehicles charging station technology. Governments in France and the Netherlands have set targets to eliminate usage of fossil-fuel vehicles by 2040 and 2025 in the region, and shift towards use of electric vehicles with zero-emission. This in turn is expected to increase sales of electric vehicles and drive growth of the Europe electric vehicle battery market. LG Chem is scheduled to start production of electric vehicle battery packs in Poland from 2019, with an estimated 100,000 EV batteries being produced per year. Similarly, Samsung SDI also plans to expand its EV battery pack business in Hungary, with a new plant being constructed and expected to produce 50,000 battery packs per year after being completed. This significant investment by prominent companies in the region is expected to boost growth of the Europe electric vehicle battery market.

Global Electric Vehicle Battery Market Segmentation:

Segmentation by Battery Type:

Lithium-Ion
Lead-Acid
Nickel-Metal Hydride
Sodium-Ion
Others

Segmentation by Propulsion:

Battery Electric Vehicle (BEV)
Plug-In Hybrid Electric Vehicle (PHEV)

Segmentation by Vehicle Type:

Passenger Vehicles
Commercial Vehicles

Segmentation by Region:

North America
Europe
Asia Pacific
Latin America
Middle East & Africa

Particular
Scope
Region

North America
Europe

Germany
UK
France
Italy
Spain
Russia
Rest of Europe

Asia Pacific

China
India
Japan
Australia
South Korea
Rest of Asia Pacific

Latin America

Brazil
Mexico
Rest of Latin America

Middle East and Africa

GCC
South Africa
Rest of Middle East and Africa

Actual Year
2020
Estimated Year
2021
Forecast Period
2021–2030
Revenue in
US$

ATLASBX Co., Ltd.
Sony Corporation
Hitachi, Ltd.
NEC Corporation
Panasonic Corporation
TCL Corporation
Huanyu New Energy Technology
Duracell, Inc.
NorthStar Battery Company LLC (N Holding AB/ NorthStar Group)
Crown Battery Manufacturing
GS Yuasa Corp
East Penn Manufacturing Co.
C&D Technologies, Inc.
B. Battery Co., Ltd.
Narada Power Source Co., Ltd.
CSB Battery Company Ltd.
EnerSys, Inc.
Coslight Technology International Group Co., Ltd.
Zibo Torch Energy Co., Ltd.
OUR
CLIENTS
Don't just take our word. We are trusted by these great companies!