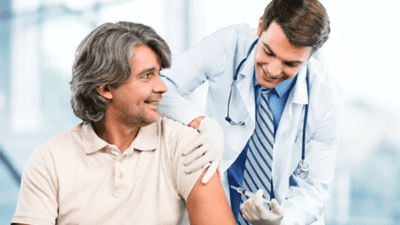 Global Adult Vaccines Market, Analysis, Drivers, Restraints, Opportunities, Threats, Trends, Applications, and Growth Forecast to 2029
find_in_page Our Research Methodology is based on the following main points:

Data Collections and Interpretation
Analysis
Data Validation
Final Projections and Conclusion



"Global Adult Vaccines Market", which is a report produced by MarketResearch.biz, provides deep insights into the market in a confident manner. Presentation of revenue details, both historical and projected, provide an understanding of the potential in the market currently as well as over the next 10 years. Trends, drivers, restraints, opportunities, and threats are also explained. The report offers insightful and detailed profiles of the top players in the market and has been segmented based on type, application and region.

Overview

Vaccines are used to develop immunity to a specific disease and it is a biological preparation. Immunization is a continues process that starts from childhood. Immunity power of an adult can wear off with years pass by and can be at risk of new infectious diseases. Changes are happening in the recommendations of vaccines over the years. Also, some vaccines are newly introduced, which were not available in childhood. Due to all these facts, it is very important to ensure adult immunization of a person is up-to-date, especially regarding pregnant women. Immunizations needed for an adult is based on many factors such as medical conditions, health, lifestyle, age, previous immunizations, and travel. Some immunizations are necessary for adults to protect them from certain diseases such as shingles, seasonal influenza, pneumococcal, diphtheria, tetanus, pertussis, Hepatitis B, chickenpox, measles, rubella, and mumps. Vaccinations have a crucial role to play in maintaining sustainable health of all people in countries; hence, they are included in various disease-prevention strategies in all countries. Type of vaccinations provided to people depends upon age, which protects them from infectious diseases and increases immunity power. Thousands of people become seriously ill or get hospitalized in the US due to diseases that can be prevented with vaccines. These diseases can become deadly for many. Therefore, adult vaccines are highly recommended to prevent deadly and infectious diseases.

Dynamics

Governments of many countries have issued mandatory instruction to use adult vaccines due to increasing prevalence of infectious diseases among adults. These diseases have been becoming deadly for many of the victims. Due to this fact, governments have necessitated the health care sector to administer and encourage adults to protect themselves from these diseases by taking vacations in time. This is expected to be a major factor driving growth of the global adult vaccines market during the forecast period. Governments have taken it as a responsibility to ensure every stratum of the society is granted access to vaccination to enhance their immunity power against diseases that can be deadly. Other factors driving growth of the market are growing demand for better healthcare and increasing awareness level about the benefits of immunization. Apart from governments, non- Governmental organizations are also taking responsibility to educate and encourage adults to take necessary vaccination. The involvement of many NGOs is also expected to be a driving factor in increasing demand for adult vaccines in the global adult vaccines market during the forecast period. In order to ensure vaccination for all individuals across the globe, the WHO and UNICEF have published guidelines on developing a national immunization plan. All these recent developments are expected to be driving factors growing demand for adult vaccines in the global adult vaccines market.

Global Adult Vaccines Market Segment Analysis:

By type: Among the type segments, the inactivated segment is estimated to account for the majority revenue share in the market and is expected to continue over the forecast period. This growth of the segment is attributed to increasing awareness of people about the benefits of vaccination. In addition, growth of the segment is also attributed to its various benefits such as high stability and long shelf life.

By Application: The infectious diseases segment has been gaining traction, owing to increasing immunization concerns regarding many infectious diseases, which are causes of morbidity and mortality globally.

Global Adult Vaccines Market Regional Analysis:

The market in North America is projected to register a significantly high revenue compounded annual growth rate over the forecast period. This is attributed to support by governments for vaccine development and investments deployed by numerous companies for research and development. In addition, established healthcare facilities and infrastructure currently in this region is an attribute to this growth. Owing to growing target population base with high-unmet clinical needs, the Asia Pacific region is expected to witness the fastest growth over the forecast period

Global Adult Vaccines Market Segmentation: 

By Type:

Inactivated
Attenuated
Toxoid
Subunit
Conjugate
Recombinant Vector
DNA vaccines

By Application:

Infectious Diseases
Cancer
Allergy

By region:

North America
Europe
Asia Pacific
Latin America
Middle East & Africa

Particular
Scope
Region

North America
Europe

Germany
UK
France
Italy
Spain
Russia
Rest of Europe

Asia Pacific

China
India
Japan
Australia
South Korea
Rest of Asia Pacific

Latin America

Brazil
Mexico
Rest of Latin America

Middle East and Africa

GCC
South Africa
Rest of Middle East and Africa

Actual Year
2020
Estimated Year
2021
Forecast Period
2021–2030
Revenue in
US$

Merck & Co., Inc.
Emergent BioSolutions, Inc.
Johnson and Johnson
Sanofi Pasteur, Inc.
Pfizer, Inc.
Novartis AG
CSL Ltd.
GlaxoSmithKline Plc.
Abbott Laboratories, Inc.
AstraZeneca Plc
Janssen Pharmaceuticals, Inc.
Takeda Pharmaceuticals Company Ltd.
Valeant Pharmaceuticals International, Inc.
OUR
CLIENTS
Don't just take our word. We are trusted by these great companies!