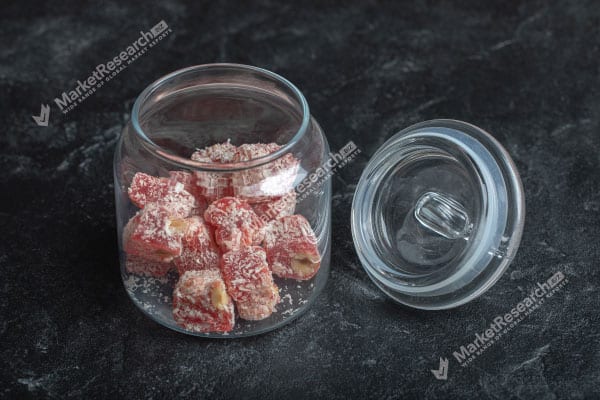 Global Sleep Gummies Market Forecast, Trend Analysis And Competition Tracking - Global Market Insights 2015 to 2031
Demand For Sleep Gummies From 2015 To 2020 Vs. Future Market Projections For 2021-2031

Introduction: Soothing Takes On A Whole New Meaning

Sleep duration influences cognitive ability and memory as it helps retain the metabolism, making it a bodily demand that needs to be met in optimum amounts. Sleep aids such as sleep gummies serve to induce a calm night's sleep to help ensure that their body's needs are being met. Consequently, there is a growing need for sleep gummies in the modern marketplace. It is essential to diagnose and treat sleeping disorders quickly, leading to severe physical and mental health problems. The adverse effects of untreated sleeping disorders can range from the inability to maintain a healthy weight, poor immune system functioning and chronic pain. Sleep gummies work against sleep insomnia and apnea and improve the immune system. A sleep gummy, also known as a sleep supplement or a sleep aid, is a type of supplement that can help to induce sleep. Sleep gummies are a dietary supplement containing melatonin and L-tryptophan, which helps induce a sleepy state.

Sleep gummies are designed to help people mellow their minds and calm their senses. This leads to a feeling of relaxation that is conducive to sleep. Sleep gummies contain melatonin, an indole that is produced by the pineal gland in the brain. Melatonin is a hormone that is synthesized from serotonin and has antioxidant properties. It has been shown to reduce exercise-induced oxidative stress. In some studies, those who took melatonin had a lower level of oxidative stress than those who took a placebo. Melatonin also reduced levels of inflammatory markers such as IL-6 and TNF-α, which are elevated during intense exercise. There is also evidence that this product may be useful for cancer patients undergoing chemotherapy treatment who struggle with insomnia.

Market Dynamics: Gummies That Will Lull You To Sleep!

Sleep gummies are becoming increasingly popular to relieve insomnia, as they are ingested just before bedtime and leave the user feeling exhausted and ready for sleep. The demand for sleep gummies is expected to increase as more people have insomnia due to higher stress levels and better access to such products. According to most sources, at least 35% of Americans wrestle with sleep. There are many factors that can affect how much sleep an individual gets each night. The world is not conducive to the natural circadian rhythm that humans evolved with, and this takes a toll on our natural sleep cycles.

The lack of strict government regulations aimed at restricting the use of sleep gummies boosts the market share for this product. The black market has since gained in popularity in recent years, so this demand has helped strengthen the need for these products despite not being federally regulated. Lack of regulation can be attributed to companies' ability to advertise their products without restriction and may serve as a way to satisfy the needs of consumers who are still seeking out these substances despite the lack of legislation.

Sleep gummies may cause side effects that can be detrimental to the market. One potential side effect is that people may experience drowsiness or lightheadedness if they consume too many gummies, which can lead to sleeping for hours on end and skipping important events. Another possible side effect of sleep gummies is that they may have an addictive trait because they can have a calming effect on the user, including a euphoric feeling from the melatonin found in them.

The price of raw materials can change rapidly, making it more difficult for manufacturers to establish pricing consistency. Moreover, volatility in the prices of raw materials may challenge market growth. For example, the cost of Melatonin has fluctuated by as much as 14% between September 2017 and February 2018, making it harder for retailers to anticipate increasing customer demand caused by price increases. This makes it challenging for manufacturers to predict future costs and may adversely impact their ability to grow their markets successfully.

COVID-19 Impact Analysis: Start Sleeping Well Again

The pandemic-induced stress caused insomnia, and the lack of sleep led to insomnia. This became a self-perpetuating cycle as people were unable to get enough sleep due to the pandemic inducing stress, which made them less able to deal with other stresses in their lives, which caused more insomnia. Sleep gummies provided relief for people by giving them a quick and easy way to get some much-needed sleep.

Regional Analysis:

Exportations of sleep gummies are on the rise in the United States. Due to these high exports, the US is one of the dominant markets for sleep gummies worldwide. Sleep gummies are typically made with melatonin, magnesium, or zolpidem tartrate, all of which are designed to help promote drowsiness and deep sleep. Sleep gummies are also marketed as a healthy alternative to other sleeping aids like alcohol and prescription medications.

The Key Players In The Sleep Gummies Market

The Sleep Gummies market landscape appears highly fragmented across various regions.

Church & Dwight Inc
Natrol
Sundown
Nature Made
CVS Health
Jamieson
Nature's Bounty
Olly
H-E-B
Adrien Gagnon
Other Players

Report Scope

Forecast Period: 2022-2031
Actual Year: 2021
Historical Data Available for: 2015-2020

Key Segments Covered

Sleep Gummies Market, By Product Type

Sleep Gummies Market, By Distribution Channel

| Attribute | Report Details |
| --- | --- |
| Market Size | Ask For Market Size |
| Growth Rate | Ask For Growth Rate |
| Key Companies | Ask For Companies |
| Report Coverage | Revenue analysis, Competitive landscape, Key company analysis, Market Trends, Key segments, Distribution Channel, Market Dynamics, COVID-19 Impact Analysis and more… |
| Historical Data Period | 2015-2020 |
| Base Year | 2022 |
| Forecast Period | 2022-2031 |
| Region Scope | North America, Europe, Asia-Pacific, South America, Middle East & Africa |
| Country Scope | United States, Canada and Mexico, Germany, France, UK, Russia and Italy, China, Japan, Korea, India and Southeast Asia, Brazil, Argentina, Colombia etc.Saudi Arabia, UAE, Egypt, Nigeria and South Africa |
| Revenue in | US$ Mn |

Church & Dwight Inc
Natrol
Sundown
Nature Made
CVS Health
Jamieson
Nature's Bounty
Olly
H-E-B
Adrien Gagnon
Other Players

Chapter 1 Global Sleep Gummies Market Outlook

1.1 Introduction
1.2 Segmentation of Sleep Gummies Market Based On Product Type, Distribution Channel, and Region
1.3 Drivers
1.4 Restraints
1.5 Opportunities
1.6 Trends
1.7 Macro-economic Factors
1.8 Regulatory Framework
1.9 Global Sleep Gummies Market Pricing Analysis by Region, 2021
1.10 Opportunity Map Analysis

1.10.1 Optimistic Scenario
1.10.2 Likely Scenario
1.10.3 Conservative Scenario

1.11 Opportunity Orbits
1.12 Market Investment Feasibility Index
1.13 PEST Analysis
1.14 PORTER'S Five Force Analysis
1.15 Drivers & Restraints Impact Analysis
1.16 Marketing Strategy
1.17 Product Life Cycle Analysis
1.18 Value Chain Analysis
1.19 Cost Structure Analysis
1.20 Regional Market Share and BPS Analysis in Sleep Gummies Market
1.21 COVID-19 Impact Analysis

Chapter 2 Global Sleep Gummies Market Overview

2.1 Global Market Value & Volume Comparison by Product Type (2015-2031)

2.1.1 Global Market Value & Volume Market Share by Product Type in 2021
2.1.2 Global Attractiveness Analysis by Product Type, 2015–2022

2.2 Global Market Value & Volume Comparison by Distribution Channel (2015-2031)

2.2.1 Global Market Value & Volume Market Share by Distribution Channel in 2021
2.2.2 Global Attractiveness Analysis by Distribution Channel, 2015–2022

2.3 Global Outlook by Region

2.3.1 Global Market Value & Volume Comparison by Region (2015-2031)
2.3.2 Global Market Value & Volume Market Share by Region in 2021
2.3.3 Global Attractiveness Analysis by Region, 2015–2022

2.4 Global Outlook (2015-2031)

2.4.1 Global Market Value & Volume (2015–2022)
2.4.2 Global Market Value & Volume (2023-2031)

2.5 Global Market Value & Volume by Regions

2.5.1 Global Market Value & Volume Comparison by Region (2015–2022)
2.5.2 Global Market Value & Volume Comparison by Region (2023-2031)

2.6 Global Market Value & Volume by Product Type

2.6.1 Global Market Value & Volume Comparison by Product Type (2015–2022)
2.6.2 Global Market Value & Volume Comparison by Product Type (2023-2031)

2.7 Global Market Value & Volume by Distribution Channel

2.7.1 Global Market Value & Volume Comparison by Distribution Channel (2015–2022)
2.7.2 Global Market Value & Volume Comparison by Distribution Channel (2023-2031)

2.8 Global Market Y-o-Y Growth Rate Comparison 2016–2031

2.8.1 Global Market Y-o-Y Growth Rate by Region
2.8.2 Global Market Y-o-Y Growth Rate by Product Type
2.8.3 Global Market Y-o-Y Growth Rate by Distribution Channel

2.9 Global Market Share Comparison 2015–2031

2.9.1 Global Market Share by Region
2.9.2 Global Market Share by Product Type
2.9.3 Global Market Share by Distribution Channel

Chapter 3 North America Sleep Gummies Market Overview

3.1 North America by Product Type

3.1.1 North America Market Value & Volume Comparison by Product Type (2015-2031)
3.1.2 North America Market Value & Volume Market Share by Product Type in 2021

3.2 North America Market Value & Volume Comparison by Distribution Channel (2015-2031)

3.2.1 North America Market Value & Volume Market Share by Distribution Channel in 2021
3.2.2 North America Attractiveness Analysis by Distribution Channel, 2015–2022

3.3 North America Outlook by Region

3.3.1 North America Market Value & Volume Comparison by Region (2015-2031)
3.3.2 North America Market Value & Volume Market Share by Region in 2021
3.3.3 North America Attractiveness Analysis by Region, 2015–2022

3.4 North America Outlook (2015-2031)

3.4.1 North America Market Value & Volume (2015–2022)
3.4.2 North America Market Value & Volume (2023-2031)

3.5 North America Market Value & Volume by Regions

3.5.1 North America Market Value & Volume Comparison by Region (2015–2022)
3.5.2 North America Market Value & Volume Comparison by Region (2023-2031)

3.6 North America Market Value & Volume by Product Type

3.6.1 North America Market Value & Volume Comparison by Product Type (2015–2022)
3.6.2 North America Market Value & Volume Comparison by Product Type (2023-2031)

3.7 North America Market Value & Volume by Distribution Channel

3.7.1 North America Market Value & Volume Comparison by Distribution Channel (2015–2022)
3.7.2 North America Market Value & Volume Comparison by Distribution Channel (2023-2031)

3.8 North America Market Y-o-Y Growth Rate Comparison 2016–2031

3.8.1 North America Market Y-o-Y Growth Rate by Region
3.8.2 North America Market Y-o-Y Growth Rate by Product Type
3.8.3 North America Market Y-o-Y Growth Rate by Distribution Channel

3.9 North America Market Share Comparison 2015–2031

3.9.1 North America Market Share by Region
3.9.2 North America Market Share by Product Type
3.9.3 North America Market Share by Distribution Channel

Chapter 4 Europe Sleep Gummies Market Overview

4.1 Europe by Product Type

4.1.1 Europe Market Value & Volume Comparison by Product Type (2015-2031)
4.1.2 Europe Market Value & Volume Market Share by Product Type in 2021

4.2 Europe Market Value & Volume Comparison by Distribution Channel (2015-2031)

4.2.1 Europe Market Value & Volume Market Share by Distribution Channel in 2021
4.2.2 Europe Attractiveness Analysis by Distribution Channel, 2015–2022

4.3 Europe Outlook by Region

4.3.1 Europe Market Value & Volume Comparison by Region (2015-2031)
4.3.2 Europe Market Value & Volume Market Share by Region in 2021
4.3.3 Europe Attractiveness Analysis by Region, 2015–2022

4.4 Europe Outlook (2015-2031)

4.4.1 Europe Market Value & Volume (2015–2022)
4.4.2 Europe Market Value & Volume (2023-2031)

4.5 Europe Market Value & Volume by Regions

4.5.1 Europe Market Value & Volume Comparison by Region (2015–2022)
4.5.2 Europe Market Value & Volume Comparison by Region (2023-2031)

4.6 Europe Market Value & Volume by Product Type

4.6.1 Europe Market Value & Volume Comparison by Product Type (2015–2022)
4.6.2 Europe Market Value & Volume Comparison by Product Type (2023-2031)

4.7 Europe Market Value & Volume by Distribution Channel

4.7.1 Europe Market Value & Volume Comparison by Distribution Channel (2015–2022)
4.7.2 Europe Market Value & Volume Comparison by Distribution Channel (2023-2031)

4.8 Europe Market Y-o-Y Growth Rate Comparison 2016–2031

4.8.1 Europe Market Y-o-Y Growth Rate by Region
4.8.2 Europe Market Y-o-Y Growth Rate by Product Type
4.8.3 Europe Market Y-o-Y Growth Rate by Distribution Channel

4.9 Europe Market Share Comparison 2015–2031

4.9.1 Europe Market Share by Region
4.9.2 Europe Market Share by Product Type
4.9.3 Europe Market Share by Distribution Channel

Chapter 5 Asia-Pacific Sleep Gummies Market Overview

5.1 Asia-Pacific by Product Type

5.1.1 Asia-Pacific Market Value & Volume Comparison by Product Type (2015-2031)
5.1.2 Asia-Pacific Market Value & Volume Market Share by Product Type in 2021

5.2 Asia-Pacific Market Value & Volume Comparison by Distribution Channel (2015-2031)

5.2.1 Asia-Pacific Market Value & Volume Market Share by Distribution Channel in 2021
5.2.2 Asia-Pacific Attractiveness Analysis by Distribution Channel, 2015–2022

5.3 Asia-Pacific Outlook by Region

5.3.1 Asia-Pacific Market Value & Volume Comparison by Region (2015-2031)
5.3.2 Asia-Pacific Market Value & Volume Market Share by Region in 2021
5.3.3 Asia-Pacific Attractiveness Analysis by Region, 2015–2022

5.4 Asia-Pacific Outlook (2015-2031)

5.4.1 Asia-Pacific Market Value & Volume (2015–2022)
5.4.2 Asia-Pacific Market Value & Volume (2023-2031)

5.5 Asia-Pacific Market Value & Volume by Regions

5.5.1 Asia-Pacific Market Value & Volume Comparison by Region (2015–2022)
5.5.2 Asia-Pacific Market Value & Volume Comparison by Region (2023-2031)

5.6 Asia-Pacific Market Value & Volume by Product Type

5.6.1 Asia-Pacific Market Value & Volume Comparison by Product Type (2015–2022)
5.6.2 Asia-Pacific Market Value & Volume Comparison by Product Type (2023-2031)

5.7 Asia-Pacific Market Value & Volume by Distribution Channel

5.7.1 Asia-Pacific Market Value & Volume Comparison by Distribution Channel (2015–2022)
5.7.2 Asia-Pacific Market Value & Volume Comparison by Distribution Channel (2023-2031)

5.8 Asia-Pacific Market Y-o-Y Growth Rate Comparison 2016–2031

5.8.1 Asia-Pacific Market Y-o-Y Growth Rate by Region
5.8.2 Asia-Pacific Market Y-o-Y Growth Rate by Product Type
5.8.3 Asia-Pacific Market Y-o-Y Growth Rate by Distribution Channel

5.9 Asia-Pacific Market Share Comparison 2015–2031

5.9.1 Asia-Pacific Market Share by Region
5.9.2 Asia-Pacific Market Share by Product Type
5.9.3 Asia-Pacific Market Share by Distribution Channel

Chapter 6 Latin America Sleep Gummies Market Overview

6.1 Latin America by Product Type

6.1.1 Latin America Market Value & Volume Comparison by Product Type (2015-2031)
6.1.2 Latin America Market Value & Volume Market Share by Product Type in 2021

6.2 Latin America Market Value & Volume Comparison by Distribution Channel (2015-2031)

6.2.1 Latin America Market Value & Volume Market Share by Distribution Channel in 2021
6.2.2 Latin America Attractiveness Analysis by Distribution Channel, 2015–2022

6.3 Latin America Outlook by Region

6.3.1 Latin America Market Value & Volume Comparison by Region (2015-2031)
6.3.2 Latin America Market Value & Volume Market Share by Region in 2021
6.3.3 Latin America Attractiveness Analysis by Region, 2015–2022

6.4 Latin America Outlook (2015-2031)

6.4.1 Latin America Market Value & Volume (2015–2022)
6.4.2 Latin America Market Value & Volume (2023-2031)

6.5 Latin America Market Value & Volume by Regions

6.5.1 Latin America Market Value & Volume Comparison by Region (2015–2022)
6.5.2 Latin America Market Value & Volume Comparison by Region (2023-2031)

6.6 Latin America Market Value & Volume by Product Type

6.6.1 Latin America Market Value & Volume Comparison by Product Type (2015–2022)
6.6.2 Latin America Market Value & Volume Comparison by Product Type (2023-2031)

6.7 Latin America Market Value & Volume by Distribution Channel

6.7.1 Latin America Market Value & Volume Comparison by Distribution Channel (2015–2022)
6.7.2 Latin America Market Value & Volume Comparison by Distribution Channel (2023-2031)

6.8 Latin America Market Y-o-Y Growth Rate Comparison 2016–2031

6.8.1 Latin America Market Y-o-Y Growth Rate by Region
6.8.2 Latin America Market Y-o-Y Growth Rate by Product Type
6.8.3 Latin America Market Y-o-Y Growth Rate by Distribution Channel

6.9 Latin America Market Share Comparison 2015–2031

6.9.1 Latin America Market Share by Region
6.9.2 Latin America Market Share by Product Type
6.9.3 Latin America Market Share by Distribution Channel

Chapter 7 MEA Sleep Gummies Market Overview

7.1 MEA by Product Type

7.1.1 MEA Market Value & Volume Comparison by Product Type (2015-2031)
7.1.2 MEA Market Value & Volume Market Share by Product Type in 2021

7.2 MEA Market Value & Volume Comparison by Distribution Channel (2015-2031)

7.2.1 MEA Market Value & Volume Market Share by Distribution Channel in 2021
7.2.2 MEA Attractiveness Analysis by Distribution Channel, 2015–2022

7.3 MEA Outlook by Region

7.3.1 MEA Market Value & Volume Comparison by Region (2015-2031)
7.3.2 MEA Market Value & Volume Market Share by Region in 2021
7.3.3 MEA Attractiveness Analysis by Region, 2015–2022

7.4 MEA Outlook (2015-2031)

7.4.1 MEA Market Value & Volume (2015–2022)
7.4.2 MEA Market Value & Volume (2023-2031)

7.5 MEA Market Value & Volume by Regions

7.5.1 MEA Market Value & Volume Comparison by Region (2015–2022)
7.5.2 MEA Market Value & Volume Comparison by Region (2023-2031)

7.6 MEA Market Value & Volume by Product Type

7.6.1 MEA Market Value & Volume Comparison by Product Type (2015–2022)
7.6.2 MEA Market Value & Volume Comparison by Product Type (2023-2031)

7.7 MEA Market Value & Volume by Distribution Channel

7.7.1 MEA Market Value & Volume Comparison by Distribution Channel (2015–2022)
7.7.2 MEA Market Value & Volume Comparison by Distribution Channel (2023-2031)

7.8 MEA Market Y-o-Y Growth Rate Comparison 2016–2031

7.8.1 MEA Market Y-o-Y Growth Rate by Region
7.8.2 MEA Market Y-o-Y Growth Rate by Product Type
7.8.3 MEA Market Y-o-Y Growth Rate by Distribution Channel

7.9 MEA Market Share Comparison 2015–2031

7.9.1 MEA Market Share by Region
7.9.2 MEA Market Share by Product Type
7.9.3 MEA Market Share by Distribution Channel

Chapter 8 Global Sleep Gummies Market Company Profiles

8.1 Market Competition Scenario Analysis, By Company
8.2 Competitor Landscape
8.3 Company Share Analysis
8.4 Company Profiles

8.4.1 Church & Dwight Inc.

8.4.1.1 Company Overview
8.4.1.2 Business Description
8.4.1.3 Product Portfolio
8.4.1.4 Key Financials
8.4.1.5 Key Developments
8.4.1.6 SWOT Analysis

8.4.2 Natrol

8.4.2.1 Company Overview
8.4.2.2 Business Description
8.4.2.3 Product Portfolio
8.4.2.4 Key Financials
8.4.2.5 Key Developments
8.4.2.6 SWOT Analysis

8.4.3 Sundown

8.4.3.1 Company Overview
8.4.3.2 Business Description
8.4.3.3 Product Portfolio
8.4.3.4 Key Financials
8.4.3.5 Key Developments
8.4.3.6 SWOT Analysis

8.4.4 Nature Made

8.4.4.1 Company Overview
8.4.4.2 Business Description
8.4.4.3 Product Portfolio
8.4.4.4 Key Financials
8.4.4.5 Key Developments
8.4.4.6 SWOT Analysis

8.4.5 CVS Health

8.4.5.1 Company Overview
8.4.5.2 Business Description
8.4.5.3 Product Portfolio
8.4.5.4 Key Financials
8.4.5.5 Key Developments
8.4.5.6 SWOT Analysis

8.4.6 Jamieson

8.4.6.1 Company Overview
8.4.6.2 Business Description
8.4.6.3 Product Portfolio
8.4.6.4 Key Financials
8.4.6.5 Key Developments
8.4.6.6 SWOT Analysis

8.4.7 Nature's Bounty

8.4.7.1 Company Overview
8.4.7.2 Business Description
8.4.7.3 Product Portfolio
8.4.7.4 Key Financials
8.4.7.5 Key Developments
8.4.7.6 SWOT Analysis

8.4.8 Olly

8.4.8.1 Company Overview
8.4.8.2 Business Description
8.4.8.3 Product Portfolio
8.4.8.4 Key Financials
8.4.8.5 Key Developments
8.4.8.6 SWOT Analysis

8.4.9 H-E-B

8.4.9.1 Company Overview
8.4.9.2 Business Description
8.4.9.3 Product Portfolio
8.4.9.4 Key Financials
8.4.9.5 Key Developments
8.4.9.6 SWOT Analysis

8.4.10 Adrien Gagnon

8.4.10.1 Company Overview
8.4.10.2 Business Description
8.4.10.3 Product Portfolio
8.4.10.4 Key Financials
8.4.10.5 Key Developments
8.4.10.6 SWOT Analysis

8.4.11 Other Key Players

Chapter 9 Research Methodology

9.1 Research Methodology
9.2 Primary Research
9.3 Secondary Research
9.4 Report Scope

Chapter 10 About Us
Chapter 11 Disclaimer

Inquiry Form

Why Choose Us

360 Degree Approach
Growth Consulting
24/7 Research Support
Comprehensive-Level of Customization
Comprehensive-Level of Customization
Competitive Intelligence
Single-Country/ Region Intelligence
Post-Sale Service Assistance
Access to Lead Analysts
Available in PDF, Excel, Word/ PPT

Request for Customization
Frequently Asked Questions (FAQ)
Does One Need A Prescription For Sleep Gummies?
In the United States, sleep gummies are commonly available over-the-counter (OTC) as a sleep aid.
What Are The Possible Side Effects Of Sleep Gummies?
Side effects at night include daytime drowsiness, a depressed mood, a feeling of irritability, stomach upset, headache, or dizziness. In some cases, this sleep disorder causes rebound insomnia, rendering the supposed supplement less effective or potentially worsening existing insomnia.
What Are The Growth Prospects Of The Global Sleep Gummies Market?
Global sleep gummies market is valued at US$ 2.8 Bn and is expected to register a CAGR of about 7% over the forecast period. The North American region dominates the market in 2021.
Which Are The Key Players In The Sleep Gummies Market?
The Sleep Gummies market landscape appears highly fragmented across various regions.  Church & Dwight Inc  Natrol  Sundown  Nature Made  CVS Health  Jamieson  Nature's Bounty  Olly  H-E-B  Adrien Gagnon  Other Players
OUR
CLIENTS
Don't just take our word. We are trusted by these great companies!