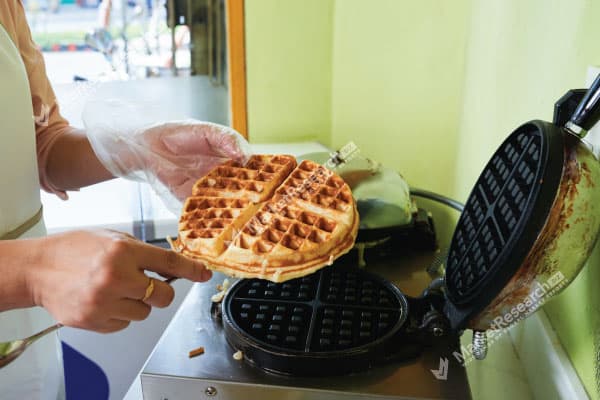 Global Waffle Maker Market Forecast, Trend Analysis And Competition Tracking - Global Market Insights 2015 to 2031
Waffle Maker: Goodbye Pancakes, Hello Waffles!

Demand For Waffle Maker From 2015 To 2020 Vs. Future Market Projections For 2021-2031

Introduction: Way To Waffle Off Stress

A waffle, a Belgian specialty originating from Liege, is a crispy pancake variant with a distinctive pattern of small square indentations. It is made from an egg-based dough served in a warming dish brushed or spread with butter and then cooked until crisp. The waffle was an early form of food that could be eaten without using utensils, making it easy to carry and simple to prepare and cook with limited equipment. They are eaten worldwide, particularly in Belgium, with over a dozen regional varieties. This is not surprising as Belgians have been eating waffles for centuries. Waffles are most commonly served as a breakfast food, but they are also common as a dessert item.

A waffle iron or waffle maker is an appliance that cooks waffles, typically made from batter and then cooked in a waffle iron. Waffle irons may be round, square, or rectangular. They are traditionally square or rectangular, with both sides having the same pattern to produce a grid-like appearance. The standard size is deep enough for two thin waffles to fit comfortably inside. It creates waffles in the shape of the grids. A typical waffle has an egg-shaped center and a patterned exterior. Typical toppings include powdered sugar, syrup, fruit, and whipped cream.

Market Dynamics: Skip The Cereal And Have A Waffle Instead!

Consumers have been shifting towards a DIY concept and adopting healthy eating habits in recent years, leading to a rise in demand for waffle makers. The increasing popularity of waffles has caused an increase in the sale of waffle irons. Sales have reached their highest levels, with more than 1.7 million units sold in 2017 alone. The market is rapidly expanding due to the popularization of "clean eating" and the increased preference for fresh food products. Furthermore, the increased interest in the cuisine has resulted in new waffle irons being released to meet demand, such as Belgian Waffle Grills and Belgium Waffle Machines.

End-user demand for superior and long-lasting cooking equipment is evolving. One particular type of cooking equipment, waffle makers, are not immune to the trend. Consumer demand for waffle makers that can produce more than just waffles has increased steadily. This change in consumer preference is due to the increasing number of people who want durable products to cook waffles and other foods. The demand for automated products in the foodservice industry is compelling manufacturers of waffle makers to innovate. Waffle maker manufacturers are responding to this need by developing new technologies and designs that will automatically produce various types of waffles. To accommodate these needs, these companies are designing innovative models with endless possibilities for customization.

Moreover, consumption of high-fiber waffles is on the rise in the US, and this trend has been attributed to the advent of the "waffle iron" and its ability to be used at home. Consumers have been experimenting with substituting ingredients such as bran and oat flour to create a higher fiber product that can be cooked at home.

COVID-19 Impact Analysis: Waffles Are Literally About To Get A Lot More Popular

The lockdown challenged people who loved waffles, as supplies were low and many businesses were closed. However, the recent invention of the waffle maker during this time allowed for an alternative to pancakes and other breakfast dishes. It also gave people with homes and supplies a way to eat well and offer hospitality to others in need. During the lockdown, people invented new recipes with the waffle maker. These recipes included "waffle ice cream cones" and "pizza waffles." Due to the waffle maker's variety, it became a popular resource during the pandemic lockdown.

In recent years, as more and more people have been drawn to the social media trend of posting pictures of "delicious" waffles and other desserts, there has been a spike in those trying out these new dishes. This is another factor that increased sales of the waffle makers.

Segment Insights: Unique Taste Of Homemade Waffles

The Belgian waffle maker is expected to hold the largest share in the global waffle maker market because it produces deep, thick waffles. It can create up to three waffles at a time, while most other models only make one or two. The Belgian waffle maker also has larger cooking surfaces than its counterparts, enabling it to simultaneously switch between baking and steaming. A commercial segment holds the largest share of the global waffle maker market. Commercial waffle makers are often found in restaurants or hotel kitchens to make mid-to-large batches of waffles, which means they are more expensive than household models. Companies like Cuisinart, Black + Decker, and Waring Pro are the most popular brands in this sector.

Report Scope

Forecast Period: 2022-2031

Actual Year: 2021

Historical Data Available for: 2015-2020

Key Segments Covered

Waffle Maker Market, By Product Type

Classic Waffle Maker

Belgian Waffle Maker

Mini Waffle Maker

Flip Waffle Maker

Shaped Waffle Maker

Other Waffle Makers

Waffle Maker Market, By Distribution Channel

Supermarkets/ Hypermarkets

Specialty Stores

Online Stores

Other Distribution Channels

Waffle Maker Market, By End-Use

| Attribute | Report Details |
| --- | --- |
| Market Size | Ask For Market Size |
| Growth Rate | Ask For Growth Rate |
| Key Companies | Ask For Companies |
| Report Coverage | Revenue analysis, Competitive landscape, Key company analysis, Market Trends, Key segments, Distribution Channel, Market Dynamics, COVID-19 Impact Analysis and more… |
| Historical Data Period | 2015-2020 |
| Base Year | 2022 |
| Forecast Period | 2022-2031 |
| Region Scope | North America, Europe, Asia-Pacific, South America, Middle East & Africa |
| Country Scope | United States, Canada and Mexico, Germany, France, UK, Russia and Italy, China, Japan, Korea, India and Southeast Asia, Brazil, Argentina, Colombia etc.Saudi Arabia, UAE, Egypt, Nigeria and South Africa |
| Revenue in | US$ Mn |

Cuisinart

Sage Appliances

Brentwood Appliances

Chefman

Presto

Dash

VonShef

Nemco Food Equipment

Karmpouz Company

CucinaPro

Hamilton

Other Players

Chapter 1 Global Waffle Maker Market Outlook

1.1 Introduction
1.2 Segmentation of Waffle Maker Market Based On Product Type, Distribution Channel, End-Use  and Region
1.3 Market Drivers
1.4 Market Restraints
1.5 Market Opportunities
1.6 Market Trends
1.7 Macro-economic Factors
1.8 Regulatory Framework
1.9 Global Waffle Maker Market Pricing Analysis by Region, 2021
1.10 Opportunity Map Analysis

1.10.1 Optimistic Scenario
1.10.2 Likely Scenario
1.10.3 Conservative Scenario

1.11 Opportunity Orbits
1.12 Market Investment Feasibility Index
1.13 PEST Analysis
1.14 PORTER'S Five Force Analysis
1.15 Drivers & Restraints Impact Analysis
1.16 Marketing Strategy
1.17 Product Life Cycle Analysis
1.18 Value Chain Analysis
1.19 Cost Structure Analysis
1.20 Regional Market Share and BPS Analysis in Waffle Maker Market
1.21 COVID-19 Impact Analysis

Chapter 2 Global Waffle Maker Market Overview

2.1 Global Market Value & Volume Comparison by Product Type (2015-2031)

2.1.1 Global Market Value & Volume Market Share by Product Type in 2021
2.1.2 Global Market Attractiveness Analysis by Product Type, 2015–2022

2.2 Global Market Value & Volume Comparison by Distribution Channel (2015-2031)

2.2.1 Global Market Value & Volume Market Share by Distribution Channel in 2021
2.2.2 Global Market Attractiveness Analysis by Distribution Channel, 2015–2022

2.3 Global Market by End-Use

2.3.1 Global Market Value & Volume Comparison by End-Use (2015-2031)
2.3.2 Global Market Value & Volume Market Share by End-Use in 2021
2.3.3 Global Market Attractiveness Analysis by End-Use, 2015–2022

2.4 Global Market Outlook by Region

2.4.1 Global Market Value & Volume Comparison by Region (2015-2031)
2.4.2 Global Market Value & Volume Market Share by Region in 2021
2.4.3 Global Market Attractiveness Analysis by Region, 2015–2022

2.5 Global Market Outlook (2015-2031)

2.5.1 Global Market Value & Volume (2015–2022)
2.5.2 Global Market Value & Volume (2023-2031)

2.6 Global Market Value & Volume by Regions

2.6.1 Global Market Value & Volume Comparison by Region (2015–2022)
2.6.2 Global Market Value & Volume Comparison by Region (2023-2031)

2.7 Global Market Value & Volume by Product Type

2.7.1 Global Market Value & Volume Comparison by Product Type (2015–2022)
2.7.2 Global Market Value & Volume Comparison by Product Type (2023-2031)

2.8 Global Market Value & Volume by Distribution Channel

2.8.1 Global Market Value & Volume Comparison by Distribution Channel (2015–2022)
2.8.2 Global Market Value & Volume Comparison by Distribution Channel (2023-2031)

2.9 Global Market Value & Volume by End-Use

2.9.1 Global Market Value & Volume Comparison by End-Use (2015–2022)
2.9.2 Global Market Value & Volume Comparison by End-Use (2023-2031)

2.10 Global Market Y-o-Y Growth Rate Comparison 2016–2031

2.10.1 Global Market Y-o-Y Growth Rate by Region
2.10.2 Global Market Y-o-Y Growth Rate by Product Type
2.10.3 Global Market Y-o-Y Growth Rate by Distribution Channel
2.10.4 Global Market Y-o-Y Growth Rate by End-Use

2.11 Global Market Share Comparison 2015–2030

2.11.1 Global Market Share by Region
2.11.2 Global Market Share by Product Type
2.11.3 Global Market Share by Distribution Channel
2.11.4 Global Market Share by End-Use

Chapter 3 North America Waffle Maker Market Overview

3.1 North America Market by Product Type

3.1.1 North America Market Value & Volume Comparison by Product Type (2015-2031)
3.1.2 North America Market Value & Volume Market Share by Product Type in 2021

3.2 North America Market Value & Volume Comparison by Distribution Channel (2015-2031)

3.2.1 North America Market Value & Volume Market Share by Distribution Channel in 2021
3.2.2 North America Market Attractiveness Analysis by Distribution Channel, 2015–2022

3.3 North America Market by End-Use

3.3.1 North America Market Value & Volume Comparison by End-Use (2015-2031)
3.3.2 North America Market Value & Volume Market Share by End-Use in 2021
3.3.3 North America Market Attractiveness Analysis by End-Use, 2015–2022

3.4 North America Market Outlook by Region

3.4.1 North America Market Value & Volume Comparison by Region (2015-2031)
3.4.2 North America Market Value & Volume Market Share by Region in 2021
3.4.3 North America Market Attractiveness Analysis by Region, 2015–2022

3.5 North America Market Outlook (2015-2031)

3.5.1 North America Market Value & Volume (2015–2022)
3.5.2 North America Market Value & Volume (2023-2031)

3.6 North America Market Value & Volume by Regions

3.6.1 North America Market Value & Volume Comparison by Region (2015–2022)
3.6.2 North America Market Value & Volume Comparison by Region (2023-2031)

3.7 North America Market Value & Volume by Product Type

3.7.1 North America Market Value & Volume Comparison by Product Type (2015–2022)
3.7.2 North America Market Value & Volume Comparison by Product Type (2023-2031)

3.8 North America Market Value & Volume by Distribution Channel

3.8.1 North America Market Value & Volume Comparison by Distribution Channel (2015–2022)
3.8.2 North America Market Value & Volume Comparison by Distribution Channel (2023-2031)

3.9 North America Market Value & Volume by End-Use

3.9.1 North America Market Value & Volume Comparison by End-Use (2015–2022)
3.9.2 North America Market Value & Volume Comparison by End-Use (2023-2031)

3.10 North America Market Y-o-Y Growth Rate Comparison 2016–2031

3.10.1 North America Market Y-o-Y Growth Rate by Region
3.10.2 North America Market Y-o-Y Growth Rate by Product Type
3.10.3 North America Market Y-o-Y Growth Rate by Distribution Channel
3.10.4 North America Market Y-o-Y Growth Rate by End-Use

3.11 North America Market Share Comparison 2015–2030

2.11.1 North America Market Share by Region
3.11.2 North America Market Share by Product Type
3.11.3 North America Market Share by Distribution Channel
3.11.4 North America Market Share by End-Use

Chapter 4 Europe Waffle Maker Market Overview

4.1 Europe Market by Product Type

4.1.1 Europe Market Value & Volume Comparison by Product Type (2015-2031)
4.1.2 Europe Market Value & Volume Market Share by Product Type in 2021

4.2 Europe Market Value & Volume Comparison by Distribution Channel (2015-2031)

4.2.1 Europe Market Value & Volume Market Share by Distribution Channel in 2021
4.2.2 Europe Market Attractiveness Analysis by Distribution Channel, 2015–2022

4.3 Europe Market by End-Use

4.3.1 Europe Market Value & Volume Comparison by End-Use (2015-2031)
4.3.2 Europe Market Value & Volume Market Share by End-Use in 2021
4.3.3 Europe Market Attractiveness Analysis by End-Use, 2015–2022

4.4 Europe Market Outlook by Region

4.4.1 Europe Market Value & Volume Comparison by Region (2015-2031)
4.4.2 Europe Market Value & Volume Market Share by Region in 2021
4.4.3 Europe Market Attractiveness Analysis by Region, 2015–2022

4.5 Europe Market Outlook (2015-2031)

4.5.1 Europe Market Value & Volume (2015–2022)
4.5.2 Europe Market Value & Volume (2023-2031)

4.6 Europe Market Value & Volume by Regions

4.6.1 Europe Market Value & Volume Comparison by Region (2015–2022)
4.6.2 Europe Market Value & Volume Comparison by Region (2023-2031)

4.7 Europe Market Value & Volume by Product Type

4.7.1 Europe Market Value & Volume Comparison by Product Type (2015–2022)
4.7.2 Europe Market Value & Volume Comparison by Product Type (2023-2031)

4.8 Europe Market Value & Volume by Distribution Channel

4.8.1 Europe Market Value & Volume Comparison by Distribution Channel (2015–2022)
4.8.2 Europe Market Value & Volume Comparison by Distribution Channel (2023-2031)

4.9 Europe Market Value & Volume by End-Use

4.9.1 Europe Market Value & Volume Comparison by End-Use (2015–2022)
4.9.2 Europe Market Value & Volume Comparison by End-Use (2023-2031)

4.9 Europe Market Y-o-Y Growth Rate Comparison 2016–2031

4.10.1 Europe Market Y-o-Y Growth Rate by Region
4.10.2 Europe Market Y-o-Y Growth Rate by Product Type
4.10.3 Europe Market Y-o-Y Growth Rate by Distribution Channel
4.10.4 Europe Market Y-o-Y Growth Rate by End-Use

4.11 Europe Market Share Comparison 2015–2030

4.11.1 Europe Market Share by Region
4.11.2 Europe Market Share by Product Type
4.11.3 Europe Market Share by Distribution Channel
4.11.4 Europe Market Share by End-Use

Chapter 5 Asia-Pacific Waffle Maker Market Overview

5.1 Asia-Pacific Market by Product Type

5.1.1 Asia-Pacific Market Value & Volume Comparison by Product Type (2015-2031)
5.1.2 Asia-Pacific Market Value & Volume Market Share by Product Type in 2021

5.2 Asia-Pacific Market Value & Volume Comparison by Distribution Channel (2015-2031)

5.2.1 Asia-Pacific Market Value & Volume Market Share by Distribution Channel in 2021
5.2.2 Asia-Pacific Market Attractiveness Analysis by Distribution Channel, 2015–2022

5.3 Asia-Pacific Market by End-Use

5.3.1 Asia-Pacific Market Value & Volume Comparison by End-Use (2015-2031)
5.3.2 Asia-Pacific Market Value & Volume Market Share by End-Use in 2021
5.3.3 Asia-Pacific Market Attractiveness Analysis by End-Use, 2015–2022

5.4 Asia-Pacific Market Outlook by Region

5.4.1 Asia-Pacific Market Value & Volume Comparison by Region (2015-2031)
5.4.2 Asia-Pacific Market Value & Volume Market Share by Region in 2021
5.4.3 Asia-Pacific Market Attractiveness Analysis by Region, 2015–2022

5.5 Asia-Pacific Market Outlook (2015-2031)

5.5.1 Asia-Pacific Market Value & Volume (2015–2022)
5.5.2 Asia-Pacific Market Value & Volume (2023-2031)

5.6 Asia-Pacific Market Value & Volume by Regions

5.6.1 Asia-Pacific Market Value & Volume Comparison by Region (2015–2022)
5.6.2 Asia-Pacific Market Value & Volume Comparison by Region (2023-2031)

5.7 Asia-Pacific Market Value & Volume by Product Type

5.7.1 Asia-Pacific Market Value & Volume Comparison by Product Type (2015–2022)
5.7.2 Asia-Pacific Market Value & Volume Comparison by Product Type (2023-2031)

5.8 Asia-Pacific Market Value & Volume by Distribution Channel

5.8.1 Asia-Pacific Market Value & Volume Comparison by Distribution Channel (2015–2022)
5.8.2 Asia-Pacific Market Value & Volume Comparison by Distribution Channel (2023-2031)

5.9 Asia-Pacific Market Value & Volume by End-Use

5.9.1 Asia-Pacific Market Value & Volume Comparison by End-Use (2015–2022)
5.9.2 Asia-Pacific Market Value & Volume Comparison by End-Use (2023-2031)

5.10 Asia-Pacific Market Y-o-Y Growth Rate Comparison 2016–2031

5.10.1 Asia-Pacific Market Y-o-Y Growth Rate by Region
5.10.2 Asia-Pacific Market Y-o-Y Growth Rate by Product Type
5.10.3 Asia-Pacific Market Y-o-Y Growth Rate by Distribution Channel
5.10.4 Asia-Pacific Market Y-o-Y Growth Rate by End-Use

5.11 Asia-Pacific Market Share Comparison 2015–2030

5.11.1 Asia-Pacific Market Share by Region
5.11.2 Asia-Pacific Market Share by Product Type
5.11.3 Asia-Pacific Market Share by Distribution Channel
5.11.4 Asia-Pacific Market Share by End-Use

Chapter 6 Latin America Waffle Maker Market Overview

6.1 Latin America Market by Product Type

6.1.1 Latin America Market Value & Volume Comparison by Product Type (2015-2031)
6.1.2 Latin America Market Value & Volume Market Share by Product Type in 2021

6.2 Latin America Market Value & Volume Comparison by Distribution Channel (2015-2031)

6.2.1 Latin America Market Value & Volume Market Share by Distribution Channel in 2021
6.2.2 Latin America Market Attractiveness Analysis by Distribution Channel, 2015–2022

6.3 Latin America Market by End-Use

6.3.1 Latin America Market Value & Volume Comparison by End-Use (2015-2031)
6.3.2 Latin America Market Value & Volume Market Share by End-Use in 2021
6.3.3 Latin America Market Attractiveness Analysis by End-Use, 2015–2022

6.4 Latin America Market Outlook by Region

6.4.1 Latin America Market Value & Volume Comparison by Region (2015-2031)
6.4.2 Latin America Market Value & Volume Market Share by Region in 2021
6.4.3 Latin America Market Attractiveness Analysis by Region, 2015–2022

6.5 Latin America Market Outlook (2015-2031)

6.5.1 Latin America Market Value & Volume (2015–2022)
6.5.2 Latin America Market Value & Volume (2023-2031)

6.6 Latin America Market Value & Volume by Regions

6.6.1 Latin America Market Value & Volume Comparison by Region (2015–2022)
6.6.2 Latin America Market Value & Volume Comparison by Region (2023-2031)

6.7 Latin America Market Value & Volume by Product Type

6.7.1 Latin America Market Value & Volume Comparison by Product Type (2015–2022)
6.7.2 Latin America Market Value & Volume Comparison by Product Type (2023-2031)

6.8 Latin America Market Value & Volume by Distribution Channel

6.8.1 Latin America Market Value & Volume Comparison by Distribution Channel (2015–2022)
6.8.2 Latin America Market Value & Volume Comparison by Distribution Channel (2023-2031)

6.9 Latin America Market Value & Volume by End-Use

6.9.1 Latin America Market Value & Volume Comparison by End-Use (2015–2022)
6.9.2 Latin America Market Value & Volume Comparison by End-Use (2023-2031)

6.10 Latin America Market Y-o-Y Growth Rate Comparison 2016–2031

6.10.1 Latin America Market Y-o-Y Growth Rate by Region
6.10.2 Latin America Market Y-o-Y Growth Rate by Product Type
6.10.3 Latin America Market Y-o-Y Growth Rate by Distribution Channel
6.10.4 Latin America Market Y-o-Y Growth Rate by End-Use

6.11 Latin America Market Share Comparison 2015–2030

6.11.1 Latin America Market Share by Region
6.11.2 Latin America Market Share by Product Type
6.11.3 Latin America Market Share by Distribution Channel
6.11.4 Latin America Market Share by End-Use

Chapter 7 MEA Waffle Maker Market Overview

7.1 MEA Market by Product Type

7.1.1 MEA Market Value & Volume Comparison by Product Type (2015-2031)
7.1.2 MEA Market Value & Volume Market Share by Product Type in 2021

7.2 MEA Market Value & Volume Comparison by Distribution Channel (2015-2031)

7.2.1 MEA Market Value & Volume Market Share by Distribution Channel in 2021
7.2.2 MEA Market Attractiveness Analysis by Distribution Channel, 2015–2022

7.3 MEA Market by End-Use

7.3.1 MEA Market Value & Volume Comparison by End-Use (2015-2031)
7.3.2 MEA Market Value & Volume Market Share by End-Use in 2021
7.3.3 MEA Market Attractiveness Analysis by End-Use, 2015–2022

7.4 MEA Market Outlook by Region

7.4.1 MEA Market Value & Volume Comparison by Region (2015-2031)
7.4.2 MEA Market Value & Volume Market Share by Region in 2021
7.4.3 MEA Market Attractiveness Analysis by Region, 2015–2022

7.5 MEA Market Outlook (2015-2031)

7.5.1 MEA Market Value & Volume (2015–2022)
7.5.2 MEA Market Value & Volume (2023-2031)

7.5 MEA Market Value & Volume by Regions

7.6.1 MEA Market Value & Volume Comparison by Region (2015–2022)
7.6.2 MEA Market Value & Volume Comparison by Region (2023-2031)

7.7 MEA Market Value & Volume by Product Type

7.7.1 MEA Market Value & Volume Comparison by Product Type (2015–2022)
7.7.2 MEA Market Value & Volume Comparison by Product Type (2023-2031)

7.8 MEA Market Value & Volume by Distribution Channel

7.8.1 MEA Market Value & Volume Comparison by Distribution Channel (2015–2022)
7.8.2 MEA Market Value & Volume Comparison by Distribution Channel (2023-2031)

7.9 MEA Market Value & Volume by End-Use

7.9.1 MEA Market Value & Volume Comparison by End-Use (2015–2022)
7.9.2 MEA Market Value & Volume Comparison by End-Use (2023-2031)

7.10 MEA Market Y-o-Y Growth Rate Comparison 2016–2031

7.10.1 MEA Market Y-o-Y Growth Rate by Region
7.10.2 MEA Market Y-o-Y Growth Rate by Product Type
7.10.3 MEA Market Y-o-Y Growth Rate by Distribution Channel
7.10.4 MEA Market Y-o-Y Growth Rate by End-Use

7.11 MEA Market Share Comparison 2015–2030

7.11.1 MEA Market Share by Region
7.11.2 MEA Market Share by Product Type
7.11.3 MEA Market Share by Distribution Channel
7.11.4 MEA Market Share by End-Use

Chapter 8 Global Waffle Maker Market Company Profiles

8.1 Market Competition Scenario Analysis, By Company
8.2 Competitor Landscape
8.3 Company Share Analysis
8.4 Company Profiles

8.4.1 Cuisinart

8.4.1.1 Company Overview
8.4.1.2 Business Description
8.4.1.3 Product Portfolio
8.4.1.4 Key Financials
8.4.1.5 Key Developments
8.4.1.6 SWOT Analysis

8.4.2 Sage Appliances

8.4.2.1 Company Overview
8.4.2.2 Business Description
8.4.2.3 Product Portfolio
8.4.2.4 Key Financials
8.4.2.5 Key Developments
8.4.2.6 SWOT Analysis

8.4.3 Brentwood Appliances

8.4.3.1 Company Overview
8.4.3.2 Business Description
8.4.3.3 Product Portfolio
8.4.3.4 Key Financials
8.4.3.5 Key Developments
8.4.3.6 SWOT Analysis

8.4.4 Chefman

8.4.4.1 Company Overview
8.4.4.2 Business Description
8.4.4.3 Product Portfolio
8.4.4.4 Key Financials
8.4.4.5 Key Developments
8.4.4.6 SWOT Analysis

8.4.5 Presto

8.4.5.1 Company Overview
8.4.5.2 Business Description
8.4.5.3 Product Portfolio
8.4.5.4 Key Financials
8.4.5.5 Key Developments
8.4.5.6 SWOT Analysis

8.4.6 Dash

8.4.6.1 Company Overview
8.4.6.2 Business Description
8.4.6.3 Product Portfolio
8.4.6.4 Key Financials
8.4.6.5 Key Developments
8.4.6.6 SWOT Analysis

8.4.7 VonShef

8.4.7.1 Company Overview
8.4.7.2 Business Description
8.4.7.3 Product Portfolio
8.4.7.4 Key Financials
8.4.7.5 Key Developments
8.4.7.6 SWOT Analysis

8.4.8 Nemco Food Equipment

8.4.8.1 Company Overview
8.4.8.2 Business Description
8.4.8.3 Product Portfolio
8.4.8.4 Key Financials
8.4.8.5 Key Developments
8.4.8.6 SWOT Analysis

8.4.9 Karmpouz Company

8.4.9.1 Company Overview
8.4.9.2 Business Description
8.4.9.3 Product Portfolio
8.4.9.4 Key Financials
8.4.9.5 Key Developments
8.4.9.6 SWOT Analysis

8.4.10 Hamilton

8.4.10.1 Company Overview
8.4.10.2 Business Description
8.4.10.3 Product Portfolio
8.4.10.4 Key Financials
8.4.10.5 Key Developments
8.4.10.6 SWOT Analysis

8.4.11 Other Key Players

Chapter 9 Research Methodology

9.1 Research Methodology
9.2 Primary Research
9.3 Secondary Research
9.4 Report Scope

Chapter 10 About Us
Chapter 11 Disclaimer  

Inquiry Form

Why Choose Us

360 Degree Approach
Growth Consulting
24/7 Research Support
Comprehensive-Level of Customization
Comprehensive-Level of Customization
Competitive Intelligence
Single-Country/ Region Intelligence
Post-Sale Service Assistance
Access to Lead Analysts
Available in PDF, Excel, Word/ PPT

Request for Customization
✖
Request a Sample Report
We'll get back to you as quickly as possible
Frequently Asked Questions (FAQ)
What Is The Best Wattage For A Waffle Maker?
Waffle aficionados usually consider 800 to 1,000 watts the ideal rating for creating amazing waffles within a reasonable amount of time.
What Are The Growth Prospects Of The Global Waffle Maker Market?
The global waffle maker market was valued at under US$ 100 Mn in 2020 and is expected to register a CAGR of over 3% to reach a value of US$ XX Bn by 2031.
What Is The Price Of a Waffle Maker?
An average waffle maker costs somewhere between US$ 50-120, depending on the brand and features.
OUR
CLIENTS
Don't just take our word. We are trusted by these great companies!