Marketresearch.biz (Powered by Prudour Private Limited) is a leading market research and analysis company. We provide highly sought-after syndicated market research reports and offer tailored customization to meet unique requirements. Our commitment goes beyond limits, empowering clients with tactical and strategic support for well-informed business decisions and consistent success. With comprehensive insights into global, regional, and country-level data, we leave no aspect hidden in any target market. Our experienced team continuously pushes the boundaries in market research, focusing on emerging markets with unwavering dedication. Currently, 50% of our clientele comprises repeat buyers. We meticulously analyze markets in over 126 countries. Annually, we work on 10,000+ published and upcoming reports. Additionally, we offer round-the-clock research support to our clients.
Our Market Forecasts enable you to:
Grasp the market opportunity for IT products and services.
Distinguish between emerging, maturing, and declining market opportunities.
Build your business plans and strategies on factual data, not conjecture.
We place a strong emphasis on ensuring that each step of the research process is executed with meticulous attention to detail, aiming for minimal errors, and maintaining complete transparency throughout. Our commitment to unbiased reporting is unwavering, as we adhere to rigorous standards that safeguard against any potential bias.
Our analysts leverage multiple research methodologies to conduct their studies:
DATA COLLECTION AND INTERPRETATION
As a research analyst, our data acquisition strategy prioritizes accuracy and in-depth analysis, employing a diverse array of sources. These sources can be categorized into four main channels:
Primary Research (conducting telephonic interviews, observations, Email with Key opinion leaders)
Secondary Research (literature review, online databases, government publications, non-profit organizations, industry associations, historical data, comparative studies)
Vendor Data Set & Collaboration Tools (company databases such as xxx and yyy)
biz Internal Database (customer information, research data, sales records, inventory management, and more)
ANALYSIS
In this step, data is analyzed from previous research and studies, identifying market trends, opportunities, and regulatory changes. Various tools and models are used, including regression analysis and heuristic market sizing, to understand the market impact and forecast future trends.
DATA VALIDATION
We validate collected data by collaborating with our in-house analysts, industry experts, and external thought leaders through interviews and quality checks. Multi-tier validation includes cross-referencing with standard KPIs and continuous monitoring for error elimination and ensuring data authenticity.
FINAL REPORT AND PRESENTATION
The research process we follow is characterized by a dynamic "to and fro" approach, encouraging constant collaboration and feedback among the team members and industry experts throughout the entire report-making process. This iterative method allows us to continuously refine our findings, interpretations, and conclusions, ultimately leading to a well-rounded and robust final report.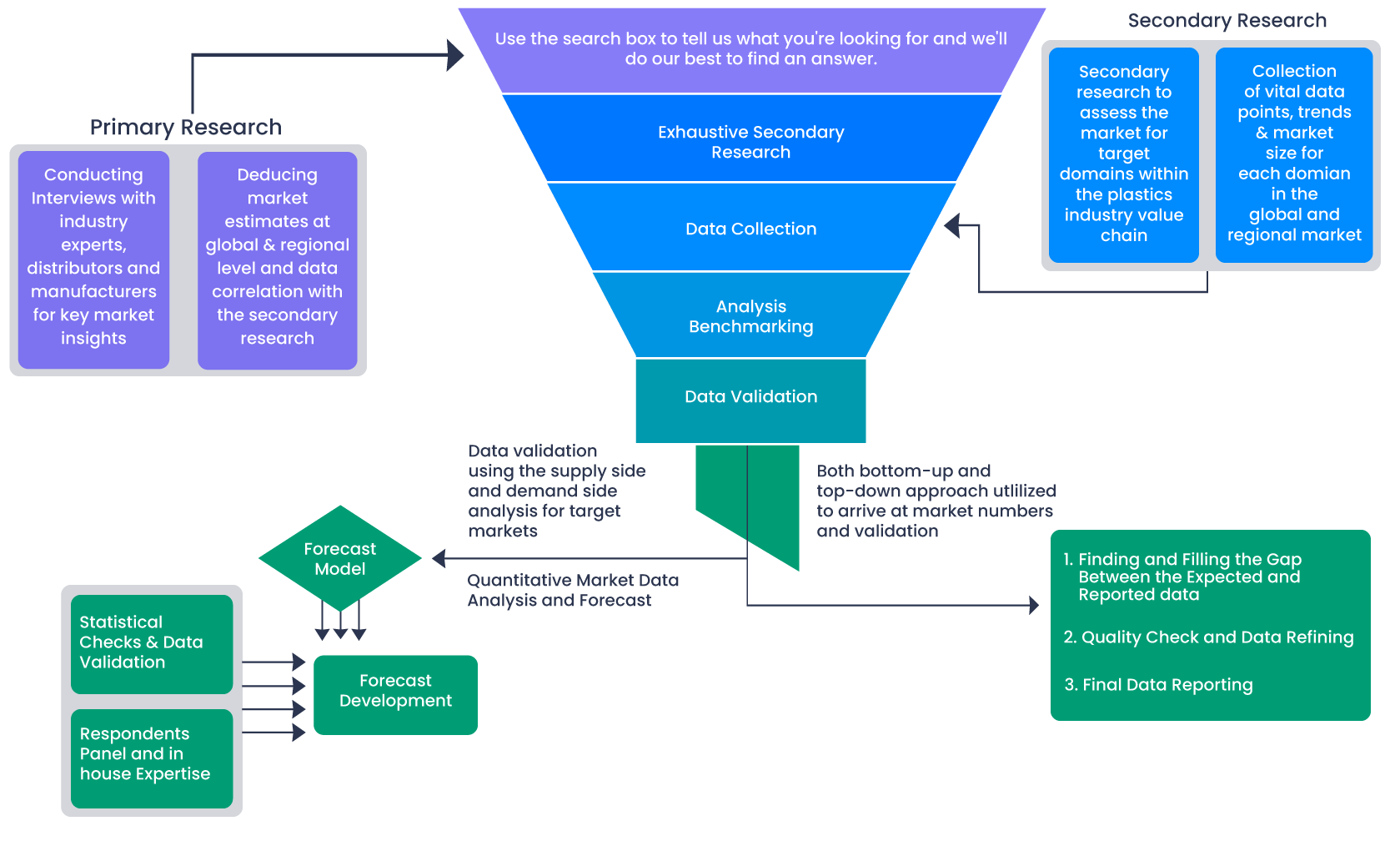 DATA COLLECTION AND INTERPRETATION
Data Acquisition
Primary Research
PRUDOUR conducts in-depth primary interviews with various stakeholders from both the supply and demand sides. As dedicated research analysts, we are committed to the meticulous collection of comprehensive and valuable data from a myriad of sources including emails, phone conversations, and personal interviews. Our core objective is to comprehensively explore diverse markets, niches, and sectors across an array of geographical landscapes. Engaging in an in-depth research interview with us offers an invaluable entry point to a wealth of knowledge. We provide you with a nuanced understanding of market size, consumer behavior, upcoming trends, potential opportunities, competitive landscapes, and future industry projections. Every member of our team boasts substantial expertise in primary market research. Our skill set extends from the creation of survey designs to their impeccable execution, underpinned by proprietary methodologies and advanced calibration techniques.
Helps in validating and strengthening our secondary research findings.
Further, enhances analysis team's expertise and offers a clear understanding of the target market.
Participants include, but are not limited to:
CEOs, VPs, market intelligence managers, marketing/product managers, and national sales managers.
Purchasing managers, industrial & technical experts, traders, and suppliers.
Investment bankers, valuation experts, research analysts specializing in the target or respective industry.
Key opinion leaders specializing in various applications related to the target or respective industry.
Secondary Research
The beauty of secondary research lies in its adaptability and constant evolution. As the business landscape undergoes continuous changes, secondary research methods keep pace, ensuring that the most up-to-date information is accessible.
Literature Review: We will conduct an extensive review of published academic papers, journals, books, and credible online sources to identify key theories, concepts, and findings related to our research topic. Reputable databases will serve as valuable repositories of information. We will explore renowned platforms, such as PubMed, Google Scholar, and industry-specific databases, to source reliable data.
Online Databases: PRUDOUR analyses database published by the key industry players such as, press releases, annual reports, investor presentations, and SEC filings of companies. Furthermore, PRUDOUR also conducts exhaustive secondary research through various paid resources including, Bloomberg Business, Wind Info, Hoovers, Factiva (Dow Jones & Company), TRADING ECONOMICS, Investing News Network, Statista, Federal Reserve Economic Data, BIS Statistics, ICIS, company house documents, and CAS (American Chemical Society).
Government Publications: To gain a comprehensive understanding of regulatory aspects and statistical data, we will analyze reports and publications released by government agencies, non-profit organizations, industry associations, and institutions.
Comparative Studies: By comparing and contrasting various sources, we will be able to present a well-rounded and unbiased perspective on the research topic.
Historical Data: Exploring historical data will provide us with valuable trends and patterns that can aid in understanding the evolution of the subject over time.
While our emphasis on secondary research delivers a comprehensive market landscape, we equally value the importance of assessing data quality. All sources undergo rigorous validation processes, guaranteeing their credibility and accuracy.
Vendor Data Set & Collaboration Tools
Aditionally, we utilize third-party paid tools and database like
xxx and yyy
to gain a holistic approach. We have access to a wide range of databases like white papers, company financials, industry journals. The data is utilized to validate hypotheses, assess the viability of new product launches, or explore expansion opportunities. We make sure to ensure the reliability and credibility of the data we use from the vendor database. We cross-check information from multiple sources to verify the accuracy of the data, thereby strengthening the credibility of our market research reports.
Marketresearch.biz's Internal Database
The information in our internal database is not only derived from primary research efforts but also supplemented by secondary sources to ensure accuracy and completeness. Our database management team is instrumental in making this information accessible and well-structured, ensuring its relevance and usefulness for our research initiatives.
ANALYSIS
| | | | |
| --- | --- | --- | --- |
| Analytical Tools and Techniques | Market Assessment and Feasibility | Marketing and Business Strategy | Regulatory and Political Analysis |
| Macro-economic Factors | Market Investment Feasibility Index | Marketing Strategy | Regulatory Framework |
| PEST Analysis | Opportunity Map Analysis | Manufacturer Intensity Map | Russia-Ukraine War Impact Analysis |
| PORTER'S Five Force Analysis | Opportunity Orbits | Competitor Positioning | |
| Drivers & Restraints Impact Analysis | Major Companies Sales by Value & Volume | Consumer Behavior Analysis | |
| Industry Chain Analysis | | | |
| Cost Structure Analysis | | | |
| Market Competition Scenario Analysis | | | |
| Product Life Cycle Analysis | | | |
After collecting data from secondary and primary sources, we proceed with analysis.
Defining the market and its taxonomy, establishing the research scope, and conducting key analyses.
Carefully examining the following to establish base numbers:

Analyzing company revenues and their corresponding market share (involving the analysis of revenue data released by publicly listed manufacturers).
Deriving market estimates by inspecting the primary market as well as its complementary markets.

Presenting key findings based on major segments and outlining top strategies by major players.
Analyzing the dynamics of the market, including drivers, opportunities, restraints, and challenges.
Assessing macro-economic factors and the regulatory framework influencing the market.
Evaluating market investment feasibility, conducting PEST and PORTER'S Five Force analyses.
Performing impact analysis of drivers and restraints, and conducting industry chain and cost structure analyses.
Developing a marketing strategy and examining the impact of the Russia-Ukraine war on the market.
Creating opportunity maps, analyzing market competition scenarios, and conducting product life cycle analysis.
Identifying opportunity orbits and manufacturer intensity maps.
Analyzing major companies' sales by value and volume to gain comprehensive insights into the market.
Industry Analysis Matrix
For this study, we adopted a two-pronged approach, combining both qualitative and quantitative analyses to provide a comprehensive understanding of the research subject. Our methodology encompassed the following key steps:
Qualitative Analysis
Conducted in-depth interviews with key stakeholders to gain valuable insights and perspectives.
Utilized focus groups to encourage open discussions and explore diverse viewpoints.
Thoroughly analyzed textual data from various sources, including documents, articles, and online forums.
Employed thematic analysis to identify recurring patterns and emerging themes.
Quantitative Analysis
Administered structured surveys to a representative sample of the target population.
Collected numerical data on a range of variables to enable statistical analysis.
Utilized statistical software to process and interpret the data efficiently.
Applied various statistical techniques, such as regression analysis and correlation, to uncover meaningful relationships.
Combining Qualitative and Quantitative Findings
Triangulated the qualitative and quantitative data to validate and complement each other's insights.
Integrated the results to present a holistic and nuanced understanding of the research topic.
Ensured the research conclusions were well-supported and robust.
This hybrid approach allowed us to delve deep into the underlying motivations, perceptions, and experiences of the participants while also providing quantifiable data to establish statistical significance. By blending qualitative richness with quantitative precision, our research methodology offers a powerful and compelling foundation for evidence-based decision-making.
Market Research Approaches
We employ both bottom-up and top-down approaches to segment and estimate quantitative aspects of the market. Moreover, a recurring theme present in all our research reports is data triangulation, which examines the market from three different perspectives.
Bottom-Up Approach in Research Methodology
How we use it:
Begins with collecting data at the micro-level (individual data points, small samples).
Data is aggregated and analyzed to form broader conclusions and insights.
The market share of the vendors are included.
Provides a granular view of the key players in the market, starting from the ground up.
Useful for industries with diverse segments and varied customer preferences.
Why we prefer it:
Effective in exploratory research when we have little pre-existing knowledge.
Provides a more real-world perspective as it starts from actual data.
Allows unexpected patterns and trends to emerge from data.
Can lead to the creation of new theories.
Top-Down Approach in Research Methodology
How we use it:
Starts with a macro-level view of the market (e.g., overall market size, industry trends).
Analyzes large-scale data and market indicators to make general assumptions.
Provides a broader perspective and identifies the main market drivers and trends.
Narrowing down focus as data is scrutinized and specific segments are explored.
Effective for quickly assessing overall market potential and opportunities in various regions.
Why we prefer it:
Useful when a pre-existing theory or model exists.
Provides a clear and logical framework for research.
Allows for rigorous testing and validation of theories.
Enables us to make specific predictions about future observations.
Both approaches are valuable in research and are often used together in a cycle of theory building and testing. The choice of approach depends on the nature of the research question, the state of existing knowledge, and the objectives of the research.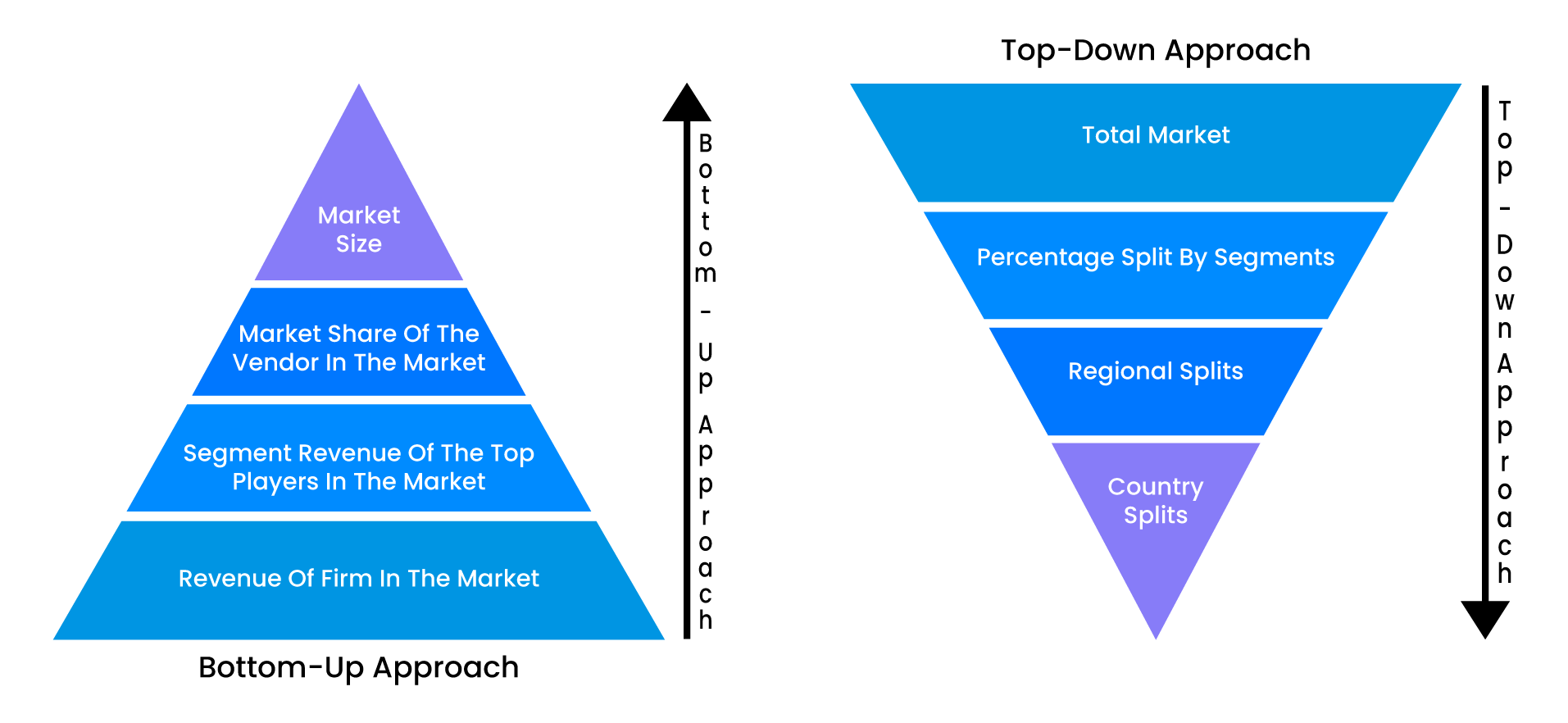 Value Chain Based Sizing & Forecasting
Penetration Modeling
Assess and predict market reach by analyzing product features, pricing, substitutes, etc.
Heuristic Year-on-Year Sales Estimation: Conducting primary interviews industry experts, KoLs, and distributors.
Product Sizing and Forecasting: Utilizing the S-curve diffusion model involves analyzing the adoption and growth patterns of a product within the market.
 Consumer Behaviour
Usage Rates and Patterns: We collect and analyze data on current product usage. It assists in product development and marketing strategies. Moreover, it also helps determine substitute rates.
Market Penetration by User Base: This helps estimate total market size and assess success in engaging potential consumers. It also identifies unmet needs and growth opportunities to enhance market penetration,
Regression and Variable Analysis
Identify key factors impacting growth and assigning appropriate weights to these variables.
Using Quality Function Deployment (QFD) to assess market share, customer satisfaction, and preferences, providing insights into competitive positioning.
Historical/Emperical data is establishing baseline estimates for analyzing future trends and making informed decisions.
Exponential smoothing is used to predict future product performance by accounting for trends and patterns over time.
Trend Analysis
Trend analysis is conducted using year trending models to study historical data and identify patterns and trends that can influence future product penetration. This analysis aids in making proactive decisions and adapting strategies to capitalize on emerging opportunities and overcome challenges in the market.
DATA VALIDATION
By engaging with our in-house market analysts and industry experts, we validate all the collected data and cross-check it through calls or face-to-face interviews. To validate the data included in the report, we conduct thorough strict quality checks. Simultaneously, we contact various members of our network to verify the data's authenticity, resulting in error elimination and eradication of doubtful information. Additionally, our research team co-relates with standard KIPs to gain insights into future trends. We make sure to conduct multi-tier data validation through the following channels:
External Thought-Leaders
Market Analysts
Subject Matter Experts
Comparative Analysis
Review Data Collection Instruments
Continuous Monitoring
FINAL REPORT AND PRESENTATION
Finalizing and validating data in collaboration with industry experts.
Employing a dedicated Quality Control (QC) team for rigorous data review.
Utilizing advanced data analysis models for generating valuable insights.
Providing an integrated platform with robust analytics and advanced visualization capabilities.
Ensuring consistency and efficiency with a standardized content management approach.
Implementing common tagging and taxonomy structure for seamless information connectivity.
Offering comprehensive market and company views for easy, accurate comparisons.
Striving to provide clients with exceptional analytical resources for a competitive edge.
Empowering clients to transform data into strategic insights for innovation and growth.