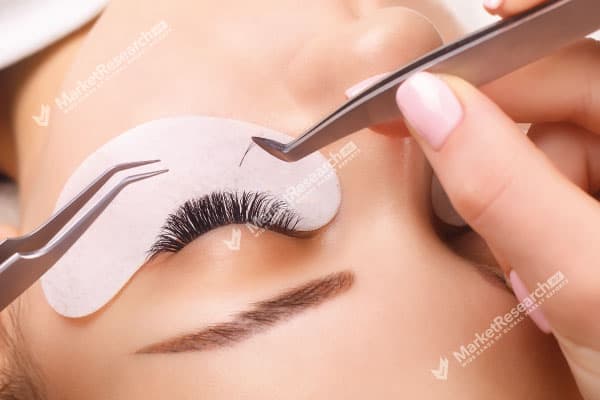 Global Magnetic Eyelashes Market Forecast, Trend Analysis And Competition Tracking - Global Market Insights 2015 to 2031
Demand For Magnetic Eyelashes From 2015 To 2020 Vs. Future Market Projections For 2021-2031

Introduction: Magnetic Eyelashes For Enhanced Eye Makeup

Magnetic eyelashes are an innovative new product in the beauty industry. These eyelashes are made of high-quality silicone, which is hypoallergenic and long-lasting. They are designed to mimic human hair in texture for natural-looking lashes closely. Magnetic eyelashes adorn your eyes with magnetic lash strips placed upon each other or eyeliner placed across the lid to make them magnetic. With the "sandwich style" of magnetic lashes, one strip (with magnets along its base) is placed below your lashes, and another strip is placed on top of your lashes to cling together and sandwich your natural lashes between the two strips. One of the main advantages of magnetic lashes is that they tend to be reusable, don't require messy glue, and are less likely to cause your natural lash to fall out.

On the other hand, magnetic eyelashes appear as your classic false eyelashes, but instead of using glue to attach them, you use a magnetic eyeliner. These eyeliners contain iron oxides that do the same thing as a paint-on-magnet, while the lashes have a short strip of magnets along the bottom. Draw a line with the magnetic eyeliner on your upper eye (cat eye, winged eye, etc.) and then place it on—easy.

An eyelash growth serum boom, lash extension procedures, and curling procedures demonstrate that the world is obsessed with longer, fuller eyelashes. Despite all these new technological developments, applying false eyelashes is a tried-and-true beauty trick to get happy, and only makeup artists and celebrities mastered the art for years. And the surge in the popularity of magnetic eyelashes is a good indication that this option is not to be ignored.

Market Dynamics: All The Lashes You Want, Even Without Glue!!

False eyelashes and beauty products are growing in acceptance among consumers of varying ages. One explanation for this is that a new generation of consumers wants to be beautiful but doesn't have the time or money to spend on skincare, make-up, or hair care. Professional credibility often comes from knowledge of beauty products, so many young employees turn to these non-professional sources because they see them as more authentic.

Magnetic eyelashes are a type of false eyelashes that attach to the natural lashes using magnets. When first used, they were primarily marketed as a cosmetic enhancement for those who had sparse or thinning lashes. More recently, they have become popular as an option for those who want fuller eyelashes without wearing heavy make-up. Magnetic eyelashes can give the appearance of thicker eyelashes and volume, which is said to be highly transformational on one's look.

The rise in demand for customized and unique eyelashes will strongly influence market growth. Eyelashes are an increasingly popular accessory for both men and women. The prevalence of false eyelashes is on the rise, as many people use them to accent their eyes or to create a more dramatic look by applying more than one pair of false lashes at a time.

Beauty products rely heavily on social media influencers to create their brand image. This is a new trend that has caused an upsurge in the beauty industry, prompting many other companies to follow suit. Social media influencers are individuals who have a large following of people on sites such as Instagram or YouTube, and they use this following to promote specific brands. Celebrities like Kendall Jenner, Kylie Jenner, and Nikki Minaj constantly endorse beauty products on Instagram and YouTube. They can be seen with hair extensions, new beauty brushes, and make-up kits. These celebrities even post tutorials on how to do their own make-up or hair style. Public figures have an immense reach through social media, which is why they are so powerful when it comes to marketing beauty products. Lashify, a company specializing in false eyelash extensions, has mostly used social media to generate sales. Other competitors in this sector also put these methods into play. Estée Lauder, for example, spends about 75% of its marketing budget on such influencers. This trend is expected to garner strong traction for the global magnetic eyelashes market in the coming years.

COVID-19 Impact Analysis: Sticking With The Falsies

By making masks an essential accessory of everyday life, the Covid-19 crisis appears to have affected make-up choices. With lips mostly partially hidden behind their facial masks, lipstick sales have declined, as consumers have continued to buy other types of cosmetic items, especially those focused on the eyes. Steep increase in the sales of eye shadows, eye liners, mascara, kajal and eyelashes has been noted by several beauty product companies during 2020 and 2021.

Regional Analysis: Give Yourself Some Natural Looking Glamour

North America presently holds the largest share of more than 35% in the global market. The US leads in the beauty industry, which will endure in the foreseeable future. There are innumerable beauty products manufacturers in the US. New influencers and actors in film and television are Exhibit A of the growing popularity of false eyelashes, as their influence across social media has assisted in driving up sales of such tools. This is anticipated to be highly fruitful for the target market growth.

The Key Players In The Magnetic Eyelashes Market

The magnetic eyelashes market landscape appears highly fragmented across various regions.

Ardell Professional
Ulta Beauty, Inc.
Esqido
Huda Beauty
ESSYNATURALS
Arishine Beauty
House of Lashes
Royal Korindah
Emeda eyelash Company
Vassoul
Tori Belle Cosmetics, LLC
Other Players

Report Scope

Forecast Period: 2022-2031
Actual Year: 2021
Historical Data Available for: 2015-2020

Key Segments Covered

Magnetic Eyelashes Market, By Product Type

Magnetic Eyelashes Market, By End-Use

Magnetic Eyelashes Market, By Distribution Channel

Hypermarkets/ Supermarkets
Beauty Stores
Online Markets
Other Distribution Channels

| Attribute | Report Details |
| --- | --- |
| Market Size | Ask For Market Size |
| Growth Rate | Ask For Growth Rate |
| Key Companies | Ask For Companies |
| Report Coverage | Revenue analysis, Competitive landscape, Key company analysis, Market Trends, Key segments, Distribution Channel, Market Dynamics, COVID-19 Impact Analysis and more… |
| Historical Data Period | 2015-2020 |
| Base Year | 2022 |
| Forecast Period | 2022-2031 |
| Region Scope | North America, Europe, Asia-Pacific, South America, Middle East & Africa |
| Country Scope | United States, Canada and Mexico, Germany, France, UK, Russia and Italy, China, Japan, Korea, India and Southeast Asia, Brazil, Argentina, Colombia etc.Saudi Arabia, UAE, Egypt, Nigeria and South Africa |
| Revenue in | US$ Mn |

Ardell Professional
Ulta Beauty, Inc.
Esqido
Huda Beauty
ESSYNATURALS
Arishine Beauty
House of Lashes
Royal Korindah
Emeda eyelash Company
Vassoul
Tori Belle Cosmetics, LLC
Other Players

Chapter 1 Global Magnetic Eyelashes Market Outlook

1.1 Introduction
1.2 Segmentation of Magnetic Eyelashes Market Based On Product Type, End-Use, Distribution Channel and Region
1.3 Market Drivers
1.4 Market Restraints
1.5 Market Opportunities
1.6 Market Trends
1.7 Macro-economic Factors
1.8 Regulatory Framework
1.9 Global Magnetic Eyelashes Market Pricing Analysis by Region, 2021
1.10 Opportunity Map Analysis

1.10.1 Optimistic Scenario
1.10.2 Likely Scenario
1.10.3 Conservative Scenario

1.11 Opportunity Orbits
1.12 Market Investment Feasibility Index
1.13 PEST Analysis
1.14 PORTER'S Five Force Analysis
1.15 Drivers & Restraints Impact Analysis
1.16 Marketing Strategy
1.17 Product Life Cycle Analysis
1.18 Value Chain Analysis
1.19 Cost Structure Analysis
1.20 Regional Market Share and BPS Analysis in Magnetic Eyelashes Market
1.21 COVID-19 Impact Analysis

Chapter 2 Global Magnetic Eyelashes Market Overview

2.1 Global Market Value & Volume Comparison by Product Type (2015-2031)

2.1.1 Global Market Value & Volume Market Share by Product Type in 2021
2.1.2 Global Market Attractiveness Analysis by Product Type, 2015–2022

2.2 Global Market Value & Volume Comparison by End-Use (2015-2031)

2.2.1 Global Market Value & Volume Market Share by End-Use in 2021
2.2.2 Global Market Attractiveness Analysis by End-Use, 2015–2022

2.3 Global Market by Distribution Channel

2.3.1 Global Market Value & Volume Comparison by Distribution Channel (2015-2031)
2.3.2 Global Market Value & Volume Market Share by Distribution Channel in 2021
2.3.3 Global Market Attractiveness Analysis by Distribution Channel, 2015–2022

2.4 Global Market Outlook by Region

2.4.1 Global Market Value & Volume Comparison by Region (2015-2031)
2.4.2 Global Market Value & Volume Market Share by Region in 2021
2.4.3 Global Market Attractiveness Analysis by Region, 2015–2022

2.5 Global Market Outlook (2015-2031)

2.5.1 Global Market Value & Volume (2015–2022)
2.5.2 Global Market Value & Volume (2023-2031)

2.6 Global Market Value & Volume by Regions

2.6.1 Global Market Value & Volume Comparison by Region (2015–2022)
2.6.2 Global Market Value & Volume Comparison by Region (2023-2031)

2.7 Global Market Value & Volume by Product Type

2.7.1 Global Market Value & Volume Comparison by Product Type (2015–2022)
2.7.2 Global Market Value & Volume Comparison by Product Type (2023-2031)

2.8 Global Market Value & Volume by End-Use

2.8.1 Global Market Value & Volume Comparison by End-Use (2015–2022)
2.8.2 Global Market Value & Volume Comparison by End-Use (2023-2031)

2.9 Global Market Value & Volume by Distribution Channel

2.9.1 Global Market Value & Volume Comparison by Distribution Channel (2015–2022)
2.9.2 Global Market Value & Volume Comparison by Distribution Channel (2023-2031)

2.10 Global Market Y-o-Y Growth Rate Comparison 2016–2031

2.10.1 Global Market Y-o-Y Growth Rate by Region
2.10.2 Global Market Y-o-Y Growth Rate by Product Type
2.10.3 Global Market Y-o-Y Growth Rate by End-Use
2.10.4 Global Market Y-o-Y Growth Rate by Distribution Channel

2.11 Global Market Share Comparison 2015–2030

2.11.1 Global Market Share by Region
2.11.2 Global Market Share by Product Type
2.11.3 Global Market Share by End-Use
2.11.4 Global Market Share by Distribution Channel

Chapter 3 North America Magnetic Eyelashes Market Overview

3.1 North America Market by Product Type

3.1.1 North America Market Value & Volume Comparison by Product Type (2015-2031)
3.1.2 North America Market Value & Volume Market Share by Product Type in 2021

3.2 North America Market Value & Volume Comparison by End-Use (2015-2031)

3.2.1 North America Market Value & Volume Market Share by End-Use in 2021
3.2.2 North America Market Attractiveness Analysis by End-Use, 2015–2022

3.3 North America Market by Distribution Channel

3.3.1 North America Market Value & Volume Comparison by Distribution Channel (2015-2031)
3.3.2 North America Market Value & Volume Market Share by Distribution Channel in 2021
3.3.3 North America Market Attractiveness Analysis by Distribution Channel, 2015–2022

3.4 North America Market Outlook by Region

3.4.1 North America Market Value & Volume Comparison by Region (2015-2031)
3.4.2 North America Market Value & Volume Market Share by Region in 2021
3.4.3 North America Market Attractiveness Analysis by Region, 2015–2022

3.5 North America Market Outlook (2015-2031)

3.5.1 North America Market Value & Volume (2015–2022)
3.5.2 North America Market Value & Volume (2023-2031)

3.6 North America Market Value & Volume by Regions

3.6.1 North America Market Value & Volume Comparison by Region (2015–2022)
3.6.2 North America Market Value & Volume Comparison by Region (2023-2031)

3.7 North America Market Value & Volume by Product Type

3.7.1 North America Market Value & Volume Comparison by Product Type (2015–2022)
3.7.2 North America Market Value & Volume Comparison by Product Type (2023-2031)

3.8 North America Market Value & Volume by End-Use

3.8.1 North America Market Value & Volume Comparison by End-Use (2015–2022)
3.8.2 North America Market Value & Volume Comparison by End-Use (2023-2031)

3.9 North America Market Value & Volume by Distribution Channel

3.9.1 North America Market Value & Volume Comparison by Distribution Channel (2015–2022)
3.9.2 North America Market Value & Volume Comparison by Distribution Channel (2023-2031)

3.10 North America Market Y-o-Y Growth Rate Comparison 2016–2031

3.10.1 North America Market Y-o-Y Growth Rate by Region
3.10.2 North America Market Y-o-Y Growth Rate by Product Type
3.10.3 North America Market Y-o-Y Growth Rate by End-Use
3.10.4 North America Market Y-o-Y Growth Rate by Distribution Channel

3.11 North America Market Share Comparison 2015–2030

3.11.1 North America Market Share by Region
3.11.2 North America Market Share by Product Type
3.11.3 North America Market Share by End-Use
3.11.4 North America Market Share by Distribution Channel

Chapter 4 Europe Magnetic Eyelashes Market Overview

4.1 Europe Market by Product Type

4.1.1 Europe Market Value & Volume Comparison by Product Type (2015-2031)
4.1.2 Europe Market Value & Volume Market Share by Product Type in 2021

4.2 Europe Market Value & Volume Comparison by End-Use (2015-2031)

4.2.1 Europe Market Value & Volume Market Share by End-Use in 2021
4.2.2 Europe Market Attractiveness Analysis by End-Use, 2015–2022

4.3 Europe Market by Distribution Channel

4.3.1 Europe Market Value & Volume Comparison by Distribution Channel (2015-2031)
4.3.2 Europe Market Value & Volume Market Share by Distribution Channel in 2021
4.3.3 Europe Market Attractiveness Analysis by Distribution Channel, 2015–2022

4.4 Europe Market Outlook by Region

4.4.1 Europe Market Value & Volume Comparison by Region (2015-2031)
4.4.2 Europe Market Value & Volume Market Share by Region in 2021
4.4.3 Europe Market Attractiveness Analysis by Region, 2015–2022

4.5 Europe Market Outlook (2015-2031)

4.5.1 Europe Market Value & Volume (2015–2022)
4.5.2 Europe Market Value & Volume (2023-2031)

4.6 Europe Market Value & Volume by Regions

4.6.1 Europe Market Value & Volume Comparison by Region (2015–2022)
4.6.2 Europe Market Value & Volume Comparison by Region (2023-2031)

4.7 Europe Market Value & Volume by Product Type

4.7.1 Europe Market Value & Volume Comparison by Product Type (2015–2022)
4.7.2 Europe Market Value & Volume Comparison by Product Type (2023-2031)

4.8 Europe Market Value & Volume by End-Use

4.8.1 Europe Market Value & Volume Comparison by End-Use (2015–2022)
4.8.2 Europe Market Value & Volume Comparison by End-Use (2023-2031)

4.9 Europe Market Value & Volume by Distribution Channel

4.9.1 Europe Market Value & Volume Comparison by Distribution Channel (2015–2022)
4.9.2 Europe Market Value & Volume Comparison by Distribution Channel (2023-2031)

4.10 Europe Market Y-o-Y Growth Rate Comparison 2016–2031

4.10.1 Europe Market Y-o-Y Growth Rate by Region
4.10.2 Europe Market Y-o-Y Growth Rate by Product Type
4.10.3 Europe Market Y-o-Y Growth Rate by End-Use
4.10.4 Europe Market Y-o-Y Growth Rate by Distribution Channel

4.11 Europe Market Share Comparison 2015–2030

4.11.1 Europe Market Share by Region
4.11.2 Europe Market Share by Product Type
4.11.3 Europe Market Share by End-Use
4.11.4 Europe Market Share by Distribution Channel

Chapter 5 Asia-Pacific Magnetic Eyelashes Market Overview

5.1 Asia-Pacific Market by Product Type

5.1.1 Asia-Pacific Market Value & Volume Comparison by Product Type (2015-2031)
5.1.2 Asia-Pacific Market Value & Volume Market Share by Product Type in 2021

5.2 Asia-Pacific Market Value & Volume Comparison by End-Use (2015-2031)

5.2.1 Asia-Pacific Market Value & Volume Market Share by End-Use in 2021
5.2.2 Asia-Pacific Market Attractiveness Analysis by End-Use, 2015–2022

5.3 Asia-Pacific Market by Distribution Channel

5.3.1 Asia-Pacific Market Value & Volume Comparison by Distribution Channel (2015-2031)
5.3.2 Asia-Pacific Market Value & Volume Market Share by Distribution Channel in 2021
5.3.3 Asia-Pacific Market Attractiveness Analysis by Distribution Channel, 2015–2022

5.4 Asia-Pacific Market Outlook by Region

5.4.1 Asia-Pacific Market Value & Volume Comparison by Region (2015-2031)
5.4.2 Asia-Pacific Market Value & Volume Market Share by Region in 2021
5.4.3 Asia-Pacific Market Attractiveness Analysis by Region, 2015–2022

5.5 Asia-Pacific Market Outlook (2015-2031)

5.5.1 Asia-Pacific Market Value & Volume (2015–2022)
5.5.2 Asia-Pacific Market Value & Volume (2023-2031)

5.6 Asia-Pacific Market Value & Volume by Regions

5.6.1 Asia-Pacific Market Value & Volume Comparison by Region (2015–2022)
5.6.2 Asia-Pacific Market Value & Volume Comparison by Region (2023-2031)

5.7 Asia-Pacific Market Value & Volume by Product Type

5.7.1 Asia-Pacific Market Value & Volume Comparison by Product Type (2015–2022)
5.7.2 Asia-Pacific Market Value & Volume Comparison by Product Type (2023-2031)

5.8 Asia-Pacific Market Value & Volume by End-Use

5.8.1 Asia-Pacific Market Value & Volume Comparison by End-Use (2015–2022)
5.8.2 Asia-Pacific Market Value & Volume Comparison by End-Use (2023-2031)

5.9 Asia-Pacific Market Value & Volume by Distribution Channel

5.9.1 Asia-Pacific Market Value & Volume Comparison by Distribution Channel (2015–2022)
5.9.2 Asia-Pacific Market Value & Volume Comparison by Distribution Channel (2023-2031)

5.10 Asia-Pacific Market Y-o-Y Growth Rate Comparison 2016–2031

5.10.1 Asia-Pacific Market Y-o-Y Growth Rate by Region
5.10.2 Asia-Pacific Market Y-o-Y Growth Rate by Product Type
5.10.3 Asia-Pacific Market Y-o-Y Growth Rate by End-Use
5.10.4 Asia-Pacific Market Y-o-Y Growth Rate by Distribution Channel

5.11 Asia-Pacific Market Share Comparison 2015–2030

5.11.1 Asia-Pacific Market Share by Region
5.11.2 Asia-Pacific Market Share by Product Type
5.11.3 Asia-Pacific Market Share by End-Use
5.11.4 Asia-Pacific Market Share by Distribution Channel

Chapter 6 Latin America Magnetic Eyelashes Market Overview

6.1 Latin America Market by Product Type

6.1.1 Latin America Market Value & Volume Comparison by Product Type (2015-2031)
6.1.2 Latin America Market Value & Volume Market Share by Product Type in 2021

6.2 Latin America Market Value & Volume Comparison by End-Use (2015-2031)

6.2.1 Latin America Market Value & Volume Market Share by End-Use in 2021
6.2.2 Latin America Market Attractiveness Analysis by End-Use, 2015–2022

6.3 Latin America Market by Distribution Channel

6.3.1 Latin America Market Value & Volume Comparison by Distribution Channel (2015-2031)
6.3.2 Latin America Market Value & Volume Market Share by Distribution Channel in 2021
6.3.3 Latin America Market Attractiveness Analysis by Distribution Channel, 2015–2022

6.4 Latin America Market Outlook by Region

6.4.1 Latin America Market Value & Volume Comparison by Region (2015-2031)
6.4.2 Latin America Market Value & Volume Market Share by Region in 2021
6.4.3 Latin America Market Attractiveness Analysis by Region, 2015–2022

6.5 Latin America Market Outlook (2015-2031)

6.5.1 Latin America Market Value & Volume (2015–2022)
6.5.2 Latin America Market Value & Volume (2023-2031)

6.6 Latin America Market Value & Volume by Regions

6.6.1 Latin America Market Value & Volume Comparison by Region (2015–2022)
6.6.2 Latin America Market Value & Volume Comparison by Region (2023-2031)

6.7 Latin America Market Value & Volume by Product Type

6.7.1 Latin America Market Value & Volume Comparison by Product Type (2015–2022)
6.7.2 Latin America Market Value & Volume Comparison by Product Type (2023-2031)

6.8 Latin America Market Value & Volume by End-Use

6.8.1 Latin America Market Value & Volume Comparison by End-Use (2015–2022)
6.8.2 Latin America Market Value & Volume Comparison by End-Use (2023-2031)

6.9 Latin America Market Value & Volume by Distribution Channel

6.9.1 Latin America Market Value & Volume Comparison by Distribution Channel (2015–2022)
6.9.2 Latin America Market Value & Volume Comparison by Distribution Channel (2023-2031)

6.10 Latin America Market Y-o-Y Growth Rate Comparison 2016–2031

6.10.1 Latin America Market Y-o-Y Growth Rate by Region
6.10.2 Latin America Market Y-o-Y Growth Rate by Product Type
6.10.3 Latin America Market Y-o-Y Growth Rate by End-Use
6.10.4 Latin America Market Y-o-Y Growth Rate by Distribution Channel

6.11 Latin America Market Share Comparison 2015–2030

6.11.1 Latin America Market Share by Region
6.11.2 Latin America Market Share by Product Type
6.11.3 Latin America Market Share by End-Use
6.11.4 Latin America Market Share by Distribution Channel

Chapter 7 MEA Magnetic Eyelashes Market Overview

7.1 MEA Market by Product Type

7.1.1 MEA Market Value & Volume Comparison by Product Type (2015-2031)
7.1.2 MEA Market Value & Volume Market Share by Product Type in 2021

7.2 MEA Market Value & Volume Comparison by End-Use (2015-2031)

7.2.1 MEA Market Value & Volume Market Share by End-Use in 2021
7.2.2 MEA Market Attractiveness Analysis by End-Use, 2015–2022

7.3 MEA Market by Distribution Channel

7.3.1 MEA Market Value & Volume Comparison by Distribution Channel (2015-2031)
7.3.2 MEA Market Value & Volume Market Share by Distribution Channel in 2021
7.3.3 MEA Market Attractiveness Analysis by Distribution Channel, 2015–2022

7.4 MEA Market Outlook by Region

7.4.1 MEA Market Value & Volume Comparison by Region (2015-2031)
7.4.2 MEA Market Value & Volume Market Share by Region in 2021
7.4.3 MEA Market Attractiveness Analysis by Region, 2015–2022

7.5 MEA Market Outlook (2015-2031)

7.5.1 MEA Market Value & Volume (2015–2022)
7.5.2 MEA Market Value & Volume (2023-2031)

7.6 MEA Market Value & Volume by Regions

7.6.1 MEA Market Value & Volume Comparison by Region (2015–2022)
7.6.2 MEA Market Value & Volume Comparison by Region (2023-2031)

7.7 MEA Market Value & Volume by Product Type

7.7.1 MEA Market Value & Volume Comparison by Product Type (2015–2022)
7.7.2 MEA Market Value & Volume Comparison by Product Type (2023-2031)

7.8 MEA Market Value & Volume by End-Use

7.8.1 MEA Market Value & Volume Comparison by End-Use (2015–2022)
7.8.2 MEA Market Value & Volume Comparison by End-Use (2023-2031)

7.9 MEA Market Value & Volume by Distribution Channel

7.9.1 MEA Market Value & Volume Comparison by Distribution Channel (2015–2022)
7.9.2 MEA Market Value & Volume Comparison by Distribution Channel (2023-2031)

7.10 MEA Market Y-o-Y Growth Rate Comparison 2016–2031

7.10.1 MEA Market Y-o-Y Growth Rate by Region
7.10.2 MEA Market Y-o-Y Growth Rate by Product Type
7.10.3 MEA Market Y-o-Y Growth Rate by End-Use
7.10.4 MEA Market Y-o-Y Growth Rate by Distribution Channel

7.11 MEA Market Share Comparison 2015–2030

7.11.1 MEA Market Share by Region
7.11.2 MEA Market Share by Product Type
7.11.3 MEA Market Share by End-Use
7.11.4 MEA Market Share by Distribution Channel

Chapter 8 Global Magnetic Eyelashes Market Company Profiles

8.1 Market Competition Scenario Analysis, By Company
8.2 Competitor Landscape
8.3 Company Share Analysis
8.4 Company Profiles

8.4.1 Ardell Professional

8.4.1.1 Company Overview
8.4.1.2 Business Description
8.4.1.3 Product Portfolio
8.4.1.4 Key Financials
8.4.1.5 Key Developments
8.4.1.6 SWOT Analysis

8.4.2 Ulta Beauty, Inc.

8.4.2.1 Company Overview
8.4.2.2 Business Description
8.4.2.3 Product Portfolio
8.4.2.4 Key Financials
8.4.2.5 Key Developments
8.4.2.6 SWOT Analysis

8.4.3 Esqido

8.4.3.1 Company Overview
8.4.3.2 Business Description
8.4.3.3 Product Portfolio
8.4.3.4 Key Financials
8.4.3.5 Key Developments
8.4.3.6 SWOT Analysis

8.4.4 Huda Beauty

8.4.4.1 Company Overview
8.4.4.2 Business Description
8.4.4.3 Product Portfolio
8.4.4.4 Key Financials
8.4.4.5 Key Developments
8.4.4.6 SWOT Analysis

8.4.5 ESSYNATURALS

8.4.5.1 Company Overview
8.4.5.2 Business Description
8.4.5.3 Product Portfolio
8.4.5.4 Key Financials
8.4.5.5 Key Developments
8.4.5.6 SWOT Analysis

8.4.6 Arishine Beauty

8.4.6.1 Company Overview
8.4.6.2 Business Description
8.4.6.3 Product Portfolio
8.4.6.4 Key Financials
8.4.6.5 Key Developments
8.4.6.6 SWOT Analysis

8.4.7 House of Lashes

8.4.7.1 Company Overview
8.4.7.2 Business Description
8.4.7.3 Product Portfolio
8.4.7.4 Key Financials
8.4.7.5 Key Developments
8.4.7.6 SWOT Analysis

8.4.8 Royal Korindah

8.4.8.1 Company Overview
8.4.8.2 Business Description
8.4.8.3 Product Portfolio
8.4.8.4 Key Financials
8.4.8.5 Key Developments
8.4.8.6 SWOT Analysis

8.4.9 Emeda Eyelash Company

8.4.9.1 Company Overview
8.4.9.2 Business Description
8.4.9.3 Product Portfolio
8.4.9.4 Key Financials
8.4.9.5 Key Developments
8.4.9.6 SWOT Analysis

8.4.10 Vassoul

8.4.10.1 Company Overview
8.4.10.2 Business Description
8.4.10.3 Product Portfolio
8.4.10.4 Key Financials
8.4.10.5 Key Developments
8.4.10.6 SWOT Analysis

8.4.11 Other Key Players

Chapter 9 Research Methodology

9.1 Research Methodology
9.2 Primary Research
9.3 Secondary Research
9.4 Report Scope

Chapter 10 About Us
Chapter 11 Disclaimer

Inquiry Form

Why Choose Us

360 Degree Approach
Growth Consulting
24/7 Research Support
Comprehensive-Level of Customization
Comprehensive-Level of Customization
Competitive Intelligence
Single-Country/ Region Intelligence
Post-Sale Service Assistance
Access to Lead Analysts
Available in PDF, Excel, Word/ PPT

Request for Customization
✖
Request a Sample Report
We'll get back to you as quickly as possible
Frequently Asked Questions (FAQ)
How Do Magnetic Eyelashess Work?
Magnetic lashes work by sandwiching one of your natural lashes between a pair of false lashes with magnetic strips, which hold them in place just as a glue normally would.
How Long Do Magnetic Eyelashes Last?
The magnetic eyelash and eyeliner last 10 hours (essentially, the entire day), so if you use these products daily, they're entirely usable for a month.
How Much Do Magnetic Eyelashes Cost?
A 5-pair magnetic eyelash set with the eyeliner, starts from US$ 15 and can range upwards depending on the brand of product.
What Are The Growth Prospects Of The Global Magnetic Eyelashes Market?
Global Magnetic Eyelashes Market is valued at US$ 286.2 Mn in 2021 and is expected to register a CAGR of about 3-4% over the forecast period. The North America region will dominate the market in 2021.
Which Are The Key Players In The Magnetic Eyelashes Market?
The magnetic eyelashes market landscape appears highly fragmented across various regions.  Ardell Professional  Ulta Beauty, Inc.  Esqido  Huda Beauty  ESSYNATURALS  Arishine Beauty  House of Lashes  Royal Korindah  Emeda eyelash Company  Vassoul  Tori Belle Cosmetics, LLC  Other Players
OUR
CLIENTS
Don't just take our word. We are trusted by these great companies!