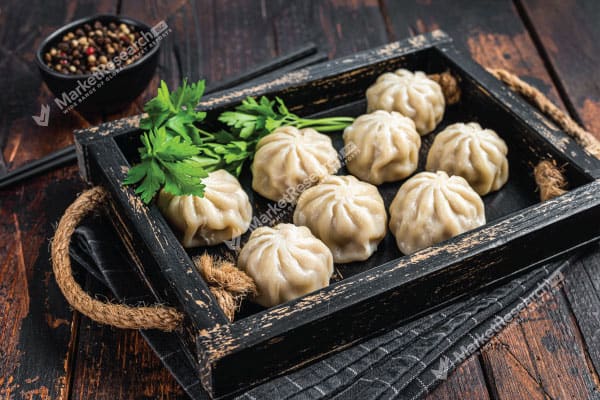 Dumplings Market By Filling Analysis (Vegetable Dumplings, Meat Dumplings), By Distribution Channel Analysis (Supermarket/ Hypermarkets, Restaurants & Joints,Other ), By End-User Analysis (Household Consumption, Food Service), By Region And Companies - Industry Segment Outlook, Market Assessment, Competition Scenario, Trends, And Forecast 2023-2032
Dumplings Market size is expected to be worth around USD 119.1 Bn by 2032 from USD 52.1 Bn in 2022, growing at a CAGR of 8.9%.

The variety of dumplings and the taste availability are the main factors driving the dumpling market. Dumplings are prepared globally. Almost every country has its own style and taste of dumplings with different shapes, sizes, versions, and stuffing. Dumplings are often made in the Asia region. Certainly, China is the oldest country that introduced dumplings.

The surge in non-additives is the latest trend to shape the market expansion. As urbanization has increased, customers are more attracted to products with no additives, organic, and natural substances, especially packaged or canned food items.

The rise in demand for frozen dumplings is increasing due to the popularity of instant food which can save time and at the same time provide nutritional and tasty food. Several brands are also expanding their market reach into niche market areas.

Frozen dumplings are preserved for more than 6 months if they are preserved properly. Consumers who prefer to avoid physical visits to shops can buy such types of frozen dumplings and enjoy the food.

The increase in the frozen dumplings will mostly gain an exceptional market expansion in the dumpling market industry. The sudden surge in disposable expenses and rise in urbanization will definitely increase the dumpling market growth.

The increased dumpling craze and spread of dumplings will also surge the market expansion. In dumpling manufacturing companies, the demand for dumplings plays a vital role in growing their business. Such organizations totally depend upon the popularity and taste of the dumplings that will make their market presence and have a loyal customer base. For example, dumpling manufacturers make traditional old-style dumplings as well as imply new experiments in the taste of the dumplings.

The success and growth of the organization lie in its ability to produce high-quality dumplings that meet the customer's demand in terms of taste, flavor, and texture. Additionally, companies do provide new types of flavors and adapt to healthy dietary trends to maintain their food line unique and attractive.

This adaptability ensures the relevance of the manufacturers in the ever-changing food product sector. As there will be an increase in demand for dumplings in the coming future, it will directly contribute to the dumpling market growth during the forecast period.

Driving Factors

Global Popularity of Asian Dishes Fuels Dumpling Market Growth

The growing popularity of Asian dishes globally is a major driver for the expansion of the dumpling market. Dumplings, a staple in many Asian cuisines, have gained international recognition and acceptance, thanks to the globalization of food culture. The increasing number of Asian restaurants worldwide, coupled with the rising interest in ethnic cuisines among consumers, has significantly contributed to the popularity of dumplings.

This trend is supported by travel, immigration, and digital media, which have exposed a broader audience to Asian culinary traditions. As consumers become more adventurous with their food choices, the demand for authentic and diverse dumpling varieties increases. The long-term implication is a sustained interest in Asian cuisine, with dumplings becoming a mainstream food item in many regions outside Asia, thereby driving continuous market growth.

Healthy Frozen Dumplings Demand Boosts Market

The demand for healthy frozen dumplings among consumers is boosting the dumpling market. With a growing focus on health and wellness, consumers are seeking convenient food options that don't compromise nutritional value. Frozen dumplings that are low in calories, high in protein, or made with whole ingredients cater to this demand.

Manufacturers are responding by offering a range of healthier frozen dumpling options, including those made with organic ingredients, plant-based fillings, and gluten-free dough. This shift is particularly appealing to health-conscious consumers who value convenience but are mindful of their dietary choices. The trend towards healthier eating habits is likely to continue, ensuring steady growth in the market segment of healthy frozen dumplings.

Versatility and Convenience of Dumplings Attract Consumers

The versatility and convenience of dumplings are key factors driving market growth. Dumplings are a versatile food, suitable for various meal occasions, from snacks and appetizers to main courses. Their ease of preparation, particularly frozen and ready-to-cook varieties, appeals to consumers seeking quick and easy meal solutions.

Dumplings' convenience makes them particularly appealing in hectic lifestyles where time for cooking is limited. Furthermore, dumplings' adaptability to various cuisines and dietary restrictions has made them popular with diverse consumer segments. As we trend toward convenience in eating habits more and more often, this should foster continued market expansion for ready-to-cook and easy-prep options like these.

Restraining Factors


Increasing Competition from Other Convenient Food Options Restrains Dumpling Market Growth

The dumpling market faces stiff competition from an abundance of convenient food options. As fast food, ready-to-eat meals, and other quick snack alternatives become more readily available and consumers' tastes change, their preferences become increasingly diverse and these alternatives often provide greater variety, convenience, and sometimes healthier choices that appeal to a broader consumer base. Being seen in such a crowded marketplace requires not only taste and convenience; but also nutritional value and variety must be competing equally for growth within this crowded market.

Excessive Sodium and Fat Content Restrains Dumpling Market Growth

Health concerns related to the high sodium and fat content often found in dumplings can hinder their market expansion. With increased awareness surrounding health issues, consumers have become more selective about the foods they eat; many now favor foods with reduced sodium and fat contents such as those available pre-packed or frozen varieties of dumplings containing higher levels of these elements to add flavor or extend shelf life; this health risk could lead to shifts in consumer preference towards healthier options, potentially diminishing demand for dumplings in more health conscious segments of the market. Addressing nutritional concerns will ensure greater market success within this sector

Dumpling Market Segment Analysis

By Filling

Meat dumplings are the most popular filling type in the dumpling market. This dominance is largely driven by traditional recipes across various cuisines, especially in Asian countries where dumplings are a staple. Meat fillings, ranging from pork, beef, and chicken, to seafood, are favored for their rich flavor and satisfying texture. The versatility in preparation methods – whether steamed, boiled, or fried – adds to their appeal. The growth in this segment is also supported by the rising global demand for protein-rich foods and the expanding culinary preferences of consumers worldwide.

Vegetable dumplings, while not as dominant as meat dumplings, are gaining popularity, particularly among health-conscious consumers and those following vegetarian or vegan diets. The increasing focus on plant-based diets is likely to drive growth in this segment.

By Distribution Channel

Supermarkets and hypermarkets are the leading distribution channels for dumplings, offering a wide variety of frozen and fresh options. Their widespread presence, convenience, and ability to cater to diverse consumer preferences solidify their market position. These retail formats also benefit from the growing trend of at-home cooking and the demand for easy-to-prepare meal solutions.

Restaurants and food joints are significant for providing freshly made dumplings, often with regional and chef-specific variations. Online markets are expanding rapidly, catering to the increasing consumer preference for home delivery services. Other channels include specialty stores and direct sales from manufacturers.

By End-User

Household consumption is the primary end-user segment in the dumpling market. The rising demand for convenient, easy-to-cook meal options drives this segment's growth, especially among working professionals and busy households. The availability of frozen and ready-to-cook dumplings in various flavors and fillings caters to the growing consumer demand for variety and convenience in home cooking.

The food service sector, encompassing restaurants, cafeterias, and catering services, also contributes significantly to the dumpling market. This segment capitalizes on the consumer desire for authentic and diverse culinary experiences.

The dumpling market is characterized by a strong preference for meat fillings, driven by traditional culinary practices and the global demand for protein-rich foods. Supermarkets and hypermarkets dominate the distribution channel, reflecting the consumer preference for convenience and variety. Household consumption leads the end-user segments, underpinned by the growing trend of easy-to-prepare and diverse food options at home. The market's expansion is further supported by the increasing popularity of vegetable dumplings, catering to the rising plant-based diet trend, and the evolving online markets, which offer greater accessibility and convenience to consumers.

By Filling

Meat Dumplings
Vegetable Dumplings

By Distribution Channel

Supermarket/ Hypermarkets
Restaurants & Joints
Online Markets
Other Distribution Channels

By End-User

Household Consumption
Food Service

Growth Opportunities

Expanding Product Portfolio Diversifies and Expands Opportunities in the Dumpling Market

The expansion of product portfolios within the dumpling market presents growth opportunities for businesses in the industry. Dumplings have evolved from traditional varieties to include a wide range of flavors, fillings, and cooking styles. This diversification caters to varying consumer tastes and preferences, making dumplings a versatile and inclusive food category. Companies that innovate and expand their dumpling offerings to encompass a broad spectrum of flavors and cultural influences are poised for market growth, accommodating the diverse palates of consumers and enhancing the overall appeal of dumplings.

Globalization of Food Culture Drives Market Expansion in the Dumpling Industry

The globalization of food culture plays a pivotal role in driving market opportunities in the dumpling industry. Dumplings, once a regional delicacy, have transcended cultural boundaries to become a beloved and recognizable food item worldwide. The increasing appreciation for diverse cuisines, including Asian flavors, has propelled the popularity of dumplings as a global comfort food. Manufacturers and restaurateurs that tap into this trend by offering authentic and fusion dumpling options are well-positioned for growth. This trend reflects the broader shift towards global culinary exploration and contributes to the expansion of the dumpling market.

Growing Popularity of Asian Cuisine Boosts Market Potential for Dumplings

The growing popularity of Asian cuisine is a significant factor boosting market potential for dumplings. Dumplings are a quintessential part of Asian culinary traditions, and as Asian cuisine gains prominence worldwide, so do dumplings. Consumers are increasingly seeking the flavors and experiences associated with Asian cooking. Companies specializing in dumplings, whether traditional or innovative, benefit from this trend by meeting the demand for authentic and high-quality Asian-inspired dumplings. This aligns with the broader trend of multicultural culinary exploration and contributes to the overall growth of the dumpling market.

Regional analysis

Asia Pacific Dominates with a 45% Market Share in the Dumpling Market

The Asia Pacific region, with its 45% market share, stands as the dominant force in the global dumpling market. This dominance is rooted in the region's rich culinary traditions, where dumplings are a staple in many countries' cuisines. The high market share is driven by a large consumer base with a deep cultural affinity for dumplings, varied styles and flavors specific to each country, and the widespread popularity of Asian cuisine globally.

Market dynamics in the Asia Pacific are influenced by the strong presence of local and regional food businesses that specialize in dumplings, along with growing international exposure and acceptance of Asian cuisine. The increasing trend of fast and convenient food options also plays a significant role, as frozen and ready-to-cook dumplings gain popularity.

Forecast implications suggest that the Asia Pacific region will continue to lead the dumpling market. The ongoing globalization of food culture and the increasing demand for ethnic and convenience food products worldwide are likely to further bolster the market. Additionally, innovation in dumpling varieties and packaging, catering to health-conscious consumers, will support market growth.

North America:

In North America, the dumpling market is experiencing growth, driven by the increasing popularity of Asian cuisine and a growing appetite for diverse, ethnic food experiences. The market is further supported by the rising trend of quick and convenient meal solutions, making ready-to-eat and frozen dumplings popular choices.

The future of the dumpling market in North America looks promising, with a continued surge in demand for ethnic food varieties, including dumplings, as part of the expanding fast-casual dining and frozen food sectors.

Europe:

Europe's dumpling market is expanding, influenced by the growing interest in international cuisines and the rising number of Asian restaurants across the region. The market benefits from the increasing presence of Asian communities and the adoption of diverse food habits by the European population.

The European market is expected to grow steadily, driven by the expanding food culture that embraces a variety of dumplings from different Asian cuisines, along with the rising demand for convenient and quick meal options, including frozen and ready-to-cook dumplings.

Key Player Overview: Dumpling Market

The dumpling market is a diverse landscape dominated by both global food conglomerates and specialized regional players. CJ CheilJedang and Sanquan Food are pivotal in the Asian market, known for their wide range of traditional and innovative dumpling products. Their market influence is significant, especially in setting trends and consumer preferences in the region.

General Mills and Ajinomoto Co. Inc. have a strong presence in the global market, leveraging their extensive distribution networks and brand recognition to offer a variety of dumplings catering to different cultural tastes. Their strategic positioning is marked by a focus on quality, convenience, and catering to the growing demand for ethnic cuisines.

J&J Snack Foods Corp and InnovAsian Cuisine Enterprises stand out in the North American market, offering a range of frozen and ready-to-eat dumplings that appeal to the fast-paced lifestyle of consumers. Hakka Pty Ltd and Day-Lee Foods, Inc. are recognized for their focus on authenticity and quality, catering to specific ethnic communities and gourmet markets.

Collectively, these key players drive the global dumpling market through a blend of traditional recipes, innovative flavors, and a focus on convenience, addressing a wide range of consumer preferences and dietary needs. Their varied strategic approaches underscore the market's dynamic nature, catering to both traditional palates and modern, globalized tastes.

Major Companies in the Dumpling Market

CJ CheilJedang
General Mills
Sanquan Food
Ajinomoto Co. Inc.
J&J Snack Foods Corp
Hakka Pty Ltd
Day-Lee Foods, Inc.
Synear
Wei Chuan Foods
CPF
Way Fong
Charoen Pokphand Foods Plc
InnovAsian Cuisine Enterprises
Mo's Foods
Other Players

Recent Developments

In May 2023, Sobo Foods emerged from stealth with $1 million in funding. Eric Wu, co-founder of Sobo Foods, mentions the lack of better-for-you products in the Asian section of the frozen food aisle and the need for a modern, culturally sensitive branding approach.
In April 2023, Cristine Struble on Fansided.com highlights the testing of the Panda Express Spicy Wagyu Beef Dumplings. These dumplings are considered a potential game changer for the popular restaurant brand.
In March 2023, Brooklyn Dumpling Shop hired Michael Liristis as Chief Operating Officer (COO) to assist in achieving its goal of developing 250 units within the next two years. Michael Liristis has a background in the restaurant industry and has proven himself as a valuable asset in operations
In 2023, Mei Mei Dumplings aims to expand its presence by wholesaling its products to grocery stores. With the additional factory space in their new location, they plan to scale up production from making 15,000 dumplings a week to double or triple that volume.


Report Scope:

| | |
| --- | --- |
| Report Features | Description |
| Market Value (2022) | USD 52.1 Bn |
| Forecast Revenue (2032) | USD 119.1 Bn |
| CAGR (2023-2032) | 8.9% |
| Base Year for Estimation | 2022 |
| Historic Period | 2016-2022 |
| Forecast Period | 2023-2032 |
| Report Coverage | Revenue Forecast, Market Dynamics, COVID-19 Impact, Competitive Landscape, Recent Developments |
| Segments Covered | By Filling Analysis (Vegetable Dumplings, Meat Dumplings), By Distribution Channel Analysis (Supermarket/ Hypermarkets, Restaurants & Joints,Other ), By End-User Analysis (Household Consumption, Food Service) |
| Regional Analysis | North America – The US, Canada, & Mexico; Western Europe – Germany, France, The UK, Spain, Italy, Portugal, Ireland, Austria, Switzerland, Benelux, Nordic, & Rest of Western Europe; Eastern Europe – Russia, Poland, The Czech Republic, Greece, & Rest of Eastern Europe; APAC – China, Japan, South Korea, India, Australia & New Zealand, Indonesia, Malaysia, Philippines, Singapore, Thailand, Vietnam, & Rest of APAC; Latin America – Brazil, Colombia, Chile, Argentina, Costa Rica, & Rest of Latin America; Middle East & Africa – Algeria, Egypt, Israel, Kuwait, Nigeria, Saudi Arabia, South Africa, Turkey, United Arab Emirates, & Rest of MEA |
| Competitive Landscape | CJ CheilJedang, General Mills, Sanquan Food, Ajinomoto, J&J Snack Foods Corp, Hakka Pty Ltd, Day-Lee Foods, Synear, Wei Chuan Foods, CPF, Way Fong, Other Players |
| Customization Scope | Customization for segments, region/country-level will be provided. Moreover, additional customization can be done based on the requirements. |
| Purchase Options | We have three licenses to opt for: Single User License, Multi-User License (Up to 5 Users), Corporate Use License (Unlimited User and Printable PDF) |

CJ CheilJedang

General Mills

Sanquan Food

Ajinomoto Co. Inc.

J&J Snack Foods Corp

Hakka Pty Ltd

Day-Lee Foods, Inc.

Synear

Wei Chuan Foods

CPF

Way Fong

Charoen Pokphand Foods Plc

InnovAsian Cuisine Enterprises

Mo's Foods

Other Players

1. Executive Summary

1.1. Definition
1.2. Taxonomy
1.3. Research Scope
1.4. Key Analysis
1.5. Key Findings by Major Segments
1.6. Top strategies by Major Players

2. Global Dumplings Market Overview

2.1. Dumplings Market Dynamics

2.1.1. Drivers
2.1.2. Opportunities
2.1.3. Restraints
2.1.4. Challenges

2.2. Macro-economic Factors
2.3. Regulatory Framework
2.4. Market Investment Feasibility Index
2.5. PEST Analysis
2.6. PORTER'S Five Force Analysis
2.7. Drivers & Restraints Impact Analysis
2.8. Industry Chain Analysis
2.9. Cost Structure Analysis
2.10. Marketing Strategy
2.11. Russia-Ukraine War Impact Analysis
2.12. Opportunity Map Analysis
2.13. Market Competition Scenario Analysis
2.14. Product Life Cycle Analysis
2.15. Opportunity Orbits
2.16. Manufacturer Intensity Map
2.17. Major Companies sales by Value & Volume

3. Global Dumplings Market Analysis, Opportunity and Forecast, 2016-2032

3.1. Global Dumplings Market Analysis, 2016-2021
3.2. Global Dumplings Market Opportunity and Forecast, 2023-2032
3.3. Global Dumplings Market Analysis, Opportunity and Forecast, By By Filling Analysis, 2016-2032

3.3.1. Global Dumplings Market Analysis by By Filling Analysis: Introduction
3.3.2. Market Size Absolute $ Opportunity Analysis and Forecast, By By Filling Analysis, 2016-2032
3.3.3. Vegetable Dumplings
3.3.4. Meat Dumplings

3.4. Global Dumplings Market Analysis, Opportunity and Forecast, By By  Distribution Channel Analysis, 2016-2032

3.4.1. Global Dumplings Market Analysis by By  Distribution Channel Analysis: Introduction
3.4.2. Market Size Absolute $ Opportunity Analysis and Forecast, By By  Distribution Channel Analysis, 2016-2032
3.4.3. Supermarket/ Hypermarkets
3.4.4. Restaurants & Joints
3.4.5. Online Markets
3.4.6. Other Distribution Channels

3.5. Global Dumplings Market Analysis, Opportunity and Forecast, By By  End-User Analysis, 2016-2032

3.5.1. Global Dumplings Market Analysis by By  End-User Analysis: Introduction
3.5.2. Market Size Absolute $ Opportunity Analysis and Forecast, By By  End-User Analysis, 2016-2032
3.5.3. Household Consumption
3.5.4. Food Service

4. North America Dumplings Market Analysis, Opportunity and Forecast, 2016-2032

4.1. North America Dumplings Market Analysis, 2016-2021
4.2. North America Dumplings Market Opportunity and Forecast, 2023-2032
4.3. North America Dumplings Market Analysis, Opportunity and Forecast, By By Filling Analysis, 2016-2032

4.3.1. North America Dumplings Market Analysis by By Filling Analysis: Introduction
4.3.2. Market Size Absolute $ Opportunity Analysis and Forecast, By By Filling Analysis, 2016-2032
4.3.3. Vegetable Dumplings
4.3.4. Meat Dumplings

4.4. North America Dumplings Market Analysis, Opportunity and Forecast, By By  Distribution Channel Analysis, 2016-2032

4.4.1. North America Dumplings Market Analysis by By  Distribution Channel Analysis: Introduction
4.4.2. Market Size Absolute $ Opportunity Analysis and Forecast, By By  Distribution Channel Analysis, 2016-2032
4.4.3. Supermarket/ Hypermarkets
4.4.4. Restaurants & Joints
4.4.5. Online Markets
4.4.6. Other Distribution Channels

4.5. North America Dumplings Market Analysis, Opportunity and Forecast, By By  End-User Analysis, 2016-2032

4.5.1. North America Dumplings Market Analysis by By  End-User Analysis: Introduction
4.5.2. Market Size Absolute $ Opportunity Analysis and Forecast, By By  End-User Analysis, 2016-2032
4.5.3. Household Consumption
4.5.4. Food Service

4.6. North America Dumplings Market Analysis, Opportunity and Forecast, By Country , 2016-2032

4.6.1. North America Dumplings Market Analysis by Country : Introduction
4.6.2. Market Size Absolute $ Opportunity Analysis and Forecast, Country , 2016-2032

4.6.2.1. The US
4.6.2.2. Canada
4.6.2.3. Mexico

5. Western Europe Dumplings Market Analysis, Opportunity and Forecast, 2016-2032

5.1. Western Europe Dumplings Market Analysis, 2016-2021
5.2. Western Europe Dumplings Market Opportunity and Forecast, 2023-2032
5.3. Western Europe Dumplings Market Analysis, Opportunity and Forecast, By By Filling Analysis, 2016-2032

5.3.1. Western Europe Dumplings Market Analysis by By Filling Analysis: Introduction
5.3.2. Market Size Absolute $ Opportunity Analysis and Forecast, By By Filling Analysis, 2016-2032
5.3.3. Vegetable Dumplings
5.3.4. Meat Dumplings

5.4. Western Europe Dumplings Market Analysis, Opportunity and Forecast, By By  Distribution Channel Analysis, 2016-2032

5.4.1. Western Europe Dumplings Market Analysis by By  Distribution Channel Analysis: Introduction
5.4.2. Market Size Absolute $ Opportunity Analysis and Forecast, By By  Distribution Channel Analysis, 2016-2032
5.4.3. Supermarket/ Hypermarkets
5.4.4. Restaurants & Joints
5.4.5. Online Markets
5.4.6. Other Distribution Channels

5.5. Western Europe Dumplings Market Analysis, Opportunity and Forecast, By By  End-User Analysis, 2016-2032

5.5.1. Western Europe Dumplings Market Analysis by By  End-User Analysis: Introduction
5.5.2. Market Size Absolute $ Opportunity Analysis and Forecast, By By  End-User Analysis, 2016-2032
5.5.3. Household Consumption
5.5.4. Food Service

5.6. Western Europe Dumplings Market Analysis, Opportunity and Forecast, By Country , 2016-2032

5.6.1. Western Europe Dumplings Market Analysis by Country : Introduction
5.6.2. Market Size Absolute $ Opportunity Analysis and Forecast, Country , 2016-2032

5.6.2.1. Germany
5.6.2.2. France
5.6.2.3. The UK
5.6.2.4. Spain
5.6.2.5. Italy
5.6.2.6. Portugal
5.6.2.7. Ireland
5.6.2.8. Austria
5.6.2.9. Switzerland
5.6.2.10. Benelux
5.6.2.11. Nordic
5.6.2.12. Rest of Western Europe

6. Eastern Europe Dumplings Market Analysis, Opportunity and Forecast, 2016-2032

6.1. Eastern Europe Dumplings Market Analysis, 2016-2021
6.2. Eastern Europe Dumplings Market Opportunity and Forecast, 2023-2032
6.3. Eastern Europe Dumplings Market Analysis, Opportunity and Forecast, By By Filling Analysis, 2016-2032

6.3.1. Eastern Europe Dumplings Market Analysis by By Filling Analysis: Introduction
6.3.2. Market Size Absolute $ Opportunity Analysis and Forecast, By By Filling Analysis, 2016-2032
6.3.3. Vegetable Dumplings
6.3.4. Meat Dumplings

6.4. Eastern Europe Dumplings Market Analysis, Opportunity and Forecast, By By  Distribution Channel Analysis, 2016-2032

6.4.1. Eastern Europe Dumplings Market Analysis by By  Distribution Channel Analysis: Introduction
6.4.2. Market Size Absolute $ Opportunity Analysis and Forecast, By By  Distribution Channel Analysis, 2016-2032
6.4.3. Supermarket/ Hypermarkets
6.4.4. Restaurants & Joints
6.4.5. Online Markets
6.4.6. Other Distribution Channels

6.5. Eastern Europe Dumplings Market Analysis, Opportunity and Forecast, By By  End-User Analysis, 2016-2032

6.5.1. Eastern Europe Dumplings Market Analysis by By  End-User Analysis: Introduction
6.5.2. Market Size Absolute $ Opportunity Analysis and Forecast, By By  End-User Analysis, 2016-2032
6.5.3. Household Consumption
6.5.4. Food Service

6.6. Eastern Europe Dumplings Market Analysis, Opportunity and Forecast, By Country , 2016-2032

6.6.1. Eastern Europe Dumplings Market Analysis by Country : Introduction
6.6.2. Market Size Absolute $ Opportunity Analysis and Forecast, Country , 2016-2032

6.6.2.1. Russia
6.6.2.2. Poland
6.6.2.3. The Czech Republic
6.6.2.4. Greece
6.6.2.5. Rest of Eastern Europe

7. APAC Dumplings Market Analysis, Opportunity and Forecast, 2016-2032

7.1. APAC Dumplings Market Analysis, 2016-2021
7.2. APAC Dumplings Market Opportunity and Forecast, 2023-2032
7.3. APAC Dumplings Market Analysis, Opportunity and Forecast, By By Filling Analysis, 2016-2032

7.3.1. APAC Dumplings Market Analysis by By Filling Analysis: Introduction
7.3.2. Market Size Absolute $ Opportunity Analysis and Forecast, By By Filling Analysis, 2016-2032
7.3.3. Vegetable Dumplings
7.3.4. Meat Dumplings

7.4. APAC Dumplings Market Analysis, Opportunity and Forecast, By By  Distribution Channel Analysis, 2016-2032

7.4.1. APAC Dumplings Market Analysis by By  Distribution Channel Analysis: Introduction
7.4.2. Market Size Absolute $ Opportunity Analysis and Forecast, By By  Distribution Channel Analysis, 2016-2032
7.4.3. Supermarket/ Hypermarkets
7.4.4. Restaurants & Joints
7.4.5. Online Markets
7.4.6. Other Distribution Channels

7.5. APAC Dumplings Market Analysis, Opportunity and Forecast, By By  End-User Analysis, 2016-2032

7.5.1. APAC Dumplings Market Analysis by By  End-User Analysis: Introduction
7.5.2. Market Size Absolute $ Opportunity Analysis and Forecast, By By  End-User Analysis, 2016-2032
7.5.3. Household Consumption
7.5.4. Food Service

7.6. APAC Dumplings Market Analysis, Opportunity and Forecast, By Country , 2016-2032

7.6.1. APAC Dumplings Market Analysis by Country : Introduction
7.6.2. Market Size Absolute $ Opportunity Analysis and Forecast, Country , 2016-2032

7.6.2.1. China
7.6.2.2. Japan
7.6.2.3. South Korea
7.6.2.4. India
7.6.2.5. Australia & New Zeland
7.6.2.6. Indonesia
7.6.2.7. Malaysia
7.6.2.8. Philippines
7.6.2.9. Singapore
7.6.2.10. Thailand
7.6.2.11. Vietnam
7.6.2.12. Rest of APAC

8. Latin America Dumplings Market Analysis, Opportunity and Forecast, 2016-2032

8.1. Latin America Dumplings Market Analysis, 2016-2021
8.2. Latin America Dumplings Market Opportunity and Forecast, 2023-2032
8.3. Latin America Dumplings Market Analysis, Opportunity and Forecast, By By Filling Analysis, 2016-2032

8.3.1. Latin America Dumplings Market Analysis by By Filling Analysis: Introduction
8.3.2. Market Size Absolute $ Opportunity Analysis and Forecast, By By Filling Analysis, 2016-2032
8.3.3. Vegetable Dumplings
8.3.4. Meat Dumplings

8.4. Latin America Dumplings Market Analysis, Opportunity and Forecast, By By  Distribution Channel Analysis, 2016-2032

8.4.1. Latin America Dumplings Market Analysis by By  Distribution Channel Analysis: Introduction
8.4.2. Market Size Absolute $ Opportunity Analysis and Forecast, By By  Distribution Channel Analysis, 2016-2032
8.4.3. Supermarket/ Hypermarkets
8.4.4. Restaurants & Joints
8.4.5. Online Markets
8.4.6. Other Distribution Channels

8.5. Latin America Dumplings Market Analysis, Opportunity and Forecast, By By  End-User Analysis, 2016-2032

8.5.1. Latin America Dumplings Market Analysis by By  End-User Analysis: Introduction
8.5.2. Market Size Absolute $ Opportunity Analysis and Forecast, By By  End-User Analysis, 2016-2032
8.5.3. Household Consumption
8.5.4. Food Service

8.6. Latin America Dumplings Market Analysis, Opportunity and Forecast, By Country , 2016-2032

8.6.1. Latin America Dumplings Market Analysis by Country : Introduction
8.6.2. Market Size Absolute $ Opportunity Analysis and Forecast, Country , 2016-2032

8.6.2.1. Brazil
8.6.2.2. Colombia
8.6.2.3. Chile
8.6.2.4. Argentina
8.6.2.5. Costa Rica
8.6.2.6. Rest of Latin America

9. Middle East & Africa Dumplings Market Analysis, Opportunity and Forecast, 2016-2032

9.1. Middle East & Africa Dumplings Market Analysis, 2016-2021
9.2. Middle East & Africa Dumplings Market Opportunity and Forecast, 2023-2032
9.3. Middle East & Africa Dumplings Market Analysis, Opportunity and Forecast, By By Filling Analysis, 2016-2032

9.3.1. Middle East & Africa Dumplings Market Analysis by By Filling Analysis: Introduction
9.3.2. Market Size Absolute $ Opportunity Analysis and Forecast, By By Filling Analysis, 2016-2032
9.3.3. Vegetable Dumplings
9.3.4. Meat Dumplings

9.4. Middle East & Africa Dumplings Market Analysis, Opportunity and Forecast, By By  Distribution Channel Analysis, 2016-2032

9.4.1. Middle East & Africa Dumplings Market Analysis by By  Distribution Channel Analysis: Introduction
9.4.2. Market Size Absolute $ Opportunity Analysis and Forecast, By By  Distribution Channel Analysis, 2016-2032
9.4.3. Supermarket/ Hypermarkets
9.4.4. Restaurants & Joints
9.4.5. Online Markets
9.4.6. Other Distribution Channels

9.5. Middle East & Africa Dumplings Market Analysis, Opportunity and Forecast, By By  End-User Analysis, 2016-2032

9.5.1. Middle East & Africa Dumplings Market Analysis by By  End-User Analysis: Introduction
9.5.2. Market Size Absolute $ Opportunity Analysis and Forecast, By By  End-User Analysis, 2016-2032
9.5.3. Household Consumption
9.5.4. Food Service

9.6. Middle East & Africa Dumplings Market Analysis, Opportunity and Forecast, By Country , 2016-2032

9.6.1. Middle East & Africa Dumplings Market Analysis by Country : Introduction
9.6.2. Market Size Absolute $ Opportunity Analysis and Forecast, Country , 2016-2032

9.6.2.1. Algeria
9.6.2.2. Egypt
9.6.2.3. Israel
9.6.2.4. Kuwait
9.6.2.5. Nigeria
9.6.2.6. Saudi Arabia
9.6.2.7. South Africa
9.6.2.8. Turkey
9.6.2.9. The UAE
9.6.2.10. Rest of MEA

10. Global Dumplings Market Analysis, Opportunity and Forecast, By Region , 2016-2032

10.1. Global Dumplings Market Analysis by Region : Introduction
10.2. Market Size Absolute $ Opportunity Analysis and Forecast, By Region , 2016-2032

10.2.1. North America
10.2.2. Western Europe
10.2.3. Eastern Europe
10.2.4. APAC
10.2.5. Latin America
10.2.6. Middle East & Africa

11. Global Dumplings Market Competitive Landscape, Market Share Analysis, and Company Profiles

11.1. Market Share Analysis
11.2. Company Profiles
11.3. CJ CheilJedang

11.3.1. Company Overview
11.3.2. Financial Highlights
11.3.3. Product Portfolio
11.3.4. SWOT Analysis
11.3.5. Key Strategies and Developments

11.4. General Mills

11.4.1. Company Overview
11.4.2. Financial Highlights
11.4.3. Product Portfolio
11.4.4. SWOT Analysis
11.4.5. Key Strategies and Developments

11.5. Sanquan Food

11.5.1. Company Overview
11.5.2. Financial Highlights
11.5.3. Product Portfolio
11.5.4. SWOT Analysis
11.5.5. Key Strategies and Developments

11.6. Ajinomoto

11.6.1. Company Overview
11.6.2. Financial Highlights
11.6.3. Product Portfolio
11.6.4. SWOT Analysis
11.6.5. Key Strategies and Developments

11.7. J&J Snack Foods Corp

11.7.1. Company Overview
11.7.2. Financial Highlights
11.7.3. Product Portfolio
11.7.4. SWOT Analysis
11.7.5. Key Strategies and Developments

11.8. Hakka Pty Ltd

11.8.1. Company Overview
11.8.2. Financial Highlights
11.8.3. Product Portfolio
11.8.4. SWOT Analysis
11.8.5. Key Strategies and Developments

11.9. Day-Lee Foods

11.9.1. Company Overview
11.9.2. Financial Highlights
11.9.3. Product Portfolio
11.9.4. SWOT Analysis
11.9.5. Key Strategies and Developments

11.10. Synear

11.10.1. Company Overview
11.10.2. Financial Highlights
11.10.3. Product Portfolio
11.10.4. SWOT Analysis
11.10.5. Key Strategies and Developments

11.11. Wei Chuan Foods

11.11.1. Company Overview
11.11.2. Financial Highlights
11.11.3. Product Portfolio
11.11.4. SWOT Analysis
11.11.5. Key Strategies and Developments

11.12. CPF

11.12.1. Company Overview
11.12.2. Financial Highlights
11.12.3. Product Portfolio
11.12.4. SWOT Analysis
11.12.5. Key Strategies and Developments

11.13. Way Fong

11.13.1. Company Overview
11.13.2. Financial Highlights
11.13.3. Product Portfolio
11.13.4. SWOT Analysis
11.13.5. Key Strategies and Developments

11.14. Other Players

11.14.1. Company Overview
11.14.2. Financial Highlights
11.14.3. Product Portfolio
11.14.4. SWOT Analysis
11.14.5. Key Strategies and Developments

12. Assumptions and Acronyms
13. Research Methodology
14. Contact

    List of Figures   

Figure 1: Global Dumplings Market Revenue (US$ Mn) Market Share by By Filling Analysis in 2022
Figure 2: Global Dumplings Market Attractiveness Analysis by By Filling Analysis, 2016-2032
Figure 3: Global Dumplings Market Revenue (US$ Mn) Market Share by By  Distribution Channel Analysisin 2022
Figure 4: Global Dumplings Market Attractiveness Analysis by By  Distribution Channel Analysis, 2016-2032
Figure 5: Global Dumplings Market Revenue (US$ Mn) Market Share by By  End-User Analysisin 2022
Figure 6: Global Dumplings Market Attractiveness Analysis by By  End-User Analysis, 2016-2032
Figure 7: Global Dumplings Market Revenue (US$ Mn) Market Share by Region in 2022
Figure 8: Global Dumplings Market Attractiveness Analysis by Region, 2016-2032
Figure 9: Global Dumplings Market Revenue (US$ Mn) (2016-2032)
Figure 10: Global Dumplings Market Revenue (US$ Mn) Comparison by Region (2016-2032)
Figure 11: Global Dumplings Market Revenue (US$ Mn) Comparison by By Filling Analysis (2016-2032)
Figure 12: Global Dumplings Market Revenue (US$ Mn) Comparison by By  Distribution Channel Analysis (2016-2032)
Figure 13: Global Dumplings Market Revenue (US$ Mn) Comparison by By  End-User Analysis (2016-2032)
Figure 14: Global Dumplings Market Y-o-Y Growth Rate Comparison by Region (2016-2032)
Figure 15: Global Dumplings Market Y-o-Y Growth Rate Comparison by By Filling Analysis (2016-2032)
Figure 16: Global Dumplings Market Y-o-Y Growth Rate Comparison by By  Distribution Channel Analysis (2016-2032)
Figure 17: Global Dumplings Market Y-o-Y Growth Rate Comparison by By  End-User Analysis (2016-2032)
Figure 18: Global Dumplings Market Share Comparison by Region (2016-2032)
Figure 19: Global Dumplings Market Share Comparison by By Filling Analysis (2016-2032)
Figure 20: Global Dumplings Market Share Comparison by By  Distribution Channel Analysis (2016-2032)
Figure 21: Global Dumplings Market Share Comparison by By  End-User Analysis (2016-2032)
Figure 22: North America Dumplings Market Revenue (US$ Mn) Market Share by By Filling Analysisin 2022
Figure 23: North America Dumplings Market Attractiveness Analysis by By Filling Analysis, 2016-2032
Figure 24: North America Dumplings Market Revenue (US$ Mn) Market Share by By  Distribution Channel Analysisin 2022
Figure 25: North America Dumplings Market Attractiveness Analysis by By  Distribution Channel Analysis, 2016-2032
Figure 26: North America Dumplings Market Revenue (US$ Mn) Market Share by By  End-User Analysisin 2022
Figure 27: North America Dumplings Market Attractiveness Analysis by By  End-User Analysis, 2016-2032
Figure 28: North America Dumplings Market Revenue (US$ Mn) Market Share by Country in 2022
Figure 29: North America Dumplings Market Attractiveness Analysis by Country, 2016-2032
Figure 30: North America Dumplings Market Revenue (US$ Mn) (2016-2032)
Figure 31: North America Dumplings Market Revenue (US$ Mn) Comparison by Country (2016-2032)
Figure 32: North America Dumplings Market Revenue (US$ Mn) Comparison by By Filling Analysis (2016-2032)
Figure 33: North America Dumplings Market Revenue (US$ Mn) Comparison by By  Distribution Channel Analysis (2016-2032)
Figure 34: North America Dumplings Market Revenue (US$ Mn) Comparison by By  End-User Analysis (2016-2032)
Figure 35: North America Dumplings Market Y-o-Y Growth Rate Comparison by Country (2016-2032)
Figure 36: North America Dumplings Market Y-o-Y Growth Rate Comparison by By Filling Analysis (2016-2032)
Figure 37: North America Dumplings Market Y-o-Y Growth Rate Comparison by By  Distribution Channel Analysis (2016-2032)
Figure 38: North America Dumplings Market Y-o-Y Growth Rate Comparison by By  End-User Analysis (2016-2032)
Figure 39: North America Dumplings Market Share Comparison by Country (2016-2032)
Figure 40: North America Dumplings Market Share Comparison by By Filling Analysis (2016-2032)
Figure 41: North America Dumplings Market Share Comparison by By  Distribution Channel Analysis (2016-2032)
Figure 42: North America Dumplings Market Share Comparison by By  End-User Analysis (2016-2032)
Figure 43: Western Europe Dumplings Market Revenue (US$ Mn) Market Share by By Filling Analysisin 2022
Figure 44: Western Europe Dumplings Market Attractiveness Analysis by By Filling Analysis, 2016-2032
Figure 45: Western Europe Dumplings Market Revenue (US$ Mn) Market Share by By  Distribution Channel Analysisin 2022
Figure 46: Western Europe Dumplings Market Attractiveness Analysis by By  Distribution Channel Analysis, 2016-2032
Figure 47: Western Europe Dumplings Market Revenue (US$ Mn) Market Share by By  End-User Analysisin 2022
Figure 48: Western Europe Dumplings Market Attractiveness Analysis by By  End-User Analysis, 2016-2032
Figure 49: Western Europe Dumplings Market Revenue (US$ Mn) Market Share by Country in 2022
Figure 50: Western Europe Dumplings Market Attractiveness Analysis by Country, 2016-2032
Figure 51: Western Europe Dumplings Market Revenue (US$ Mn) (2016-2032)
Figure 52: Western Europe Dumplings Market Revenue (US$ Mn) Comparison by Country (2016-2032)
Figure 53: Western Europe Dumplings Market Revenue (US$ Mn) Comparison by By Filling Analysis (2016-2032)
Figure 54: Western Europe Dumplings Market Revenue (US$ Mn) Comparison by By  Distribution Channel Analysis (2016-2032)
Figure 55: Western Europe Dumplings Market Revenue (US$ Mn) Comparison by By  End-User Analysis (2016-2032)
Figure 56: Western Europe Dumplings Market Y-o-Y Growth Rate Comparison by Country (2016-2032)
Figure 57: Western Europe Dumplings Market Y-o-Y Growth Rate Comparison by By Filling Analysis (2016-2032)
Figure 58: Western Europe Dumplings Market Y-o-Y Growth Rate Comparison by By  Distribution Channel Analysis (2016-2032)
Figure 59: Western Europe Dumplings Market Y-o-Y Growth Rate Comparison by By  End-User Analysis (2016-2032)
Figure 60: Western Europe Dumplings Market Share Comparison by Country (2016-2032)
Figure 61: Western Europe Dumplings Market Share Comparison by By Filling Analysis (2016-2032)
Figure 62: Western Europe Dumplings Market Share Comparison by By  Distribution Channel Analysis (2016-2032)
Figure 63: Western Europe Dumplings Market Share Comparison by By  End-User Analysis (2016-2032)
Figure 64: Eastern Europe Dumplings Market Revenue (US$ Mn) Market Share by By Filling Analysisin 2022
Figure 65: Eastern Europe Dumplings Market Attractiveness Analysis by By Filling Analysis, 2016-2032
Figure 66: Eastern Europe Dumplings Market Revenue (US$ Mn) Market Share by By  Distribution Channel Analysisin 2022
Figure 67: Eastern Europe Dumplings Market Attractiveness Analysis by By  Distribution Channel Analysis, 2016-2032
Figure 68: Eastern Europe Dumplings Market Revenue (US$ Mn) Market Share by By  End-User Analysisin 2022
Figure 69: Eastern Europe Dumplings Market Attractiveness Analysis by By  End-User Analysis, 2016-2032
Figure 70: Eastern Europe Dumplings Market Revenue (US$ Mn) Market Share by Country in 2022
Figure 71: Eastern Europe Dumplings Market Attractiveness Analysis by Country, 2016-2032
Figure 72: Eastern Europe Dumplings Market Revenue (US$ Mn) (2016-2032)
Figure 73: Eastern Europe Dumplings Market Revenue (US$ Mn) Comparison by Country (2016-2032)
Figure 74: Eastern Europe Dumplings Market Revenue (US$ Mn) Comparison by By Filling Analysis (2016-2032)
Figure 75: Eastern Europe Dumplings Market Revenue (US$ Mn) Comparison by By  Distribution Channel Analysis (2016-2032)
Figure 76: Eastern Europe Dumplings Market Revenue (US$ Mn) Comparison by By  End-User Analysis (2016-2032)
Figure 77: Eastern Europe Dumplings Market Y-o-Y Growth Rate Comparison by Country (2016-2032)
Figure 78: Eastern Europe Dumplings Market Y-o-Y Growth Rate Comparison by By Filling Analysis (2016-2032)
Figure 79: Eastern Europe Dumplings Market Y-o-Y Growth Rate Comparison by By  Distribution Channel Analysis (2016-2032)
Figure 80: Eastern Europe Dumplings Market Y-o-Y Growth Rate Comparison by By  End-User Analysis (2016-2032)
Figure 81: Eastern Europe Dumplings Market Share Comparison by Country (2016-2032)
Figure 82: Eastern Europe Dumplings Market Share Comparison by By Filling Analysis (2016-2032)
Figure 83: Eastern Europe Dumplings Market Share Comparison by By  Distribution Channel Analysis (2016-2032)
Figure 84: Eastern Europe Dumplings Market Share Comparison by By  End-User Analysis (2016-2032)
Figure 85: APAC Dumplings Market Revenue (US$ Mn) Market Share by By Filling Analysisin 2022
Figure 86: APAC Dumplings Market Attractiveness Analysis by By Filling Analysis, 2016-2032
Figure 87: APAC Dumplings Market Revenue (US$ Mn) Market Share by By  Distribution Channel Analysisin 2022
Figure 88: APAC Dumplings Market Attractiveness Analysis by By  Distribution Channel Analysis, 2016-2032
Figure 89: APAC Dumplings Market Revenue (US$ Mn) Market Share by By  End-User Analysisin 2022
Figure 90: APAC Dumplings Market Attractiveness Analysis by By  End-User Analysis, 2016-2032
Figure 91: APAC Dumplings Market Revenue (US$ Mn) Market Share by Country in 2022
Figure 92: APAC Dumplings Market Attractiveness Analysis by Country, 2016-2032
Figure 93: APAC Dumplings Market Revenue (US$ Mn) (2016-2032)
Figure 94: APAC Dumplings Market Revenue (US$ Mn) Comparison by Country (2016-2032)
Figure 95: APAC Dumplings Market Revenue (US$ Mn) Comparison by By Filling Analysis (2016-2032)
Figure 96: APAC Dumplings Market Revenue (US$ Mn) Comparison by By  Distribution Channel Analysis (2016-2032)
Figure 97: APAC Dumplings Market Revenue (US$ Mn) Comparison by By  End-User Analysis (2016-2032)
Figure 98: APAC Dumplings Market Y-o-Y Growth Rate Comparison by Country (2016-2032)
Figure 99: APAC Dumplings Market Y-o-Y Growth Rate Comparison by By Filling Analysis (2016-2032)
Figure 100: APAC Dumplings Market Y-o-Y Growth Rate Comparison by By  Distribution Channel Analysis (2016-2032)
Figure 101: APAC Dumplings Market Y-o-Y Growth Rate Comparison by By  End-User Analysis (2016-2032)
Figure 102: APAC Dumplings Market Share Comparison by Country (2016-2032)
Figure 103: APAC Dumplings Market Share Comparison by By Filling Analysis (2016-2032)
Figure 104: APAC Dumplings Market Share Comparison by By  Distribution Channel Analysis (2016-2032)
Figure 105: APAC Dumplings Market Share Comparison by By  End-User Analysis (2016-2032)
Figure 106: Latin America Dumplings Market Revenue (US$ Mn) Market Share by By Filling Analysisin 2022
Figure 107: Latin America Dumplings Market Attractiveness Analysis by By Filling Analysis, 2016-2032
Figure 108: Latin America Dumplings Market Revenue (US$ Mn) Market Share by By  Distribution Channel Analysisin 2022
Figure 109: Latin America Dumplings Market Attractiveness Analysis by By  Distribution Channel Analysis, 2016-2032
Figure 110: Latin America Dumplings Market Revenue (US$ Mn) Market Share by By  End-User Analysisin 2022
Figure 111: Latin America Dumplings Market Attractiveness Analysis by By  End-User Analysis, 2016-2032
Figure 112: Latin America Dumplings Market Revenue (US$ Mn) Market Share by Country in 2022
Figure 113: Latin America Dumplings Market Attractiveness Analysis by Country, 2016-2032
Figure 114: Latin America Dumplings Market Revenue (US$ Mn) (2016-2032)
Figure 115: Latin America Dumplings Market Revenue (US$ Mn) Comparison by Country (2016-2032)
Figure 116: Latin America Dumplings Market Revenue (US$ Mn) Comparison by By Filling Analysis (2016-2032)
Figure 117: Latin America Dumplings Market Revenue (US$ Mn) Comparison by By  Distribution Channel Analysis (2016-2032)
Figure 118: Latin America Dumplings Market Revenue (US$ Mn) Comparison by By  End-User Analysis (2016-2032)
Figure 119: Latin America Dumplings Market Y-o-Y Growth Rate Comparison by Country (2016-2032)
Figure 120: Latin America Dumplings Market Y-o-Y Growth Rate Comparison by By Filling Analysis (2016-2032)
Figure 121: Latin America Dumplings Market Y-o-Y Growth Rate Comparison by By  Distribution Channel Analysis (2016-2032)
Figure 122: Latin America Dumplings Market Y-o-Y Growth Rate Comparison by By  End-User Analysis (2016-2032)
Figure 123: Latin America Dumplings Market Share Comparison by Country (2016-2032)
Figure 124: Latin America Dumplings Market Share Comparison by By Filling Analysis (2016-2032)
Figure 125: Latin America Dumplings Market Share Comparison by By  Distribution Channel Analysis (2016-2032)
Figure 126: Latin America Dumplings Market Share Comparison by By  End-User Analysis (2016-2032)
Figure 127: Middle East & Africa Dumplings Market Revenue (US$ Mn) Market Share by By Filling Analysisin 2022
Figure 128: Middle East & Africa Dumplings Market Attractiveness Analysis by By Filling Analysis, 2016-2032
Figure 129: Middle East & Africa Dumplings Market Revenue (US$ Mn) Market Share by By  Distribution Channel Analysisin 2022
Figure 130: Middle East & Africa Dumplings Market Attractiveness Analysis by By  Distribution Channel Analysis, 2016-2032
Figure 131: Middle East & Africa Dumplings Market Revenue (US$ Mn) Market Share by By  End-User Analysisin 2022
Figure 132: Middle East & Africa Dumplings Market Attractiveness Analysis by By  End-User Analysis, 2016-2032
Figure 133: Middle East & Africa Dumplings Market Revenue (US$ Mn) Market Share by Country in 2022
Figure 134: Middle East & Africa Dumplings Market Attractiveness Analysis by Country, 2016-2032
Figure 135: Middle East & Africa Dumplings Market Revenue (US$ Mn) (2016-2032)
Figure 136: Middle East & Africa Dumplings Market Revenue (US$ Mn) Comparison by Country (2016-2032)
Figure 137: Middle East & Africa Dumplings Market Revenue (US$ Mn) Comparison by By Filling Analysis (2016-2032)
Figure 138: Middle East & Africa Dumplings Market Revenue (US$ Mn) Comparison by By  Distribution Channel Analysis (2016-2032)
Figure 139: Middle East & Africa Dumplings Market Revenue (US$ Mn) Comparison by By  End-User Analysis (2016-2032)
Figure 140: Middle East & Africa Dumplings Market Y-o-Y Growth Rate Comparison by Country (2016-2032)
Figure 141: Middle East & Africa Dumplings Market Y-o-Y Growth Rate Comparison by By Filling Analysis (2016-2032)
Figure 142: Middle East & Africa Dumplings Market Y-o-Y Growth Rate Comparison by By  Distribution Channel Analysis (2016-2032)
Figure 143: Middle East & Africa Dumplings Market Y-o-Y Growth Rate Comparison by By  End-User Analysis (2016-2032)
Figure 144: Middle East & Africa Dumplings Market Share Comparison by Country (2016-2032)
Figure 145: Middle East & Africa Dumplings Market Share Comparison by By Filling Analysis (2016-2032)
Figure 146: Middle East & Africa Dumplings Market Share Comparison by By  Distribution Channel Analysis (2016-2032)
Figure 147: Middle East & Africa Dumplings Market Share Comparison by By  End-User Analysis (2016-2032)

        List of Tables

Table 1: Global Dumplings Market Comparison by By Filling Analysis (2016-2032)
Table 2: Global Dumplings Market Comparison by By  Distribution Channel Analysis (2016-2032)
Table 3: Global Dumplings Market Comparison by By  End-User Analysis (2016-2032)
Table 4: Global Dumplings Market Revenue (US$ Mn) Comparison by Region (2016-2032)
Table 5: Global Dumplings Market Revenue (US$ Mn) (2016-2032)
Table 6: Global Dumplings Market Revenue (US$ Mn) Comparison by Region (2016-2032)
Table 7: Global Dumplings Market Revenue (US$ Mn) Comparison by By Filling Analysis (2016-2032)
Table 8: Global Dumplings Market Revenue (US$ Mn) Comparison by By  Distribution Channel Analysis (2016-2032)
Table 9: Global Dumplings Market Revenue (US$ Mn) Comparison by By  End-User Analysis (2016-2032)
Table 10: Global Dumplings Market Y-o-Y Growth Rate Comparison by Region (2016-2032)
Table 11: Global Dumplings Market Y-o-Y Growth Rate Comparison by By Filling Analysis (2016-2032)
Table 12: Global Dumplings Market Y-o-Y Growth Rate Comparison by By  Distribution Channel Analysis (2016-2032)
Table 13: Global Dumplings Market Y-o-Y Growth Rate Comparison by By  End-User Analysis (2016-2032)
Table 14: Global Dumplings Market Share Comparison by Region (2016-2032)
Table 15: Global Dumplings Market Share Comparison by By Filling Analysis (2016-2032)
Table 16: Global Dumplings Market Share Comparison by By  Distribution Channel Analysis (2016-2032)
Table 17: Global Dumplings Market Share Comparison by By  End-User Analysis (2016-2032)
Table 18: North America Dumplings Market Comparison by By  Distribution Channel Analysis (2016-2032)
Table 19: North America Dumplings Market Comparison by By  End-User Analysis (2016-2032)
Table 20: North America Dumplings Market Revenue (US$ Mn) Comparison by Country (2016-2032)
Table 21: North America Dumplings Market Revenue (US$ Mn) (2016-2032)
Table 22: North America Dumplings Market Revenue (US$ Mn) Comparison by Country (2016-2032)
Table 23: North America Dumplings Market Revenue (US$ Mn) Comparison by By Filling Analysis (2016-2032)
Table 24: North America Dumplings Market Revenue (US$ Mn) Comparison by By  Distribution Channel Analysis (2016-2032)
Table 25: North America Dumplings Market Revenue (US$ Mn) Comparison by By  End-User Analysis (2016-2032)
Table 26: North America Dumplings Market Y-o-Y Growth Rate Comparison by Country (2016-2032)
Table 27: North America Dumplings Market Y-o-Y Growth Rate Comparison by By Filling Analysis (2016-2032)
Table 28: North America Dumplings Market Y-o-Y Growth Rate Comparison by By  Distribution Channel Analysis (2016-2032)
Table 29: North America Dumplings Market Y-o-Y Growth Rate Comparison by By  End-User Analysis (2016-2032)
Table 30: North America Dumplings Market Share Comparison by Country (2016-2032)
Table 31: North America Dumplings Market Share Comparison by By Filling Analysis (2016-2032)
Table 32: North America Dumplings Market Share Comparison by By  Distribution Channel Analysis (2016-2032)
Table 33: North America Dumplings Market Share Comparison by By  End-User Analysis (2016-2032)
Table 34: Western Europe Dumplings Market Comparison by By Filling Analysis (2016-2032)
Table 35: Western Europe Dumplings Market Comparison by By  Distribution Channel Analysis (2016-2032)
Table 36: Western Europe Dumplings Market Comparison by By  End-User Analysis (2016-2032)
Table 37: Western Europe Dumplings Market Revenue (US$ Mn) Comparison by Country (2016-2032)
Table 38: Western Europe Dumplings Market Revenue (US$ Mn) (2016-2032)
Table 39: Western Europe Dumplings Market Revenue (US$ Mn) Comparison by Country (2016-2032)
Table 40: Western Europe Dumplings Market Revenue (US$ Mn) Comparison by By Filling Analysis (2016-2032)
Table 41: Western Europe Dumplings Market Revenue (US$ Mn) Comparison by By  Distribution Channel Analysis (2016-2032)
Table 42: Western Europe Dumplings Market Revenue (US$ Mn) Comparison by By  End-User Analysis (2016-2032)
Table 43: Western Europe Dumplings Market Y-o-Y Growth Rate Comparison by Country (2016-2032)
Table 44: Western Europe Dumplings Market Y-o-Y Growth Rate Comparison by By Filling Analysis (2016-2032)
Table 45: Western Europe Dumplings Market Y-o-Y Growth Rate Comparison by By  Distribution Channel Analysis (2016-2032)
Table 46: Western Europe Dumplings Market Y-o-Y Growth Rate Comparison by By  End-User Analysis (2016-2032)
Table 47: Western Europe Dumplings Market Share Comparison by Country (2016-2032)
Table 48: Western Europe Dumplings Market Share Comparison by By Filling Analysis (2016-2032)
Table 49: Western Europe Dumplings Market Share Comparison by By  Distribution Channel Analysis (2016-2032)
Table 50: Western Europe Dumplings Market Share Comparison by By  End-User Analysis (2016-2032)
Table 51: Eastern Europe Dumplings Market Comparison by By Filling Analysis (2016-2032)
Table 52: Eastern Europe Dumplings Market Comparison by By  Distribution Channel Analysis (2016-2032)
Table 53: Eastern Europe Dumplings Market Comparison by By  End-User Analysis (2016-2032)
Table 54: Eastern Europe Dumplings Market Revenue (US$ Mn) Comparison by Country (2016-2032)
Table 55: Eastern Europe Dumplings Market Revenue (US$ Mn) (2016-2032)
Table 56: Eastern Europe Dumplings Market Revenue (US$ Mn) Comparison by Country (2016-2032)
Table 57: Eastern Europe Dumplings Market Revenue (US$ Mn) Comparison by By Filling Analysis (2016-2032)
Table 58: Eastern Europe Dumplings Market Revenue (US$ Mn) Comparison by By  Distribution Channel Analysis (2016-2032)
Table 59: Eastern Europe Dumplings Market Revenue (US$ Mn) Comparison by By  End-User Analysis (2016-2032)
Table 60: Eastern Europe Dumplings Market Y-o-Y Growth Rate Comparison by Country (2016-2032)
Table 61: Eastern Europe Dumplings Market Y-o-Y Growth Rate Comparison by By Filling Analysis (2016-2032)
Table 62: Eastern Europe Dumplings Market Y-o-Y Growth Rate Comparison by By  Distribution Channel Analysis (2016-2032)
Table 63: Eastern Europe Dumplings Market Y-o-Y Growth Rate Comparison by By  End-User Analysis (2016-2032)
Table 64: Eastern Europe Dumplings Market Share Comparison by Country (2016-2032)
Table 65: Eastern Europe Dumplings Market Share Comparison by By Filling Analysis (2016-2032)
Table 66: Eastern Europe Dumplings Market Share Comparison by By  Distribution Channel Analysis (2016-2032)
Table 67: Eastern Europe Dumplings Market Share Comparison by By  End-User Analysis (2016-2032)
Table 68: APAC Dumplings Market Comparison by By Filling Analysis (2016-2032)
Table 69: APAC Dumplings Market Comparison by By  Distribution Channel Analysis (2016-2032)
Table 70: APAC Dumplings Market Comparison by By  End-User Analysis (2016-2032)
Table 71: APAC Dumplings Market Revenue (US$ Mn) Comparison by Country (2016-2032)
Table 72: APAC Dumplings Market Revenue (US$ Mn) (2016-2032)
Table 73: APAC Dumplings Market Revenue (US$ Mn) Comparison by Country (2016-2032)
Table 74: APAC Dumplings Market Revenue (US$ Mn) Comparison by By Filling Analysis (2016-2032)
Table 75: APAC Dumplings Market Revenue (US$ Mn) Comparison by By  Distribution Channel Analysis (2016-2032)
Table 76: APAC Dumplings Market Revenue (US$ Mn) Comparison by By  End-User Analysis (2016-2032)
Table 77: APAC Dumplings Market Y-o-Y Growth Rate Comparison by Country (2016-2032)
Table 78: APAC Dumplings Market Y-o-Y Growth Rate Comparison by By Filling Analysis (2016-2032)
Table 79: APAC Dumplings Market Y-o-Y Growth Rate Comparison by By  Distribution Channel Analysis (2016-2032)
Table 80: APAC Dumplings Market Y-o-Y Growth Rate Comparison by By  End-User Analysis (2016-2032)
Table 81: APAC Dumplings Market Share Comparison by Country (2016-2032)
Table 82: APAC Dumplings Market Share Comparison by By Filling Analysis (2016-2032)
Table 83: APAC Dumplings Market Share Comparison by By  Distribution Channel Analysis (2016-2032)
Table 84: APAC Dumplings Market Share Comparison by By  End-User Analysis (2016-2032)
Table 85: Latin America Dumplings Market Comparison by By Filling Analysis (2016-2032)
Table 86: Latin America Dumplings Market Comparison by By  Distribution Channel Analysis (2016-2032)
Table 87: Latin America Dumplings Market Comparison by By  End-User Analysis (2016-2032)
Table 88: Latin America Dumplings Market Revenue (US$ Mn) Comparison by Country (2016-2032)
Table 89: Latin America Dumplings Market Revenue (US$ Mn) (2016-2032)
Table 90: Latin America Dumplings Market Revenue (US$ Mn) Comparison by Country (2016-2032)
Table 91: Latin America Dumplings Market Revenue (US$ Mn) Comparison by By Filling Analysis (2016-2032)
Table 92: Latin America Dumplings Market Revenue (US$ Mn) Comparison by By  Distribution Channel Analysis (2016-2032)
Table 93: Latin America Dumplings Market Revenue (US$ Mn) Comparison by By  End-User Analysis (2016-2032)
Table 94: Latin America Dumplings Market Y-o-Y Growth Rate Comparison by Country (2016-2032)
Table 95: Latin America Dumplings Market Y-o-Y Growth Rate Comparison by By Filling Analysis (2016-2032)
Table 96: Latin America Dumplings Market Y-o-Y Growth Rate Comparison by By  Distribution Channel Analysis (2016-2032)
Table 97: Latin America Dumplings Market Y-o-Y Growth Rate Comparison by By  End-User Analysis (2016-2032)
Table 98: Latin America Dumplings Market Share Comparison by Country (2016-2032)
Table 99: Latin America Dumplings Market Share Comparison by By Filling Analysis (2016-2032)
Table 100: Latin America Dumplings Market Share Comparison by By  Distribution Channel Analysis (2016-2032)
Table 101: Latin America Dumplings Market Share Comparison by By  End-User Analysis (2016-2032)
Table 102: Middle East & Africa Dumplings Market Comparison by By Filling Analysis (2016-2032)
Table 103: Middle East & Africa Dumplings Market Comparison by By  Distribution Channel Analysis (2016-2032)
Table 104: Middle East & Africa Dumplings Market Comparison by By  End-User Analysis (2016-2032)
Table 105: Middle East & Africa Dumplings Market Revenue (US$ Mn) Comparison by Country (2016-2032)
Table 106: Middle East & Africa Dumplings Market Revenue (US$ Mn) (2016-2032)
Table 107: Middle East & Africa Dumplings Market Revenue (US$ Mn) Comparison by Country (2016-2032)
Table 108: Middle East & Africa Dumplings Market Revenue (US$ Mn) Comparison by By Filling Analysis (2016-2032)
Table 109: Middle East & Africa Dumplings Market Revenue (US$ Mn) Comparison by By  Distribution Channel Analysis (2016-2032)
Table 110: Middle East & Africa Dumplings Market Revenue (US$ Mn) Comparison by By  End-User Analysis (2016-2032)
Table 111: Middle East & Africa Dumplings Market Y-o-Y Growth Rate Comparison by Country (2016-2032)
Table 112: Middle East & Africa Dumplings Market Y-o-Y Growth Rate Comparison by By Filling Analysis (2016-2032)
Table 113: Middle East & Africa Dumplings Market Y-o-Y Growth Rate Comparison by By  Distribution Channel Analysis (2016-2032)
Table 114: Middle East & Africa Dumplings Market Y-o-Y Growth Rate Comparison by By  End-User Analysis (2016-2032)
Table 115: Middle East & Africa Dumplings Market Share Comparison by Country (2016-2032)
Table 116: Middle East & Africa Dumplings Market Share Comparison by By Filling Analysis (2016-2032)
Table 117: Middle East & Africa Dumplings Market Share Comparison by By  Distribution Channel Analysis (2016-2032)
Table 118: Middle East & Africa Dumplings Market Share Comparison by By  End-User Analysis (2016-2032)

Inquiry Form

Why Choose Us

360 Degree Approach
Growth Consulting
24/7 Research Support
Comprehensive-Level of Customization
Comprehensive-Level of Customization
Competitive Intelligence
Single-Country/ Region Intelligence
Post-Sale Service Assistance
Access to Lead Analysts
Available in PDF, Excel, Word/ PPT

Request for Customization
✖
Request a Sample Report
We'll get back to you as quickly as possible
Frequently Asked Questions (FAQ)
What Are The Different Types Of Dumplings?
Some of the types of dumplings available in the market are Shui Jiao, Xiao Long Bao, Guo Tie, and Wonton Mandu dumplings, Gyoza dumplings, Banh Bot Loc dumplings and others.
What Are The Various Methods To Make Dumplings?
Dumplings can be steamed, pan-fried, boiled or even deep-fried.
What Are The Growth Prospects Of The Global Dumplings Market?
Global dumplings market is valued at over US$ 5 Bn in 2021 and is expected to register a CAGR of about 7% over the forecast period. The Asia-Pacific region will dominate the market in 2021.
Which Are The Key Players In The Dumplings Market?
The Dumplings market landscape appears highly fragmented across various regions.
CJ CheilJedang
General Mills
Sanquan Food
Ajinomoto
Hakka Pty Ltd
Day-Lee Foods
Synear
Wei Chuan Foods
CPF
Way Fong
Other Players
OUR
CLIENTS
Don't just take our word. We are trusted by these great companies!