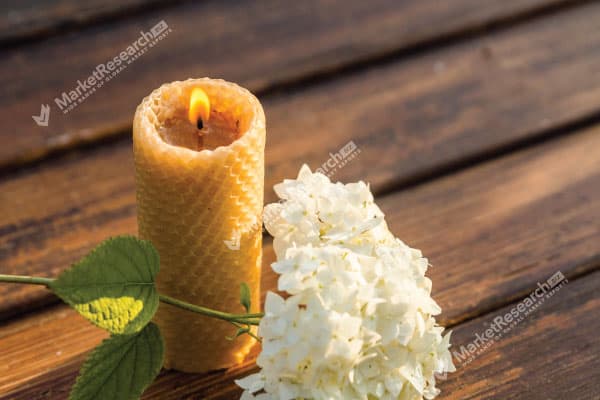 Global Scented Candles Market Forecast, Trend Analysis And Competition Tracking - Global Market insights 2015 to 2031
Global Scented Candles Market Introduction:

"The global Scented Candles Market size is expected to be worth around US$ xx Billion by 2021 from US$ X.xx million in 2031, growing at a CAGR of X.x% during the forecast period 2021 to 2031."

Candles have been existing for over 3000 years BC. For a long time, their principal function was to provide light in dark spaces and provide warmth and comfort. In recent times, these candles have taken on a new role: providing relaxation and beauty to the home. Scented candles now come in several fragrances, such as lavender, sandalwood, rose, sage, and lemongrass, etc. to create the perfect atmosphere for the holidays.

Aromatherapy was initially was associated with expensive scented candles, but there are many ways to bring aromatherapy into your life for an affordable price. You can also find aromatherapy products at local department stores and boutiques. We all love the smell of a scented candle in our home. Whether you are alone at home, with your beloved one or with friends, a candle is always warm and friendly. It can be one of the most enjoyable elements in your home atmosphere.

In recent years, scented candles have been used to overcome sleep disorders, depression, anxiety, fatigue, epilepsy, nausea, digestive problems, arthritis pain and loss of appetite. One treatment involves placing scented candles in a room. The aromas from these candles can help with concentration while being studied or provide a calming atmosphere for sleep.

Market Dynamics: Using Scented Candles Might Help With Insomnia

Many individuals who experience difficulty sleeping due to anxiety may choose to purchase scented candles. Scents can be therapeutic, which helps people relax and fall asleep more easily. Scented candles are also believed to provide overall wellness because the aromas cause changes in heart rate, blood pressure, and hormones.

Scented candles can be used in commercial and residential sectors to provide a tranquilizing ambiance. They are often used in the hospitality industry to create a calming, soothing environment for hotel guests before they retire for the night.

The wellness industry has benefitted from scented candles due to their ability to create a calming environment. Scents used in candles often aid in relaxation, stimulate senses or simply give off a pleasing aroma. A wide variety of candles are available for consumers, including soy candles that are becoming more popular with the rise of eco-friendly items.

A significant number of people prefer to use scented container-based candles in their homes and restaurants. These candles can be made from a wide variety of waxes, including soy, paraffin, and beeswax. The different waxes that are used give the candles different burning properties and various scent-emitting qualities. Some candles may emit stronger scents than others; some may have a shorter burning time.

Due to the increase in home renovation and home décor activities, there has been an increased demand for scented candles. This has been attributed to the willingness of people to spend money on home decoration projects, combined with their desire to enjoy pleasant smells that bring back memories of childhood.

These factors are anticipated to strengthen the projected profit margins for this market during the forecast period.

COVID-19 Impact Analysis: Stress Buster During the Pandemic

Twisted candles were a trend in 2020. They were a form of decoration for the home, and they had a sleek design that was modern and eye-catching. The candle is twisted to make it seem as if all the wax had been used up halfway through burning. This is different from other candles that have an even, uninterrupted shape. It is possible to find these candles at most stores that sell décor. In the wake of the recent COVID-19 pandemic, many people have been experiencing anxiety, increasing demand for scented candles.

This is because candles can produce a calm and soothing effect on individuals, and some research has shown these effects to last for up to two hours after burning. Scents such as lavender and vanilla have been shown to reduce levels of cortisol in the system, a hormone associated with stress. As such, many retailers in this niche market have seen increased sales in recent months, with even more demand predicted in future months.

Initially, the scented candles sales were hit during the pandemic but picked up as consumers gradually focused on wellness. The retail industry took a significant hit in the months following the outbreak, but many online stores have shown signs of recovery. This has been attributed to consumers being more mindful of their mental and physical health, which has increased the demand for wellness-related items such as scented candles.

The Key Players In The Scented Candles Market

The Scented Candles market landscape appears highly fragmented across various regions.

Village Candle
Portmeirion Group PLC
Newell Brands
MVP Group International, Inc.
Estée Lauder Companies Inc.
Diptyque Paris
Lalique Group SA
L Brands
NEST New York
Thymes, LLC
Other Players

Report Scope

Forecast Period: 2022-2031
Actual Year: 2021
Historical Data Available for: 2015-2020

Key Segments Covered

Scented Candles Market, By Product Type

Scented Candles Market, By Distribution Channel

Supermarkets
Specialty Stores
Online Stores
Other Distribution Channels

Scented Candles Market, By End-Use

| Attribute | Report Details |
| --- | --- |
| Market Size | Ask For Market Size |
| Growth Rate | Ask For Growth Rate |
| Key Companies | Ask For Companies |
| Report Coverage | Revenue analysis, Competitive landscape, Key company analysis, Market Trends, Key segments, Distribution Channel, Market Dynamics, COVID-19 Impact Analysis and more… |
| Historical Data Period | 2015-2020 |
| Base Year | 2022 |
| Forecast Period | 2022-2031 |
| Region Scope | North America, Europe, Asia-Pacific, South America, Middle East & Africa |
| Country Scope | United States, Canada and Mexico, Germany, France, UK, Russia and Italy, China, Japan, Korea, India and Southeast Asia, Brazil, Argentina, Colombia etc.Saudi Arabia, UAE, Egypt, Nigeria and South Africa |
| Revenue in | US$ Mn |

Village Candle
Portmeirion Group PLC
MVP Group International, Inc.
Estée Lauder Companies Inc.
Diptyque Paris
Lalique Group SA
L Brands
NEST New York
Thymes, LLC
Other Players

Chapter 1 Global Scented Candles Market Outlook

1.1 Introduction
1.2 Segmentation of Scented Candles Market Based On Product Type, Distribution Channel, and Region
1.3 Drivers
1.4 Restraints
1.5 Opportunities
1.6 Trends
1.7 Macro-economic Factors
1.8 Regulatory Framework
1.9 Global Scented Candles Market Pricing Analysis by Region, 2021
1.10 Opportunity Map Analysis

1.10.1 Optimistic Scenario
1.10.2 Likely Scenario
1.10.3 Conservative Scenario

1.11 Opportunity Orbits
1.12 Market Investment Feasibility Index
1.13 PEST Analysis
1.14 PORTER'S Five Force Analysis
1.15 Drivers & Restraints Impact Analysis
1.16 Marketing Strategy
1.17 Product Life Cycle Analysis
1.18 Value Chain Analysis
1.19 Cost Structure Analysis
1.20 Regional Market Share and BPS Analysis in Scented Candles Market
1.21 COVID-19 Impact Analysis

Chapter 2 Global Scented Candles Market Overview

2.1 Global Market Value & Volume Comparison Market by Product Type (2015-2031)

2.1.1 Global Market Value & Volume Market Share Market by Product Type in 2021
2.1.2 Global Market Attractiveness Analysis Market by Product Type, 2015–2022

2.2 Global Market Value & Volume Comparison by Distribution Channel (2015-2031)

2.2.1 Global Market Value & Volume Market Share by Distribution Channel in 2021
2.2.2 Global Market Attractiveness Analysis by Distribution Channel, 2015–2022

2.3 Global Market Outlook by Region

2.3.1 Global Market Value & Volume Comparison by Region (2015-2031)
2.3.2 Global Market Value & Volume Market Share by Region in 2021
2.3.3 Global Market Attractiveness Analysis by Region, 2015–2022

2.4 Global Market Outlook (2015-2031)

2.4.1 Global Market Value & Volume (2015–2022)
2.4.2 Global Market Value & Volume (2023-2031)

2.5 Global Market Value & Volume by Regions

2.5.1 Global Market Value & Volume Comparison by Region (2015–2022)
2.5.2 Global Market Value & Volume Comparison by Region (2023-2031)

2.6 Global Market Value & Volume Market by Product Type

2.6.1 Global Market Value & Volume Comparison Market by Product Type (2015–2022)
2.6.2 Global Market Value & Volume Comparison Market by Product Type (2023-2031)

2.7 Global Market Value & Volume by Distribution Channel

2.7.1 Global Market Value & Volume Comparison by Distribution Channel (2015–2022)
2.7.2 Global Market Value & Volume Comparison by Distribution Channel (2023-2031)

2.8 Global Market Y-o-Y Growth Rate Comparison 2016–2031

2.8.1 Global Market Y-o-Y Growth Rate by Region
2.8.2 Global Market Y-o-Y Growth Rate Market by Product Type
2.8.3 Global Market Y-o-Y Growth Rate by Distribution Channel

2.9 Global Market Share Comparison 2015–2031

2.9.1 Global Market Share by Region
2.9.2 Global Market Share Market by Product Type
2.9.3 Global Market Share by Distribution Channel

Chapter 3 North America Scented Candles Market Overview

3.1 North America Market by Product Type

3.1.1 North America Market Value & Volume Comparison Market by Product Type (2015-2031)
3.1.2 North America Market Value & Volume Market Share Market by Product Type in 2021

3.2 North America Market Value & Volume Comparison by Distribution Channel (2015-2031)

3.2.1 North America Market Value & Volume Market Share by Distribution Channel in 2021
3.2.2 North America Market Attractiveness Analysis by Distribution Channel, 2015–2022

3.3 North America Market Outlook by Region

3.3.1 North America Market Value & Volume Comparison by Region (2015-2031)
3.3.2 North America Market Value & Volume Market Share by Region in 2021
3.3.3 North America Market Attractiveness Analysis by Region, 2015–2022

3.4 North America Market Outlook (2015-2031)

3.4.1 North America Market Value & Volume (2015–2022)
3.4.2 North America Market Value & Volume (2023-2031)

3.5 North America Market Value & Volume by Regions

3.5.1 North America Market Value & Volume Comparison by Region (2015–2022)
3.5.2 North America Market Value & Volume Comparison by Region (2023-2031)

3.6 North America Market Value & Volume Market by Product Type

3.6.1 North America Market Value & Volume Comparison Market by Product Type (2015–2022)
3.6.2 North America Market Value & Volume Comparison Market by Product Type (2023-2031)

3.7 North America Market Value & Volume by Distribution Channel

3.7.1 North America Market Value & Volume Comparison by Distribution Channel (2015–2022)
3.7.2 North America Market Value & Volume Comparison by Distribution Channel (2023-2031)

3.8 North America Market Y-o-Y Growth Rate Comparison 2016–2031

3.8.1 North America Market Y-o-Y Growth Rate by Region
3.8.2 North America Market Y-o-Y Growth Rate Market by Product Type
3.8.3 North America Market Y-o-Y Growth Rate by Distribution Channel

3.9 North America Market Share Comparison 2015–2031

3.9.1 North America Market Share by Region
3.9.2 North America Market Share Market by Product Type
3.9.3 North America Market Share by Distribution Channel

Chapter 4 Europe Scented Candles Market Overview

4.1 Europe Market Market by Product Type

4.1.1 Europe Market Value & Volume Comparison Market by Product Type (2015-2031)
4.1.2 Europe Market Value & Volume Market Share Market by Product Type in 2021

4.2 Europe Market Value & Volume Comparison by Distribution Channel (2015-2031)

4.2.1 Europe Market Value & Volume Market Share by Distribution Channel in 2021
4.2.2 Europe Market Market Attractiveness Analysis by Distribution Channel, 2015–2022

4.3 Europe Market Market Outlook by Region

4.3.1 Europe Market Value & Volume Comparison by Region (2015-2031)
4.3.2 Europe Market Value & Volume Market Share by Region in 2021
4.3.3 Europe Market Attractiveness Analysis by Region, 2015–2022

4.4 Europe Market Outlook (2015-2031)

4.4.1 Europe Market Value & Volume (2015–2022)
4.4.2 Europe Market Value & Volume (2023-2031)

4.5 Europe Market Value & Volume by Regions

4.5.1 Europe Market Value & Volume Comparison by Region (2015–2022)
4.5.2 Europe Market Value & Volume Comparison by Region (2023-2031)

4.6 Europe Market Value & Volume Market by Product Type

4.6.1 Europe Market Value & Volume Comparison Market by Product Type (2015–2022)
4.6.2 Europe Market Value & Volume Comparison Market by Product Type (2023-2031)

4.7 Europe Market Value & Volume by Distribution Channel

4.7.1 Europe Market Value & Volume Comparison by Distribution Channel (2015–2022)
4.7.2 Europe Market Value & Volume Comparison by Distribution Channel (2023-2031)

4.8 Europe Market Y-o-Y Growth Rate Comparison 2016–2031

4.8.1 Europe Market Y-o-Y Growth Rate by Region
4.8.2 Europe Market Y-o-Y Growth Rate Market by Product Type
4.8.3 Europe Market Y-o-Y Growth Rate by Distribution Channel

4.9 Europe Market Share Comparison 2015–2031

4.9.1 Europe Market Share by Region
4.9.2 Europe Market Share Market by Product Type
4.9.3 Europe Market Share by Distribution Channel

Chapter 5 Asia-Pacific Scented Candles Market Overview

5.1 Asia-Pacific Market by Product Type

5.1.1 Asia-Pacific Market Value & Volume Comparison Market by Product Type (2015-2031)
5.1.2 Asia-Pacific Market Value & Volume Market Share Market by Product Type in 2021

5.2 Asia-Pacific Market Value & Volume Comparison by Distribution Channel (2015-2031)

5.2.1 Asia-Pacific Market Value & Volume Market Share by Distribution Channel in 2021
5.2.2 Asia-Pacific Market Attractiveness Analysis by Distribution Channel, 2015–2022

5.3 Asia-Pacific Market Outlook by Region

5.3.1 Asia-Pacific Market Value & Volume Comparison by Region (2015-2031)
5.3.2 Asia-Pacific Market Value & Volume Market Share by Region in 2021
5.3.3 Asia-Pacific Market Attractiveness Analysis by Region, 2015–2022

5.4 Asia-Pacific Market Outlook (2015-2031)

5.4.1 Asia-Pacific Market Value & Volume (2015–2022)
5.4.2 Asia-Pacific Market Value & Volume (2023-2031)

5.5 Asia-Pacific Market Value & Volume by Regions

5.5.1 Asia-Pacific Market Value & Volume Comparison by Region (2015–2022)
5.5.2 Asia-Pacific Market Value & Volume Comparison by Region (2023-2031)

5.6 Asia-Pacific Market Value & Volume Market by Product Type

5.6.1 Asia-Pacific Market Value & Volume Comparison Market by Product Type (2015–2022)
5.6.2 Asia-Pacific Market Value & Volume Comparison Market by Product Type (2023-2031)

5.7 Asia-Pacific Market Value & Volume by Distribution Channel

5.7.1 Asia-Pacific Market Value & Volume Comparison by Distribution Channel (2015–2022)
5.7.2 Asia-Pacific Market Value & Volume Comparison by Distribution Channel (2023-2031)

5.8 Asia-Pacific Market Y-o-Y Growth Rate Comparison 2016–2031

5.8.1 Asia-Pacific Market Y-o-Y Growth Rate by Region
5.8.2 Asia-Pacific Market Y-o-Y Growth Rate Market by Product Type
5.8.3 Asia-Pacific Market Y-o-Y Growth Rate by Distribution Channel

5.9 Asia-Pacific Market Share Comparison 2015–2031

5.9.1 Asia-Pacific Market Share by Region
5.9.2 Asia-Pacific Market Share Market by Product Type
5.9.3 Asia-Pacific Market Share by Distribution Channel

Chapter 6 Latin America Scented Candles Market Overview

6.1 Latin America Market by Product Type

6.1.1 Latin America Market Value & Volume Comparison Market by Product Type (2015-2031)
6.1.2 Latin America Market Value & Volume Market Share Market by Product Type in 2021

6.2 Latin America Market Value & Volume Comparison by Distribution Channel (2015-2031)

6.2.1 Latin America Market Value & Volume Market Share by Distribution Channel in 2021
6.2.2 Latin America Market Attractiveness Analysis by Distribution Channel, 2015–2022

6.3 Latin America Market Outlook by Region

6.3.1 Latin America Market Value & Volume Comparison by Region (2015-2031)
6.3.2 Latin America Market Value & Volume Market Share by Region in 2021
6.3.3 Latin America Market Attractiveness Analysis by Region, 2015–2022

6.4 Latin America Market Outlook (2015-2031)

6.4.1 Latin America Market Value & Volume (2015–2022)
6.4.2 Latin America Market Value & Volume (2023-2031)

6.5 Latin America Market Value & Volume by Regions

6.5.1 Latin America Market Value & Volume Comparison by Region (2015–2022)
6.5.2 Latin America Market Value & Volume Comparison by Region (2023-2031)

6.6 Latin America Market Value & Volume Market by Product Type

6.6.1 Latin America Market Value & Volume Comparison Market by Product Type (2015–2022)
6.6.2 Latin America Market Value & Volume Comparison Market by Product Type (2023-2031)

6.7 Latin America Market Value & Volume by Distribution Channel

6.7.1 Latin America Market Value & Volume Comparison by Distribution Channel (2015–2022)
6.7.2 Latin America Market Value & Volume Comparison by Distribution Channel (2023-2031)

6.8 Latin America Market Y-o-Y Growth Rate Comparison 2016–2031

6.8.1 Latin America Market Y-o-Y Growth Rate by Region
6.8.2 Latin America Market Y-o-Y Growth Rate Market by Product Type
6.8.3 Latin America Market Y-o-Y Growth Rate by Distribution Channel

6.9 Latin America Market Share Comparison 2015–2031

6.9.1 Latin America Market Share by Region
6.9.2 Latin America Market Share Market by Product Type
6.9.3 Latin America Market Share by Distribution Channel

Chapter 7 MEA Scented Candles Market Overview

7.1 MEA Market by Product Type

7.1.1 MEA Market Value & Volume Comparison Market by Product Type (2015-2031)
7.1.2 MEA Market Value & Volume Market Share Market by Product Type in 2021

7.2 MEA Market Value & Volume Comparison by Distribution Channel (2015-2031)

7.2.1 MEA Market Value & Volume Market Share by Distribution Channel in 2021
7.2.2 MEA Market Attractiveness Analysis by Distribution Channel, 2015–2022

7.3 MEA Market Outlook by Region

7.3.1 MEA Market Value & Volume Comparison by Region (2015-2031)
7.3.2 MEA Market Value & Volume Market Share by Region in 2021
7.3.3 MEA Market Attractiveness Analysis by Region, 2015–2022

7.4 MEA Market Outlook (2015-2031)

7.4.1 MEA Market Value & Volume (2015–2022)
7.4.2 MEA Market Value & Volume (2023-2031)

7.5 MEA Market Value & Volume by Regions

7.5.1 MEA Market Value & Volume Comparison by Region (2015–2022)
7.5.2 MEA Market Value & Volume Comparison by Region (2023-2031)

7.6 MEA Market Value & Volume Market by Product Type

7.6.1 MEA Market Value & Volume Comparison Market by Product Type (2015–2022)
7.6.2 MEA Market Value & Volume Comparison Market by Product Type (2023-2031)

7.7 MEA Market Value & Volume by Distribution Channel

7.7.1 MEA Market Value & Volume Comparison by Distribution Channel (2015–2022)
7.7.2 MEA Market Value & Volume Comparison by Distribution Channel (2023-2031)

7.8 MEA Market Y-o-Y Growth Rate Comparison 2016–2031

7.8.1 MEA Market Y-o-Y Growth Rate by Region
7.8.2 MEA Market Y-o-Y Growth Rate Market by Product Type
7.8.3 MEA Market Y-o-Y Growth Rate by Distribution Channel

7.9 MEA Market Share Comparison 2015–2031

7.9.1 MEA Market Share by Region
7.9.2 MEA Market Share Market by Product Type
7.9.3 MEA Market Share by Distribution Channel

Chapter 8 Global Scented Candles Market Company Profiles

8.1 Market Competition Scenario Analysis, By Company
8.2 Competitor Landscape
8.3 Company Share Analysis
8.4 Company Profiles

8.4.1 California Exotic Novelties

8.4.1.1 Company Overview
8.4.1.2 Business Description
8.4.1.3 Product Portfolio
8.4.1.4 Key Financials
8.4.1.5 Key Developments
8.4.1.6 SWOT Analysis

8.4.2 P&G

8.4.2.1 Company Overview
8.4.2.2 Business Description
8.4.2.3 Product Portfolio
8.4.2.4 Key Financials
8.4.2.5 Key Developments
8.4.2.6 SWOT Analysis

8.4.3 LELO

8.4.3.1 Company Overview
8.4.3.2 Business Description
8.4.3.3 Product Portfolio
8.4.3.4 Key Financials
8.4.3.5 Key Developments
8.4.3.6 SWOT Analysis

8.4.4 Reckitt Benckiser

8.4.4.1 Company Overview
8.4.4.2 Business Description
8.4.4.3 Product Portfolio
8.4.4.4 Key Financials
8.4.4.5 Key Developments
8.4.4.6 SWOT Analysis

8.4.5 Gellite Gel Candles

8.4.5.1 Company Overview
8.4.5.2 Business Description
8.4.5.3 Product Portfolio
8.4.5.4 Key Financials
8.4.5.5 Key Developments
8.4.5.6 SWOT Analysis

8.4.6 Bath & Body Works

8.4.6.1 Company Overview
8.4.6.2 Business Description
8.4.6.3 Product Portfolio
8.4.6.4 Key Financials
8.4.6.5 Key Developments
8.4.6.6 SWOT Analysis

8.4.7 Empire Candle Co., LLC

8.4.7.1 Company Overview
8.4.7.2 Business Description
8.4.7.3 Product Portfolio
8.4.7.4 Key Financials
8.4.7.5 Key Developments
8.4.7.6 SWOT Analysis

8.4.8 Newell Brands

8.4.8.1 Company Overview
8.4.8.2 Business Description
8.4.8.3 Product Portfolio
8.4.8.4 Key Financials
8.4.8.5 Key Developments
8.4.8.6 SWOT Analysis

8.4.9 Conscious Candle Company

8.4.9.1 Company Overview
8.4.9.2 Business Description
8.4.9.3 Product Portfolio
8.4.9.4 Key Financials
8.4.9.5 Key Developments
8.4.9.6 SWOT Analysis

8.4.10 Bolsius International BV

8.4.10.1 Company Overview
8.4.10.2 Business Description
8.4.10.3 Product Portfolio
8.4.10.4 Key Financials
8.4.10.5 Key Developments
8.4.10.6 SWOT Analysis

8.4.11 Other Key Players

Chapter 9 Research Methodology

9.1 Research Methodology
9.2 Primary Research
9.3 Secondary Research
9.4 Report Scope

Chapter 10 About Us
Chapter 11 Disclaimer

Inquiry Form

Why Choose Us

360 Degree Approach
Growth Consulting
24/7 Research Support
Comprehensive-Level of Customization
Comprehensive-Level of Customization
Competitive Intelligence
Single-Country/ Region Intelligence
Post-Sale Service Assistance
Access to Lead Analysts
Available in PDF, Excel, Word/ PPT

Request for Customization
Frequently Asked Questions (FAQ)
Are Scented Candles Harmful?
Unfortunately, the scents emitted by candles may not be as safe as one might think due to the prevalence of volatile organic compounds (VOCs) in them. VOCs are chemicals that evaporate at room temperature and can affect breathing, allergies, and even cancer rates. Of these VOCs, formaldehyde is one of the most dangerous.
What Are The Growth Prospects Of The Global Scented Candles Market?
The global scented candles market was valued at US$ 432.0 Mn in 2020 and is projected to register а САGR of over 4% by 2031.  The North American region, particularly the US, dominates the scented candles market.
How long do scented candles last?
Pillar candles burn for a longer amount of time. A scented tea light, in general, will burn for up to 6 hours. The reason for this is that pillar candles are designed to burn longer, whereas scented tea lights are made to provide delicate aromatics when lit.
What Is The Price Of Scented Candles?
A typical scented candle ranges from US$ 5– US$ 10, depending on the brand. Premium products range much higher compared to other brands
Which Are The Key Players In The Scented Candles Market?
The Scented Candles market landscape appears highly fragmented across various regions.
Village Candle
Portmeirion Group PLC
Newell Brands
MVP Group International, Inc.
Estée Lauder Companies Inc.
Diptyque Paris
Lalique Group SA
L Brands
NEST New York
Thymes, LLC
Other Players
OUR
CLIENTS
Don't just take our word. We are trusted by these great companies!