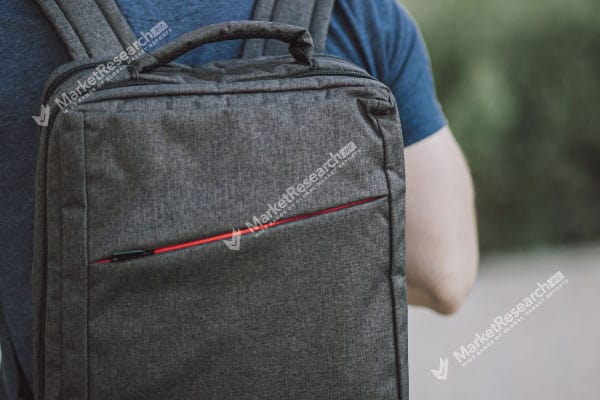 Global Laptop Carry Case Market Forecast, Trend Analysis And Competition Tracking - Global Market insights 2015 to 2031
The global laptop carry case market was valued at US$ 2.01 Bn in 2020 and is projected to register а САGR of 3.2% by 2031.

Laptop Carry Case Market Introduction:

Laptops are a part of everyday corporate life, and with the increasing number of laptops in use, more people will inevitably want to carry them around. The demand for laptop carry cases has been on the rise. These days, anyone can purchase a laptop case from any major retailer or order online.

Laptop messengers refer to bags, sleeves and protective cases used to protect laptops and related documents and accessories. Laptop portable bags, such as shoulder/back bags, backpacks, etc., are used for laptops and other laptop-related items according to their need and uses. The main features of laptop travel cases are design and safety. Some manufacturers and suppliers are developing RFID data vaults that are dedicated with specific compartments that can hold 17-inch laptops. Moreover, companies are developing tablet-compatible protective cases and major FOB waterproof travel bags to attract customers. The messenger bag is superior to the backpack that has to carry the backpack every time to access items, but it quickly became popular because of the convenience and practicality it brings to the wearer. Messenger bags usually come with many pockets, which can help customers easily organize belongings into a space that can be safely stored and easily used.

Technological innovations that can be found in laptop portable bags include features such as lightness and ease of carrying. Radiofrequency identification (RFID) enabled and checkpoint-friendly laptop suitcases have advanced features, increasing the overall adoption rate of laptop carry cases. The messenger bag's style also makes it very suitable for the office environment because it is smart and stylish, can adapt to sometimes strict dress requirements, but is easier to access than a briefcase.

Laptop Carry Case Market Dynamics

The lightness and portability of the bag are other characteristics that drive product demand. It is also expected to promote innovation and R&D in the market. In addition, airlines' rising luggage prices and strict restrictions on hand luggage weight have also promoted the demand for lightweight laptop handbags. With multiple storage options, GPS tracking, anti-theft protection, built-in power supply, and device status, the popularity of portable cases among consumers is rapidly increasing. New product releases backed by advanced technology and smart use of laptop messenger bags are driving the popularity of laptop bags among travelers and businesses. The growing demand for travel laptop bags will positively impact the market and contribute to the growth of market share for the global laptop messenger market during the forecast period. The rising trend of Bring Your Own Device (BYOD) in the corporate sector is expected to drive the demand for portable laptop bags during the forecast period.

People are using their laptops more than ever before, and the need for a durable laptop case is greater than ever. The demand for Laptop carry cases has increased in recent years. A new trend has emerged with the growing popularity of the iPad, which is also being used on a daily basis.

 List of Major laptop brands and manufacturers

| Brand Name | Country | Product |
| --- | --- | --- |
| Lenovo | China | IdeaPad, Legion, ThinkPad, ThinkBook, Yoga |
| HP | United States | Elitebook, Envy, Omen, Pavilion, ZBook, Spectre, Victus, ProBook, OmniBook |
| Dell | United States | Alienware, G Series, Inspiron, Latitude, Precision, Vostro, XPS |
| Apple | United States | MacBook |
| Asus | Taiwan | ZenBook, VivoBook, ROG, TUF |

Laptop Carry Case Market Restraints 

The supply of counterfeit products that are priced lower than branded laptop sleeves may hinder the market growth. Picking a laptop carry case is sometimes difficult. It can be tricky to find a carrier that will fit your laptop, and other valuables is protective of the contents and doesn't cost more than your computer itself. Some alternatives to traditional laptop carriers may work just as well for you as a more pricey option.

Laptop Carry Case Market Segment Analysis

The global laptop messenger market is segmented by product type, distribution channel, and region. The product type segments include backpacks, messenger bags, sleeves, briefcases, and rollers. The increasing penetration rate of the e-commerce industry, discount stores, free shipping, product availability, product features, and prices are relatively easy, it is expected that online sales channels will achieve a rapid compound annual growth rate over the forecast period.

The North American market is expected to account for major revenue share among the regional markets. The North American region is expected to maintain a dominant position in the global laptop carry case market over the forecast period. This is due to the high presence of the business class, travelers in corporate workplaces, and the increasing use of electronic devices such as laptops and others.

The Global Laptop Carry Case Market is segmented based on product type, distribution channel, and region

Based on the Product Type

Backpack
Messenger Bags
Sleeves
Briefcase
Rollers

Based on the Distribution Channel

Specialty Stores
Online Stores
Other Distribution Channels

Based on the region

North America
Europe
Asia Pacific
South America
Middle East & Africa

Key Players in the Market are

Samsonite
Wenger (Swissgear)
Belkin International
Targus
Elecom
Kensington
Crumpler
Xiangxing Group
Sanwa
DICOTA
Brenthaven
Dell
United States Luggage
Mobile Edge
Chrome Industries
OGIO
Sumdex
Hewlett-Packard
FILSON CO.
Golla
Other Key Players

| Attribute | Report Details |
| --- | --- |
| Market Size | Ask For Market Size |
| Growth Rate | Ask For Growth Rate |
| Key Companies | Ask For Companies |
| Report Coverage | Revenue analysis, Competitive landscape, Key company analysis, Market Trends, Key segments, Distribution Channel, Market Dynamics, COVID-19 Impact Analysis and more… |
| Historical Data Period | 2015-2020 |
| Base Year | 2022 |
| Forecast Period | 2022-2031 |
| Region Scope | North America, Europe, Asia-Pacific, South America, Middle East & Africa |
| Country Scope | United States, Canada and Mexico, Germany, France, UK, Russia and Italy, China, Japan, Korea, India and Southeast Asia, Brazil, Argentina, Colombia etc.Saudi Arabia, UAE, Egypt, Nigeria and South Africa |
| Revenue in | US$ Mn |

Samsonite
Wenger (Swissgear)
Belkin International
Targus
Elecom
Kensington
Crumpler
Xiangxing Group
Sanwa
DICOTA
Brenthaven
Dell
United States Luggage
Mobile Edge
Chrome Industries
OGIO
Sumdex
Hewlett-Packard
FILSON CO.
Golla
Other Key Players

Chapter 1 Global Laptop Carry Case Market Outlook

1.1 Introduction
1.2 Segmentation of Laptop Carry Case Market Based On Product Type, Distribution Channel, and Region
1.3 Drivers
1.4 Restraints
1.5 Opportunities
1.6 Trends
1.7 Macro-economic Factors
1.8 Regulatory Framework
1.9 Global Laptop Carry Case Market Pricing Analysis by Region, 2021
1.10 Opportunity Map Analysis

1.10.1 Optimistic Scenario
1.10.2 Likely Scenario
1.10.3 Conservative Scenario

1.11 Opportunity Orbits
1.12 Market Investment Feasibility Index
1.13 PEST Analysis
1.14 PORTER'S Five Force Analysis
1.15 Drivers & Restraints Impact Analysis
1.16 Marketing Strategy
1.17 Product Life Cycle Analysis
1.18 Value Chain Analysis
1.19 Cost Structure Analysis
1.20 Regional Market Share and BPS Analysis in Laptop Carry Case Market
1.21 COVID-19 Impact Analysis

Chapter 2 Global Laptop Carry Case Market Overview

2.1 Global Market Value & Volume Comparison Market by Product Type (2015-2031)

2.1.1 Global Market Value & Volume Market Share Market by Product Type in 2021
2.1.2 Global Market Attractiveness Analysis Market by Product Type, 2015–2022

2.2 Global Market Value & Volume Comparison by Distribution Channel (2015-2031)

2.2.1 Global Market Value & Volume Market Share by Distribution Channel in 2021
2.2.2 Global Market Attractiveness Analysis by Distribution Channel, 2015–2022

2.3 Global Market Outlook by Region

2.3.1 Global Market Value & Volume Comparison by Region (2015-2031)
2.3.2 Global Market Value & Volume Market Share by Region in 2021
2.3.3 Global Market Attractiveness Analysis by Region, 2015–2022

2.4 Global Market Outlook (2015-2031)

2.4.1 Global Market Value & Volume (2015–2022)
2.4.2 Global Market Value & Volume (2023-2031)

2.5 Global Market Value & Volume by Regions

2.5.1 Global Market Value & Volume Comparison by Region (2015–2022)
2.5.2 Global Market Value & Volume Comparison by Region (2023-2031)

2.6 Global Market Value & Volume Market by Product Type

2.6.1 Global Market Value & Volume Comparison Market by Product Type (2015–2022)
2.6.2 Global Market Value & Volume Comparison Market by Product Type (2023-2031)

2.7 Global Market Value & Volume by Distribution Channel

2.7.1 Global Market Value & Volume Comparison by Distribution Channel (2015–2022)
2.7.2 Global Market Value & Volume Comparison by Distribution Channel (2023-2031)

2.8 Global Market Y-o-Y Growth Rate Comparison 2016–2031

2.8.1 Global Market Y-o-Y Growth Rate by Region
2.8.2 Global Market Y-o-Y Growth Rate Market by Product Type
2.8.3 Global Market Y-o-Y Growth Rate by Distribution Channel

2.9 Global Market Share Comparison 2015–2031

2.9.1 Global Market Share by Region
2.9.2 Global Market Share Market by Product Type
2.9.3 Global Market Share by Distribution Channel

Chapter 3 North America Laptop Carry Case Market Overview

3.1 North America Market by Product Type

3.1.1 North America Market Value & Volume Comparison Market by Product Type (2015-2031)
3.1.2 North America Market Value & Volume Market Share Market by Product Type in 2021

3.2 North America Market Value & Volume Comparison by Distribution Channel (2015-2031)

3.2.1 North America Market Value & Volume Market Share by Distribution Channel in 2021
3.2.2 North America Market Attractiveness Analysis by Distribution Channel, 2015–2022

3.3 North America Market Outlook by Region

3.3.1 North America Market Value & Volume Comparison by Region (2015-2031)
3.3.2 North America Market Value & Volume Market Share by Region in 2021
3.3.3 North America Market Attractiveness Analysis by Region, 2015–2022

3.4 North America Market Outlook (2015-2031)

3.4.1 North America Market Value & Volume (2015–2022)
3.4.2 North America Market Value & Volume (2023-2031)

3.5 North America Market Value & Volume by Regions

3.5.1 North America Market Value & Volume Comparison by Region (2015–2022)
3.5.2 North America Market Value & Volume Comparison by Region (2023-2031)

3.6 North America Market Value & Volume Market by Product Type

3.6.1 North America Market Value & Volume Comparison Market by Product Type (2015–2022)
3.6.2 North America Market Value & Volume Comparison Market by Product Type (2023-2031)

3.7 North America Market Value & Volume by Distribution Channel

3.7.1 North America Market Value & Volume Comparison by Distribution Channel (2015–2022)
3.7.2 North America Market Value & Volume Comparison by Distribution Channel (2023-2031)

3.8 North America Market Y-o-Y Growth Rate Comparison 2016–2031

3.8.1 North America Market Y-o-Y Growth Rate by Region
3.8.2 North America Market Y-o-Y Growth Rate Market by Product Type
3.8.3 North America Market Y-o-Y Growth Rate by Distribution Channel

3.9 North America Market Share Comparison 2015–2031

3.9.1 North America Market Share by Region
3.9.2 North America Market Share Market by Product Type
3.9.3 North America Market Share by Distribution Channel

Chapter 4 Europe Laptop Carry Case Market Overview

4.1 Europe Market by Product Type

4.1.1 Europe Market Value & Volume Comparison Market by Product Type (2015-2031)
4.1.2 Europe Market Value & Volume Market Share Market by Product Type in 2021

4.2 Europe Market Value & Volume Comparison by Distribution Channel (2015-2031)

4.2.1 Europe Market Value & Volume Market Share by Distribution Channel in 2021
4.2.2 Europe Market Attractiveness Analysis by Distribution Channel, 2015–2022

4.3 Europe Market Outlook by Region

4.3.1 Europe Market Value & Volume Comparison by Region (2015-2031)
4.3.2 Europe Market Value & Volume Market Share by Region in 2021
4.3.3 Europe Market Attractiveness Analysis by Region, 2015–2022

4.4 Europe Market Outlook (2015-2031)

4.4.1 Europe Market Value & Volume (2015–2022)
4.4.2 Europe Market Value & Volume (2023-2031)

4.5 Europe Market Value & Volume by Regions

4.5.1 Europe Market Value & Volume Comparison by Region (2015–2022)
4.5.2 Europe Market Value & Volume Comparison by Region (2023-2031)

4.6 Europe Market Value & Volume Market by Product Type

4.6.1 Europe Market Value & Volume Comparison Market by Product Type (2015–2022)
4.6.2 Europe Market Value & Volume Comparison Market by Product Type (2023-2031)

4.7 Europe Market Value & Volume by Distribution Channel

4.7.1 Europe Market Value & Volume Comparison by Distribution Channel (2015–2022)
4.7.2 Europe Market Value & Volume Comparison by Distribution Channel (2023-2031)

4.8 Europe Market Y-o-Y Growth Rate Comparison 2016–2031

4.8.1 Europe Market Y-o-Y Growth Rate by Region
4.8.2 Europe Market Y-o-Y Growth Rate Market by Product Type
4.8.3 Europe Market Y-o-Y Growth Rate by Distribution Channel

4.9 Europe Market Share Comparison 2015–2031

4.9.1 Europe Market Share by Region
4.9.2 Europe Market Share Market by Product Type
4.9.3 Europe Market Share by Distribution Channel

Chapter 5 Asia-Pacific Laptop Carry Case Market Overview

5.1 Asia-Pacific Market by Product Type

5.1.1 Asia-Pacific Market Value & Volume Comparison Market by Product Type (2015-2031)
5.1.2 Asia-Pacific Market Value & Volume Market Share Market by Product Type in 2021

5.2 Asia-Pacific Market Value & Volume Comparison by Distribution Channel (2015-2031)

5.2.1 Asia-Pacific Market Value & Volume Market Share by Distribution Channel in 2021
5.2.2 Asia-Pacific Market Attractiveness Analysis by Distribution Channel, 2015–2022

5.3 Asia-Pacific Market Outlook by Region

5.3.1 Asia-Pacific Market Value & Volume Comparison by Region (2015-2031)
5.3.2 Asia-Pacific Market Value & Volume Market Share by Region in 2021
5.3.3 Asia-Pacific Market Attractiveness Analysis by Region, 2015–2022

5.4 Asia-Pacific Market Outlook (2015-2031)

5.4.1 Asia-Pacific Market Value & Volume (2015–2022)
5.4.2 Asia-Pacific Market Value & Volume (2023-2031)

5.5 Asia-Pacific Market Value & Volume by Regions

5.5.1 Asia-Pacific Market Value & Volume Comparison by Region (2015–2022)
5.5.2 Asia-Pacific Market Value & Volume Comparison by Region (2023-2031)

5.6 Asia-Pacific Market Value & Volume Market by Product Type

5.6.1 Asia-Pacific Market Value & Volume Comparison Market by Product Type (2015–2022)
5.6.2 Asia-Pacific Market Value & Volume Comparison Market by Product Type (2023-2031)

5.7 Asia-Pacific Market Value & Volume by Distribution Channel

5.7.1 Asia-Pacific Market Value & Volume Comparison by Distribution Channel (2015–2022)
5.7.2 Asia-Pacific Market Value & Volume Comparison by Distribution Channel (2023-2031)

5.8 Asia-Pacific Market Y-o-Y Growth Rate Comparison 2016–2031

5.8.1 Asia-Pacific Market Y-o-Y Growth Rate by Region
5.8.2 Asia-Pacific Market Y-o-Y Growth Rate Market by Product Type
5.8.3 Asia-Pacific Market Y-o-Y Growth Rate by Distribution Channel

5.9 Asia-Pacific Market Share Comparison 2015–2031

5.9.1 Asia-Pacific Market Share by Region
5.9.2 Asia-Pacific Market Share Market by Product Type
5.9.3 Asia-Pacific Market Share by Distribution Channel

Chapter 6 Latin America Laptop Carry Case Market Overview

6.1 Latin America Market by Product Type

6.1.1 Latin America Market Value & Volume Comparison Market by Product Type (2015-2031)
6.1.2 Latin America Market Value & Volume Market Share Market by Product Type in 2021

6.2 Latin America Market Value & Volume Comparison by Distribution Channel (2015-2031)

6.2.1 Latin America Market Value & Volume Market Share by Distribution Channel in 2021
6.2.2 Latin America Market Attractiveness Analysis by Distribution Channel, 2015–2022

6.3 Latin America Market Outlook by Region

6.3.1 Latin America Market Value & Volume Comparison by Region (2015-2031)
6.3.2 Latin America Market Value & Volume Market Share by Region in 2021
6.3.3 Latin America Market Attractiveness Analysis by Region, 2015–2022

6.4 Latin America Market Outlook (2015-2031)

6.4.1 Latin America Market Value & Volume (2015–2022)
6.4.2 Latin America Market Value & Volume (2023-2031)

6.5 Latin America Market Value & Volume by Regions

6.5.1 Latin America Market Value & Volume Comparison by Region (2015–2022)
6.5.2 Latin America Market Value & Volume Comparison by Region (2023-2031)

6.6 Latin America Market Value & Volume Market by Product Type

6.6.1 Latin America Market Value & Volume Comparison Market by Product Type (2015–2022)
6.6.2 Latin America Market Value & Volume Comparison Market by Product Type (2023-2031)

6.7 Latin America Market Value & Volume by Distribution Channel

6.7.1 Latin America Market Value & Volume Comparison by Distribution Channel (2015–2022)
6.7.2 Latin America Market Value & Volume Comparison by Distribution Channel (2023-2031)

6.8 Latin America Market Y-o-Y Growth Rate Comparison 2016–2031

6.8.1 Latin America Market Y-o-Y Growth Rate by Region
6.8.2 Latin America Market Y-o-Y Growth Rate Market by Product Type
6.8.3 Latin America Market Y-o-Y Growth Rate by Distribution Channel

6.9 Latin America Market Share Comparison 2015–2031

6.9.1 Latin America Market Share by Region
6.9.2 Latin America Market Share Market by Product Type
6.9.3 Latin America Market Share by Distribution Channel

Chapter 7 MEA Laptop Carry Case Market Overview

7.1 MEA Market by Product Type

7.1.1 MEA Market Value & Volume Comparison Market by Product Type (2015-2031)
7.1.2 MEA Market Value & Volume Market Share Market by Product Type in 2021

7.2 MEA Market Value & Volume Comparison by Distribution Channel (2015-2031)

7.2.1 MEA Market Value & Volume Market Share by Distribution Channel in 2021
7.2.2 MEA Market Attractiveness Analysis by Distribution Channel, 2015–2022

7.3 MEA Market Outlook by Region

7.3.1 MEA Market Value & Volume Comparison by Region (2015-2031)
7.3.2 MEA Market Value & Volume Market Share by Region in 2021
7.3.3 MEA Market Attractiveness Analysis by Region, 2015–2022

7.4 MEA Market Outlook (2015-2031)

7.4.1 MEA Market Value & Volume (2015–2022)
7.4.2 MEA Market Value & Volume (2023-2031)

7.5 MEA Market Value & Volume by Regions

7.5.1 MEA Market Value & Volume Comparison by Region (2015–2022)
7.5.2 MEA Market Value & Volume Comparison by Region (2023-2031)

7.6 MEA Market Value & Volume Market by Product Type

7.6.1 MEA Market Value & Volume Comparison Market by Product Type (2015–2022)
7.6.2 MEA Market Value & Volume Comparison Market by Product Type (2023-2031)

7.7 MEA Market Value & Volume by Distribution Channel

7.7.1 MEA Market Value & Volume Comparison by Distribution Channel (2015–2022)
7.7.2 MEA Market Value & Volume Comparison by Distribution Channel (2023-2031)

7.8 MEA Market Y-o-Y Growth Rate Comparison 2016–2031

7.8.1 MEA Market Y-o-Y Growth Rate by Region
7.8.2 MEA Market Y-o-Y Growth Rate Market by Product Type
7.8.3 MEA Market Y-o-Y Growth Rate by Distribution Channel

7.9 MEA Market Share Comparison 2015–2031

7.9.1 MEA Market Share by Region
7.9.2 MEA Market Share Market by Product Type
7.9.3 MEA Market Share by Distribution Channel

Chapter 8 Global Laptop Carry Case Market Company Profiles

8.1 Market Competition Scenario Analysis, By Company
8.2 Competitor Landscape
8.3 Company Share Analysis
8.4 Company Profiles

8.4.1 Samsonite

8.4.1.1 Company Overview
8.4.1.2 Business Description
8.4.1.3 Product Portfolio
8.4.1.4 Key Financials
8.4.1.5 Key Developments
8.4.1.6 SWOT Analysis

8.4.2 Wenger (Swissgear)

8.4.2.1 Company Overview
8.4.2.2 Business Description
8.4.2.3 Product Portfolio
8.4.2.4 Key Financials
8.4.2.5 Key Developments
8.4.2.6 SWOT Analysis

8.4.3 Belkin International

8.4.3.1 Company Overview
8.4.3.2 Business Description
8.4.3.3 Product Portfolio
8.4.3.4 Key Financials
8.4.3.5 Key Developments
8.4.3.6 SWOT Analysis

8.4.4 Targus.

8.4.4.1 Company Overview
8.4.4.2 Business Description
8.4.4.3 Product Portfolio
8.4.4.4 Key Financials
8.4.4.5 Key Developments
8.4.4.6 SWOT Analysis

8.4.5 Elecom

8.4.5.1 Company Overview
8.4.5.2 Business Description
8.4.5.3 Product Portfolio
8.4.5.4 Key Financials
8.4.5.5 Key Developments
8.4.5.6 SWOT Analysis

8.4.6 Crumpler

8.4.6.1 Company Overview
8.4.6.2 Business Description
8.4.6.3 Product Portfolio
8.4.6.4 Key Financials
8.4.6.5 Key Developments
8.4.6.6 SWOT Analysis

8.4.7 Xiangxing Group

8.4.7.1 Company Overview
8.4.7.2 Business Description
8.4.7.3 Product Portfolio
8.4.7.4 Key Financials
8.4.7.5 Key Developments
8.4.7.6 SWOT Analysis

8.4.8 DICOTA

8.4.8.1 Company Overview
8.4.8.2 Business Description
8.4.8.3 Product Portfolio
8.4.8.4 Key Financials
8.4.8.5 Key Developments
8.4.8.6 SWOT Analysis

8.4.9 United States Luggage

8.4.9.1 Company Overview
8.4.9.2 Business Description
8.4.9.3 Product Portfolio
8.4.9.4 Key Financials
8.4.9.5 Key Developments
8.4.9.6 SWOT Analysis

8.4.10 Chrome Industries

8.4.10.1 Company Overview
8.4.10.2 Business Description
8.4.10.3 Product Portfolio
8.4.10.4 Key Financials
8.4.10.5 Key Developments
8.4.10.6 SWOT Analysis

8.4.11 Other Key Players

Chapter 9 Research Methodology

9.1 Research Methodology
9.2 Primary Research
9.3 Secondary Research
9.4 Report Scope

Chapter 10 About Us
Chapter 11 Disclaimer

Inquiry Form

Why Choose Us

360 Degree Approach
Growth Consulting
24/7 Research Support
Comprehensive-Level of Customization
Comprehensive-Level of Customization
Competitive Intelligence
Single-Country/ Region Intelligence
Post-Sale Service Assistance
Access to Lead Analysts
Available in PDF, Excel, Word/ PPT

Request for Customization
✖
Request a Sample Report
We'll get back to you as quickly as possible
Frequently Asked Questions (FAQ)
What are laptop sleeves made from?
Laptop sleeves are made of Neoprene, Leather and Polyurethane (PU) Leather are other materials.
which are the top Brands of Laptop Carrying Cases?
Dell, Alienware, Case Logic, among others.
What is the Price range of laptop carry case?
$30, $31-$100 and $101-$300
OUR
CLIENTS
Don't just take our word. We are trusted by these great companies!