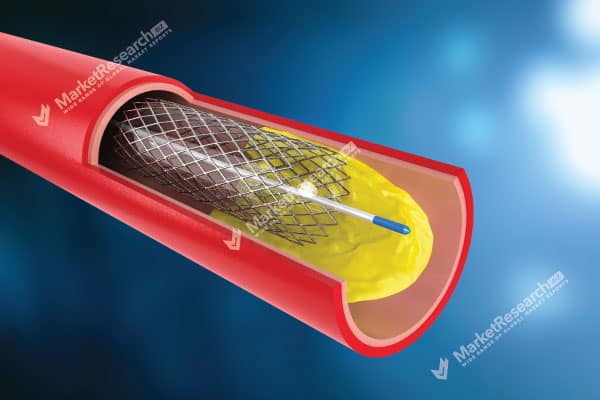 Global Interventional Cardiology and Peripheral Vascular Devices Market Forecast, Trend Analysis And Competition Tracking - Global Market insights 2015 to 2031
Interventional Cardiology and Peripheral Vascular Devices Market Introduction:

Global Interventional Cardiology and Peripheral Vascular Devices Market was estimated to be valued at US$ 21,064.32 Mn in 2020 and is projected to revenue at 58,320.39 in 2031 approximately register а САGR of 9.6% by 2031.

Interventional cardiology is a branch of cardiology based on endovascular catheter technologies for the treatment of structural heart diseases. The healthcare industry includes equipment like cardiovascular surgery equipment, cardiac rhythm management (CRM) equipment, interventional cardiology equipment, peripheral vascular equipment, electrophysiological equipment, and others used in cardiovascular surgery to treat arrhythmia other cardiovascular diseases. Peripheral vascular disease (PVD) narrows arteries outside the brain and heart. High blood pressure, diabetes, obesity, and smoking are some of the risk factors associated with PVD growth. Peripheral vascular devices are used to treat blocked arteries and remove accumulated plaque.

A Peripheral Vascular Device is a medical device that is used to treat peripheral vascular disorders. It is inserted into a peripheral artery and can be used to treat symptoms from atherosclerotic plaques, which are deposits of cholesterol and other substances in the arterial wall. Peripheral vascular devices (PVDs) are catheters that are inserted into veins, providing routes for delivering fluids and medications, collecting blood samples or accessing other organs for surgery; these devices can also be used to measure hemoglobin levels and perform electrocardiograms. The peripheral vascular devices used for treatment include Inferior Vena Cava (IVC) filters, Endovascular Aneurysm Repair (EVAR) stent-grafts, angiography catheters, hemodynamic flow changes, and plague modification devices. The main advantages of interventional cardiology or radiology devices are used to reduce scars and pain and recover fast after surgery for a long period.

The increasing prevalence of chronic heart diseases is expected to increase the revenue growth of cardiological devices

The increasing prevalence of chronic heart diseases such as hypertrophic cardiomyopathy, coronary artery, and cardiac failure has increased heart patients' number worldwide. Increasing consumption of junk food, poor lifestyle, smoking, and drinking increases chronic heart disease risk. These factors are driving revenue growth for the interventional cardiology peripheral vascular devices market.

According to the World Health Organization (WHO), 4 out of 5 cardiovascular diseases (CVD) deaths are due to heart attacks and strokes. One-third of these deaths occur prematurely in people below 70 years of age. Moreover, ~1.9 Mn people die from tobacco-induced heart disease every year.

COVID-19 Impact on the Global Interventional Cardiology and Peripheral Vascular Devices Market

The outbreak of COVID-19 has a negative impact on almost every industry. The medical industry also witnessed strong disruptions in the global supply chain of raw materials, transportation of end-products, delayed clinical trials, and disrupted processes worldwide. This had led to price fluctuations and sudden shortages of raw materials and end-products used in medical procedures.

Trends in Global Interventional Cardiology and Peripheral Vascular Devices Market

Growing awareness in patients regarding coronary heart diseases and peripheral vascular disorders plays a vital role for the market's growth. Several educational, government, non-governmental organizations and key players have launched awareness programs to increase awareness regarding the treatment of these diseases among patients, doctors, and healthcare providers. This factor is expected to impact market growth positively.

Interventional Cardiology and Peripheral Vascular Devices Market Dynamics

The global interventional cardiology and peripheral vascular devices market is segmented into product type, end-use, and regions. The product type segment includes angioplasty balloons, angioplasty stents, angioplasty catheters, endovascular aneurysm repair stent grafts, inferior vena cava filters, plaque modification devices, flow alteration devices, and accessories. The angioplasty stents segment accounts for the highest revenue share among the product type segments, owing to its increased adoption and wide use in several heart surgeries. Among the end-use segments, the hospitals account for a significant share in terms of revenue. This is due to the increase in the number of heart operations cases across the globe.

Competitive Landscape

The Global Interventional Cardiology and Peripheral Vascular Devices market landscape appears highly consolidated, with a major chunk of it being dominated by below players.

Abbott Laboratories
Braun Melsungen AG
Boston Scientific Corporation
R. Bard, Inc.
Cardinal Health, Inc.
Cook Medical, Inc.
Medtronic plc
Jude Medical, Inc.
Terumo Corporation
The Spectranetics Corporation
Other Key Industry Players

Report Scope

Forecast Period: 2022-2031
Actual Year: 2021
Historical Data Available for: 2015-2020

Global Interventional Cardiology and Peripheral Vascular Devices Market Segmentation Based on Product Type, End-Use, and Region

The Global Interventional Cardiology and Peripheral Vascular Devices Market, By Product Type

Angioplasty Balloons
Normal Balloons
Cutting and Scoring Balloons
Drug-eluting Balloons
Angioplasty Stents
Coronary Stent
Peripheral Stents
Angioplasty Catheters
Angiography Catheters
Guiding Catheters
Others
Endovascular Aneurysm Repair Stent Grafts
Inferior Vena Cava (IVC) Filters
Plaque Modification Devices
Thrombectomy Devices
Atherectomy Devices
Others
Hemodynamic Flow Alteration Devices
Embolic Protection Devices
Chronic Total Occlusion Devices
Accessories
Vascular Closure Devices
Guidewires
Others

The Global Interventional Cardiology and Peripheral Vascular Devices Market, By End-Use

Hospitals
Specialty Clinics
Ambulatory Surgical Centers
Other End-Uses

| Attribute | Report Details |
| --- | --- |
| Market Size | Ask For Market Size |
| Growth Rate | Ask For Growth Rate |
| Key Companies | Ask For Companies |
| Report Coverage | Revenue analysis, Competitive landscape, Key company analysis, Market Trends, Key segments, Distribution Channel, Market Dynamics, COVID-19 Impact Analysis and more… |
| Historical Data Period | 2015-2020 |
| Base Year | 2022 |
| Forecast Period | 2022-2031 |
| Region Scope | North America, Europe, Asia-Pacific, South America, Middle East & Africa |
| Country Scope | United States, Canada and Mexico, Germany, France, UK, Russia and Italy, China, Japan, Korea, India and Southeast Asia, Brazil, Argentina, Colombia etc.Saudi Arabia, UAE, Egypt, Nigeria and South Africa |
| Revenue in | US$ Mn |

Abbott Laboratories
Braun Melsungen AG
Boston Scientific Corporation
R. Bard, Inc.
Cardinal Health, Inc.
Cook Medical, Inc.
Medtronic plc
Jude Medical, Inc.
Terumo Corporation
The Spectranetics Corporation
Other Key Industry Players

Chapter 1 Global Interventional Cardiology and Peripheral Vascular Devices Market Outlook

1.1 Introduction
1.2 Segmentation of Interventional Cardiology and Peripheral Vascular Devices Market Based On Product Type, End-Use, and Region
1.3 Drivers
1.4 Restraints
1.5 Opportunities
1.6 Trends
1.7 Macro-economic Factors
1.8 Regulatory Framework
1.9 Global Interventional Cardiology and Peripheral Vascular Devices Market Pricing Analysis by Region, 2021
1.10 Opportunity Map Analysis

1.10.1 Optimistic Scenario
1.10.2 Likely Scenario
1.10.3 Conservative Scenario

1.11 Opportunity Orbits
1.12 Market Investment Feasibility Index
1.13 PEST Analysis
1.14 PORTER'S Five Force Analysis
1.15 Drivers & Restraints Impact Analysis
1.16 Marketing Strategy
1.17 Product Life Cycle Analysis
1.18 Value Chain Analysis
1.19 Cost Structure Analysis
1.20 Regional Market Share and BPS Analysis in Interventional Cardiology and Peripheral Vascular Devices Market
1.21 COVID-19 Impact Analysis

Chapter 2 Global Interventional Cardiology and Peripheral Vascular Devices Market Overview

2.1 Global Market Value & Volume Comparison Market by Product Type (2015-2031)

2.1.1 Global Market Value & Volume Market Share Market by Product Type in 2021
2.1.2 Global Market Attractiveness Analysis Market by Product Type, 2015–2022

2.2 Global Market Value & Volume Comparison by End-Use (2015-2031)

2.2.1 Global Market Value & Volume Market Share by End-Use in 2021
2.2.2 Global Market Attractiveness Analysis by End-Use, 2015–2022

2.3 Global Market Outlook by Region

2.3.1 Global Market Value & Volume Comparison by Region (2015-2031)
2.3.2 Global Market Value & Volume Market Share by Region in 2021
2.3.3 Global Market Attractiveness Analysis by Region, 2015–2022

2.4 Global Market Outlook (2015-2031)

2.4.1 Global Market Value & Volume (2015–2022)
2.4.2 Global Market Value & Volume (2023-2031)

2.5 Global Market Value & Volume by Regions

2.5.1 Global Market Value & Volume Comparison by Region (2015–2022)
2.5.2 Global Market Value & Volume Comparison by Region (2023-2031)

2.6 Global Market Value & Volume Market by Product Type

2.6.1 Global Market Value & Volume Comparison Market by Product Type (2015–2022)
2.6.2 Global Market Value & Volume Comparison Market by Product Type (2023-2031)

2.7 Global Market Value & Volume by End-Use

2.7.1 Global Market Value & Volume Comparison by End-Use (2015–2022)
2.7.2 Global Market Value & Volume Comparison by End-Use (2023-2031)

2.8 Global Market Y-o-Y Growth Rate Comparison 2016–2031

2.8.1 Global Market Y-o-Y Growth Rate by Region
2.8.2 Global Market Y-o-Y Growth Rate Market by Product Type
2.8.3 Global Market Y-o-Y Growth Rate by End-Use

2.9 Global Market Share Comparison 2015–2031

2.9.1 Global Market Share by Region
2.9.2 Global Market Share Market by Product Type
2.9.3 Global Market Share by End-Use

Chapter 3 North America Interventional Cardiology and Peripheral Vascular Devices Market Overview

3.1 North America Market by Product Type

3.1.1 North America Market Value & Volume Comparison Market by Product Type (2015-2031)
3.1.2 North America Market Value & Volume Market Share Market by Product Type in 2021

3.2 North America Market Value & Volume Comparison by End-Use (2015-2031)

3.2.1 North America Market Value & Volume Market Share by End-Use in 2021
3.2.2 North America Market Attractiveness Analysis by End-Use, 2015–2022

3.3 North America Market Outlook by Region

3.3.1 North America Market Value & Volume Comparison by Region (2015-2031)
3.3.2 North America Market Value & Volume Market Share by Region in 2021
3.3.3 North America Market Attractiveness Analysis by Region, 2015–2022

3.4 North America Market Outlook (2015-2031)

3.4.1 North America Market Value & Volume (2015–2022)
3.4.2 North America Market Value & Volume (2023-2031)

3.5 North America Market Value & Volume by Regions

3.5.1 North America Market Value & Volume Comparison by Region (2015–2022)
3.5.2 North America Market Value & Volume Comparison by Region (2023-2031)

3.6 North America Market Value & Volume Market by Product Type

3.6.1 North America Market Value & Volume Comparison Market by Product Type (2015–2022)
3.6.2 North America Market Value & Volume Comparison Market by Product Type (2023-2031)

3.7 North America Market Value & Volume by End-Use

3.7.1 North America Market Value & Volume Comparison by End-Use (2015–2022)
3.7.2 North America Market Value & Volume Comparison by End-Use (2023-2031)

3.8 North America Market Y-o-Y Growth Rate Comparison 2016–2031

3.8.1 North America Market Y-o-Y Growth Rate by Region
3.8.2 North America Market Y-o-Y Growth Rate Market by Product Type
3.8.3 North America Market Y-o-Y Growth Rate by End-Use

3.9 North America Market Share Comparison 2015–2031

3.9.1 North America Market Share by Region
3.9.2 North America Market Share Market by Product Type
3.9.3 North America Market Share by End-Use

Chapter 4 Europe Interventional Cardiology and Peripheral Vascular Devices Market Overview

4.1 Europe Market Market by Product Type

4.1.1 Europe Market Value & Volume Comparison Market by Product Type (2015-2031)
4.1.2 Europe Market Value & Volume Market Share Market by Product Type in 2021

4.2 Europe Market Value & Volume Comparison by End-Use (2015-2031)

4.2.1 Europe Market Value & Volume Market Share by End-Use in 2021
4.2.2 Europe Market Market Attractiveness Analysis by End-Use, 2015–2022

4.3 Europe Market Market Outlook by Region

4.3.1 Europe Market Value & Volume Comparison by Region (2015-2031)
4.3.2 Europe Market Value & Volume Market Share by Region in 2021
4.3.3 Europe Market Attractiveness Analysis by Region, 2015–2022

4.4 Europe Market Outlook (2015-2031)

4.4.1 Europe Market Value & Volume (2015–2022)
4.4.2 Europe Market Value & Volume (2023-2031)

4.5 Europe Market Value & Volume by Regions

4.5.1 Europe Market Value & Volume Comparison by Region (2015–2022)
4.5.2 Europe Market Value & Volume Comparison by Region (2023-2031)

4.6 Europe Market Value & Volume Market by Product Type

4.6.1 Europe Market Value & Volume Comparison Market by Product Type (2015–2022)
4.6.2 Europe Market Value & Volume Comparison Market by Product Type (2023-2031)

4.7 Europe Market Value & Volume by End-Use

4.7.1 Europe Market Value & Volume Comparison by End-Use (2015–2022)
4.7.2 Europe Market Value & Volume Comparison by End-Use (2023-2031)

4.8 Europe Market Y-o-Y Growth Rate Comparison 2016–2031

4.8.1 Europe Market Y-o-Y Growth Rate by Region
4.8.2 Europe Market Y-o-Y Growth Rate Market by Product Type
4.8.3 Europe Market Y-o-Y Growth Rate by End-Use

4.9 Europe Market Share Comparison 2015–2031

4.9.1 Europe Market Share by Region
4.9.2 Europe Market Share Market by Product Type
4.9.3 Europe Market Share by End-Use

Chapter 5 Asia-Pacific Interventional Cardiology and Peripheral Vascular Devices Market Overview

5.1 Asia-Pacific Market by Product Type

5.1.1 Asia-Pacific Market Value & Volume Comparison Market by Product Type (2015-2031)
5.1.2 Asia-Pacific Market Value & Volume Market Share Market by Product Type in 2021

5.2 Asia-Pacific Market Value & Volume Comparison by End-Use (2015-2031)

5.2.1 Asia-Pacific Market Value & Volume Market Share by End-Use in 2021
5.2.2 Asia-Pacific Market Attractiveness Analysis by End-Use, 2015–2022

5.3 Asia-Pacific Market Outlook by Region

5.3.1 Asia-Pacific Market Value & Volume Comparison by Region (2015-2031)
5.3.2 Asia-Pacific Market Value & Volume Market Share by Region in 2021
5.3.3 Asia-Pacific Market Attractiveness Analysis by Region, 2015–2022

5.4 Asia-Pacific Market Outlook (2015-2031)

5.4.1 Asia-Pacific Market Value & Volume (2015–2022)
5.4.2 Asia-Pacific Market Value & Volume (2023-2031)

5.5 Asia-Pacific Market Value & Volume by Regions

5.5.1 Asia-Pacific Market Value & Volume Comparison by Region (2015–2022)
5.5.2 Asia-Pacific Market Value & Volume Comparison by Region (2023-2031)

5.6 Asia-Pacific Market Value & Volume Market by Product Type

5.6.1 Asia-Pacific Market Value & Volume Comparison Market by Product Type (2015–2022)
5.6.2 Asia-Pacific Market Value & Volume Comparison Market by Product Type (2023-2031)

5.7 Asia-Pacific Market Value & Volume by End-Use

5.7.1 Asia-Pacific Market Value & Volume Comparison by End-Use (2015–2022)
5.7.2 Asia-Pacific Market Value & Volume Comparison by End-Use (2023-2031)

5.8 Asia-Pacific Market Y-o-Y Growth Rate Comparison 2016–2031

5.8.1 Asia-Pacific Market Y-o-Y Growth Rate by Region
5.8.2 Asia-Pacific Market Y-o-Y Growth Rate Market by Product Type
5.8.3 Asia-Pacific Market Y-o-Y Growth Rate by End-Use

5.9 Asia-Pacific Market Share Comparison 2015–2031

5.9.1 Asia-Pacific Market Share by Region
5.9.2 Asia-Pacific Market Share Market by Product Type
5.9.3 Asia-Pacific Market Share by End-Use

Chapter 6 Latin America Interventional Cardiology and Peripheral Vascular Devices Market Overview

6.1 Latin America Market by Product Type

6.1.1 Latin America Market Value & Volume Comparison Market by Product Type (2015-2031)
6.1.2 Latin America Market Value & Volume Market Share Market by Product Type in 2021

6.2 Latin America Market Value & Volume Comparison by End-Use (2015-2031)

6.2.1 Latin America Market Value & Volume Market Share by End-Use in 2021
6.2.2 Latin America Market Attractiveness Analysis by End-Use, 2015–2022

6.3 Latin America Market Outlook by Region

6.3.1 Latin America Market Value & Volume Comparison by Region (2015-2031)
6.3.2 Latin America Market Value & Volume Market Share by Region in 2021
6.3.3 Latin America Market Attractiveness Analysis by Region, 2015–2022

6.4 Latin America Market Outlook (2015-2031)

6.4.1 Latin America Market Value & Volume (2015–2022)
6.4.2 Latin America Market Value & Volume (2023-2031)

6.5 Latin America Market Value & Volume by Regions

6.5.1 Latin America Market Value & Volume Comparison by Region (2015–2022)
6.5.2 Latin America Market Value & Volume Comparison by Region (2023-2031)

6.6 Latin America Market Value & Volume Market by Product Type

6.6.1 Latin America Market Value & Volume Comparison Market by Product Type (2015–2022)
6.6.2 Latin America Market Value & Volume Comparison Market by Product Type (2023-2031)

6.7 Latin America Market Value & Volume by End-Use

6.7.1 Latin America Market Value & Volume Comparison by End-Use (2015–2022)
6.7.2 Latin America Market Value & Volume Comparison by End-Use (2023-2031)

6.8 Latin America Market Y-o-Y Growth Rate Comparison 2016–2031

6.8.1 Latin America Market Y-o-Y Growth Rate by Region
6.8.2 Latin America Market Y-o-Y Growth Rate Market by Product Type
6.8.3 Latin America Market Y-o-Y Growth Rate by End-Use

6.9 Latin America Market Share Comparison 2015–2031

6.9.1 Latin America Market Share by Region
6.9.2 Latin America Market Share Market by Product Type
6.9.3 Latin America Market Share by End-Use

Chapter 7 MEA Interventional Cardiology and Peripheral Vascular Devices Market Overview

7.1 MEA Market by Product Type

7.1.1 MEA Market Value & Volume Comparison Market by Product Type (2015-2031)
7.1.2 MEA Market Value & Volume Market Share Market by Product Type in 2021

7.2 MEA Market Value & Volume Comparison by End-Use (2015-2031)

7.2.1 MEA Market Value & Volume Market Share by End-Use in 2021
7.2.2 MEA Market Attractiveness Analysis by End-Use, 2015–2022

7.3 MEA Market Outlook by Region

7.3.1 MEA Market Value & Volume Comparison by Region (2015-2031)
7.3.2 MEA Market Value & Volume Market Share by Region in 2021
7.3.3 MEA Market Attractiveness Analysis by Region, 2015–2022

7.4 MEA Market Outlook (2015-2031)

7.4.1 MEA Market Value & Volume (2015–2022)
7.4.2 MEA Market Value & Volume (2023-2031)

7.5 MEA Market Value & Volume by Regions

7.5.1 MEA Market Value & Volume Comparison by Region (2015–2022)
7.5.2 MEA Market Value & Volume Comparison by Region (2023-2031)

7.6 MEA Market Value & Volume Market by Product Type

7.6.1 MEA Market Value & Volume Comparison Market by Product Type (2015–2022)
7.6.2 MEA Market Value & Volume Comparison Market by Product Type (2023-2031)

7.7 MEA Market Value & Volume by End-Use

7.7.1 MEA Market Value & Volume Comparison by End-Use (2015–2022)
7.7.2 MEA Market Value & Volume Comparison by End-Use (2023-2031)

7.8 MEA Market Y-o-Y Growth Rate Comparison 2016–2031

7.8.1 MEA Market Y-o-Y Growth Rate by Region
7.8.2 MEA Market Y-o-Y Growth Rate Market by Product Type
7.8.3 MEA Market Y-o-Y Growth Rate by End-Use

7.9 MEA Market Share Comparison 2015–2031

7.9.1 MEA Market Share by Region
7.9.2 MEA Market Share Market by Product Type
7.9.3 MEA Market Share by End-Use

Chapter 8 Global Interventional Cardiology and Peripheral Vascular Devices Market Company Profiles

8.1 Market Competition Scenario Analysis, By Company
8.2 Competitor Landscape
8.3 Company Share Analysis
8.4 Company Profiles

8.4.1 Abbott Laboratories

8.4.1.1 Company Overview
8.4.1.2 Business Description
8.4.1.3 Product Portfolio
8.4.1.4 Key Financials
8.4.1.5 Key Developments
8.4.1.6 SWOT Analysis

8.4.2 Boston Scientific Corporation

8.4.2.1 Company Overview
8.4.2.2 Business Description
8.4.2.3 Product Portfolio
8.4.2.4 Key Financials
8.4.2.5 Key Developments
8.4.2.6 SWOT Analysis

8.4.3 B. Braun Melsungen AG

8.4.3.1 Company Overview
8.4.3.2 Business Description
8.4.3.3 Product Portfolio
8.4.3.4 Key Financials
8.4.3.5 Key Developments
8.4.3.6 SWOT Analysis

8.4.4 Cardinal Health

8.4.4.1 Company Overview
8.4.4.2 Business Description
8.4.4.3 Product Portfolio
8.4.4.4 Key Financials
8.4.4.5 Key Developments
8.4.4.6 SWOT Analysis

8.4.5 Cook Medical, Inc.

8.4.5.1 Company Overview
8.4.5.2 Business Description
8.4.5.3 Product Portfolio
8.4.5.4 Key Financials
8.4.5.5 Key Developments
8.4.5.6 SWOT Analysis

8.4.6 C. R. Bard

8.4.6.1 Company Overview
8.4.6.2 Business Description
8.4.6.3 Product Portfolio
8.4.6.4 Key Financials
8.4.6.5 Key Developments
8.4.6.6 SWOT Analysis

8.4.7 Medtronic plc

8.4.7.1 Company Overview
8.4.7.2 Business Description
8.4.7.3 Product Portfolio
8.4.7.4 Key Financials
8.4.7.5 Key Developments
8.4.7.6 SWOT Analysis

8.4.8 St. Jude Medical, Inc.

8.4.8.1 Company Overview
8.4.8.2 Business Description
8.4.8.3 Product Portfolio
8.4.8.4 Key Financials
8.4.8.5 Key Developments
8.4.8.6 SWOT Analysis

8.4.9 Terumo Corporation

8.4.9.1 Company Overview
8.4.9.2 Business Description
8.4.9.3 Product Portfolio
8.4.9.4 Key Financials
8.4.9.5 Key Developments
8.4.9.6 SWOT Analysis

8.4.10 The Spectranetics Corporation

8.4.10.1 Company Overview
8.4.10.2 Business Description
8.4.10.3 Product Portfolio
8.4.10.4 Key Financials
8.4.10.5 Key Developments
8.4.10.6 SWOT Analysis

8.4.11 Other Key Players

Chapter 9 Research Methodology

9.1 Research Methodology
9.2 Primary Research
9.3 Secondary Research
9.4 Report Scope

Chapter 10 About Us
Chapter 11 Disclaimer

Inquiry Form

Why Choose Us

360 Degree Approach
Growth Consulting
24/7 Research Support
Comprehensive-Level of Customization
Comprehensive-Level of Customization
Competitive Intelligence
Single-Country/ Region Intelligence
Post-Sale Service Assistance
Access to Lead Analysts
Available in PDF, Excel, Word/ PPT

Request for Customization
Frequently Asked Questions (FAQ)
What are the major Cardiovascular medical devices?
The major cardiovascular medical devices includes artificial heart valves, endovascular grafts, coronary stents and angioplasty balloon catheters, among others.
What are the risks associated with a PVD?
1. Amputation (loss of a limb) 2. Poor wound healing. 3. Restricted mobility due to pain or discomfort. 4. Severe pain in the affected extremity.
What are new developments in the field?
Recent advancements in peripheral vascular devices have revolutionized the way vascular surgery is practiced. These advances include new mesh that can be used instead of sutures, as well as new devices that cut the time it takes to perform a bypass surgery. These technologies are proving successful and are expanding the possibilities for surgeons to treat patients with vascular disease.
What are treatment for intracardiac problems?
The latest advances in medical devices for interventional cardiology are designed to treat intracardiac problems and potentially save lives. Unlike other cardiovascular systems, the heart is a closed system and any disruption of its rhythm or pumping function can lead to cardiac arrest and death. Doctors can now use these cutting-edge devices to re-establish a steady heartbeat, relieve pressure on the heart and improve circulation.
OUR
CLIENTS
Don't just take our word. We are trusted by these great companies!