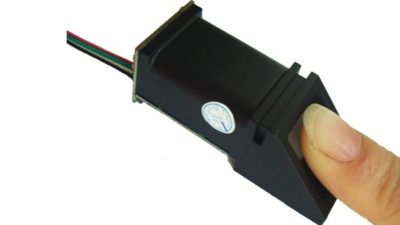 Global Fingerprint Sensor Market Insights, Trends, Driving Factors, Focus Points, Potential Markets, Developments, Company Share Analysis, and Forecast 2019 – 2028
find_in_page Our Research Methodology is based on the following main points:

Data Collections and Interpretation
Analysis
Data Validation
Final Projections and Conclusion



"Global Fingerprint Sensors Market" is an upcoming report tracked by MarketResearch.biz research team. The target market is projected to register significant compound annual growth rate of X.X % over the 10-year period.  The global fingerprint sensor market report has been segmented on the basis of type, technology, application, and region.

Fingerprint Sensors: Overview

Fingerprint sensors are placed inside the device and used for detection of fingerprint to allow access to enter restricted areas or departments, and devices. Fingerprint sensor is connected to the integrator, which is an electrical circuit build around the inverting operational amplifier. The sensor captures image of a fingerprint pattern and it is processed for creation of biometric templet that can be used for matching and comparison. On the fingerprint scanner, the fingerprint sensor identifies and authenticates fingerprint of the individual in order to deny or allow access to smartphones, computers, and physical or constructed facilities. It is a type of biometric security system that combines hardware as well as software techniques for identification.

Dynamics: Supporting and Hampering Forces

Growing use of fingerprint sensors in smartphones and consumer electronic devices is a major factor driving growth of the global fingerprint sensor market. Increasing preference for devices with fingerprint locks as it is efficient, time-saving and offers high security than screen number locks and patterns locks is another factor supporting growth of the global market. Government initiatives for adoption of fingerprint scanners, and rising demand for fingerprint sensors in commercial and industrial sectors such as airports, railways, and various industries is another factor fueling growth of the target market. Furthermore, growing demand for fingerprint sensors in institutions, industries, and financial sectors is a factor expected to boost growth of the global fingerprint sensor market in the near future.

However, possibility of fingerprint scanners not reading individual's fingerprints accurately can lead to false rejection. Fingerprint sensors also do not consider that fingerprints change over time in terms of size or form. These are some of the factors that could affect reliability and efficiency of fingerprint scanners and in turn hamper growth of the global fingerprint sensor market.

Segment Analysis:

By Type:

Among the two type segments, the touch segment is estimated to account for higher revenue share in the global fingerprint sensor market. Increasing demand for touch sensors in smartphones and to provide fingerprint sensors in compact devices are factors augmenting demand for touch fingerprint sensors.

By Technology:

In terms of technology, the capacitive segment is expected to account for major share in terms of revenue over the forecast period. Increasing use of capacitive fingerprint sensors in consumer electronics, laptops, and smartphones is expected to support growth of the segment in the target market. The optical segment is projected to register highest CAGR in the target market over the 10-year forecast period. Among the various companies offering optical sensors, some of them include Fingerprints, Goodix, CrucialTec, Q Technology, and Synaptics.

By Application:

In terms of application, the banking and finance sector is expected to witness higher revenue growth in the coming years, owing to rising need to protect data produced in the BFSI sector.

Regional Analysis:

The market in Asia Pacific is expected to dominate in the global market in terms of revenue in 2019 and is projected to continue with its dominance over the next 10 years. Increasing production and sales for smartphones, tablets, and laptops among individuals, coupled with need to secure the devices from any theft or hacks are some of the key factors expected to continue to drive growth of the fingerprint sensors market in the region. Rapidly growing consumer electronics industry in countries such as China and India, coupled with rising disposable income of individuals in countries in Asia Pacific are also factors expected to propel growth of the fingerprint sensor market in the region. The market in North America is anticipated to witness considerable growth rate in terms of revenue in the next 10 years, owing to high demand for consumer electronics and early adoption of high-end technologies in commercial and industrial sectors in the region. The market in Europe is estimated to account for substantial revenue share in the global market owing to increasing adoption of smart homes in the region.

Global Fingerprint Sensor Market Segmentation:

Segmentation by Type:

Swipe Sensors
Touch Sensors

Segmentation by Technology:

Optical
Thermal
Capacitive
Others

Segmentation by Application:

Defense and Aviation
Government and Law Enforcement
Banking and Finance
Travel and Immigration
Commercial
Smart Homes
Healthcare
Others

Segmentation by Region:

North America
Europe
Asia Pacific
Latin America
Middle East & Africa

Particular
Scope
Region

North America
Europe

Germany
UK
France
Italy
Spain
Russia
Rest of Europe

Asia Pacific

China
India
Japan
Australia
South Korea
Rest of Asia Pacific

Latin America

Brazil
Mexico
Rest of Latin America

Middle East and Africa

GCC
South Africa
Rest of Middle East and Africa

Actual Year
2020
Estimated Year
2021
Forecast Period
2021–2030
Revenue in
US$

Apple Inc.
Synaptics Incorporated
Fingerprint Cards AB
Shenzhen Goodix Technology Co. Ltd.
IDEMIA France SAS
Egis Technology Inc.
NEXT Biometrics Group ASA,
Anviz Global Corporation
IDEX ASA
Gemalto N.V.
OUR
CLIENTS
Don't just take our word. We are trusted by these great companies!