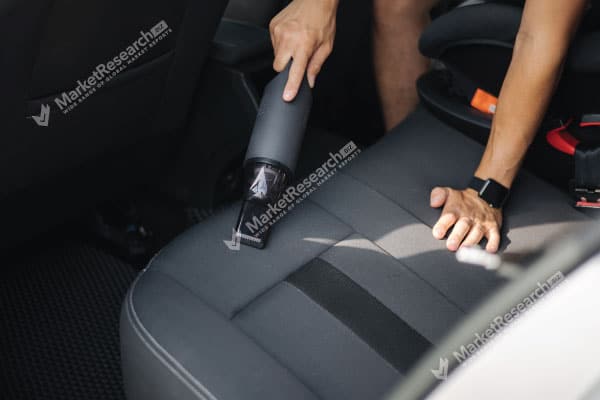 Global Portable Vacuum Cleaners Market Forecast, Trend Analysis And Competition Tracking - Global Market Insights 2015 to 2031
Demand For Portable Vacuum Cleaners From 2015 To 2020 Vs. Future Market Projections For 2021-2031

Introduction: What Makes Handheld Vacuum Cleaner Mostly Preferable?

A portable vacuum cleaner is a convenient alternative to heavy, bulky vacuums. They are smaller and typically less expensive than traditional vacuums, making them an attractive purchase for those who live in smaller homes or apartments. They may not be as powerful as the larger vacuums, but their convenience and affordability make them an excellent purchase for many people. Many portable vacuum cleaners also come with extra tools for cleaning different surfaces such as carpet, linoleum, and tile. Portable vacuum cleaners are specifically for people who do not want to lug around heavy and bulky vacuums. They also do not need filters, which is one less step in cleaning. However, they do require more battery power to work, so it's essential to keep them charged at all times.

The working population is increasing, and so is their disposable income. Now that people have more to spend on themselves, they have access to various products, including portable vacuum cleaners. Handheld vacuum cleaners are pretty small in size and lightweight. These vacuums can be used for quickly cleaning up dust and debris from your rugs and carpets. They also work well on stairs, furniture crevices, and tight spaces that would be difficult to clean with a typical upright vacuum cleaner.  However, one disadvantage of a portable vacuum cleaner is that it may not have the suction power of a conventional vacuum cleaner. Portable vacuum cleaners often lose suction power because they are battery-operated and cannot be plugged into a socket. Rarely will a portable vacuum cleaner be able to match the suction power of a stationary vacuum cleaner because of its limited space for a motor and other parts.

Market Dynamics: A Good Home Cleaning Keeper

The global portable vacuum cleaners market was valued at US$ 5,086.2 Mn in 2020 and is projected to register а САGR of over 5% by 2031.

Sales of portable vacuum cleaners are increasing due to the ever-increasing disposable income and the hectic lifestyle that accompanies it. People want a quick and easy way to clean their homes, and they're willing to pay more for convenience. The rise in income also has a role in the increased demand because people that were able to live more comfortable lives due to their higher incomes had more time and money to spend on other luxuries such as cleaning supplies.

The development of new products and technological advancements has increased portable vacuum cleaners' sales. Many new features come with these vacuums that make them more desirable. For example, the Black+Decker 20V Max Lithium Pivot BDH2000PL has strong suction compared to any other cordless handheld vacuum. Its pivoting nozzle makes getting into small crevices, such as in between car seats, a lot easier than with a traditional dustbuster.

Moreover, the internet has changed the way people conduct their day-to-day business transactions. With more customers shopping online, e-commerce has increased sales for portable vacuum cleaners. Consumers also choose to purchase their products online rather than at a brick-and-mortar store that carries the same products. The convenience of ordering items to be delivered right to your doorstep or picking up items in person has increased the demand for businesses that offer these goods. These factors are anticipated to strengthen the projected profit margins for this market during the forecast period. Nonetheless, the availability of other counterpart products such as traditional vacuum cleaners or even the latest robotic cleaners may challenge the target market growth.

COVID-19 Impact Analysis: Another Layer Of Protection From COVID-19

In the near aftermath of the COVID-19 pandemic breakout, people have been urged to stay home from their place of work or school in order to limit the chance of catching the disease. As a result, vacuum cleaner sales have shot up as people must clean their own homes without any help from a maid or professional cleaner. Moreover, the pandemic has induced a strong sense of cleanliness and hygiene among the population. This means that there is a lot more vacuuming going on and people are not coming into contact with other sources of germs. The need to maintain hygiene in hospitals and homes amid the pandemic has raised vacuums sales. Many hospitals are struggling with increased demands for cleanliness, both for patients and staff. The hospital must now provide appropriate anti-bacterial products for turnover rooms, medical isolation rooms, MRI suites, patient care areas, sterile areas of the lab, the morgue, the security desks, visitors' waiting areas and patient bathrooms. This has also led to an increased demand for portable vacuum cleaners.

The Key Players In The Portable Vacuum Cleaners Market

The Portable Vacuum Cleaners market landscape appears highly consolidated, with a significant chunk being European and American players.

Black+Decker
Hoover
Bissell
Dirt Devil
Dyson
Eureka Forbes
Panasonic
Worx
Ridgid
DeWalt
Other Players

Report Scope

Forecast Period: 2022-2031
Actual Year: 2021
Historical Data Available for: 2015-2020

Key Segments Covered

Portable Vacuum Cleaners Market, By Product Type

Portable Vacuum Cleaners Market, By Distribution Channel

Portable Vacuum Cleaners Market, By End-Use

| Attribute | Report Details |
| --- | --- |
| Market Size | Ask For Market Size |
| Growth Rate | Ask For Growth Rate |
| Key Companies | Ask For Companies |
| Report Coverage | Revenue analysis, Competitive landscape, Key company analysis, Market Trends, Key segments, Distribution Channel, Market Dynamics, COVID-19 Impact Analysis and more… |
| Historical Data Period | 2015-2020 |
| Base Year | 2022 |
| Forecast Period | 2022-2031 |
| Region Scope | North America, Europe, Asia-Pacific, South America, Middle East & Africa |
| Country Scope | United States, Canada and Mexico, Germany, France, UK, Russia and Italy, China, Japan, Korea, India and Southeast Asia, Brazil, Argentina, Colombia etc.Saudi Arabia, UAE, Egypt, Nigeria and South Africa |
| Revenue in | US$ Mn |

Black+Decker
Hoover
Bissell
Dirt Devil
Dyson
Eureka Forbes
Panasonic
Worx
Ridgid
DeWalt
Other Players

Chapter 1 Global Portable Vacuum Cleaners Market Outlook

1.1 Introduction
1.2 Segmentation of Portable Vacuum Cleaners Market Based On Product Type, Distribution Channel, End-Use and Region
1.3 Market Drivers
1.4 Market Restraints
1.5 Market Opportunities
1.6 Market Trends
1.7 Macro-economic Factors
1.8 Regulatory Framework
1.9 Global Portable Vacuum Cleaners Pricing Analysis by Region, 2021
1.10 Opportunity Map Analysis

1.10.1 Optimistic Scenario
1.10.2 Likely Scenario
1.10.3 Conservative Scenario

1.11 Opportunity Orbits
1.12 Market Investment Feasibility Index
1.13 PEST Analysis
1.14 PORTER'S Five Force Analysis
1.15 Drivers & Restraints Impact Analysis
1.16 Marketing Strategy
1.17 Product Life Cycle Analysis
1.18 Value Chain Analysis
1.19 Cost Structure Analysis
1.20 Regional Market Share and BPS Analysis in Portable Vacuum Cleaners Market
1.21 COVID-19 Impact Analysis

Chapter 2 Global Portable Vacuum Cleaners Market Overview

2.1 Global Portable Vacuum Cleaners Market Value & Volume Comparison by Product Type (2015-2031)

2.1.1 Market Value & Volume Market Share by Product Type in 2021
2.1.2 Market Attractiveness Analysis by Product Type, 2015–2022

2.2 Global Portable Vacuum Cleaners Market Value & Volume Comparison by Distribution Channel (2015-2031)

2.2.1 Market Value & Volume Market Share by Distribution Channel in 2021
2.2.2 Market Attractiveness Analysis by Distribution Channel, 2015–2022

2.3 Global Portable Vacuum Cleaners Market by End-Use

2.3.1 Market Value & Volume Comparison by End-Use (2015-2031)
2.3.2 Market Value & Volume Market Share by End-Use in 2021
2.3.3 Market Attractiveness Analysis by End-Use, 2015–2022

2.4 Global Portable Vacuum Cleaners Market Outlook by Region

2.4.1 Market Value & Volume Comparison by Region (2015-2031)
2.4.2 Market Value & Volume Market Share by Region in 2021
2.4.3 Market Attractiveness Analysis by Region, 2015–2022

2.5 Global Portable Vacuum Cleaners Market Outlook (2015-2031)

2.5.1 Market Value & Volume (2015–2022)
2.5.2 Market Value & Volume (2023-2031)

2.6 Global Portable Vacuum Cleaners Market Value & Volume by Regions

2.6.1 Market Value & Volume Comparison by Region (2015–2022)
2.6.2 Market Value & Volume Comparison by Region (2023-2031)

2.7 Global Portable Vacuum Cleaners Market Value & Volume by Product Type

2.7.1 Market Value & Volume Comparison by Product Type (2015–2022)
2.7.2 Market Value & Volume Comparison by Product Type (2023-2031)

2.8 Global Portable Vacuum Cleaners Market Value & Volume by Distribution Channel

2.8.1 Market Value & Volume Comparison by Distribution Channel (2015–2022)
2.8.2 Market Value & Volume Comparison by Distribution Channel (2023-2031)

2.9 Global Portable Vacuum Cleaners Market Value & Volume by End-Use

2.9.1 Market Value & Volume Comparison by End-Use (2015–2022)
2.9.2 Market Value & Volume Comparison by End-Use (2023-2031)

2.10 Global Portable Vacuum Cleaners Market Y-o-Y Growth Rate Comparison 2016–2031

2.10.1 Market Y-o-Y Growth Rate by Region
2.10.2 Market Y-o-Y Growth Rate by Product Type
2.10.3 Market Y-o-Y Growth Rate by Distribution Channel
2.10.4 Market Y-o-Y Growth Rate by End-Use

2.11 Global Portable Vacuum Cleaners Market Share Comparison 2015–2030

2.11.1 Market Share by Region
2.11.2 Market Share by Product Type
2.11.3 Market Share by Distribution Channel
2.11.4 Market Share by End-Use

Chapter 3 North America Portable Vacuum Cleaners Market Overview

3.1 North America Portable Vacuum Cleaners Market by Product Type

3.1.1 Market Value & Volume Comparison by Product Type (2015-2031)
3.1.2 Market Value & Volume Market Share by Product Type in 2021

3.2 North America Portable Vacuum Cleaners Market Value & Volume Comparison by Distribution Channel (2015-2031)

3.2.1 Market Value & Volume Market Share by Distribution Channel in 2021
3.2.2 Market Attractiveness Analysis by Distribution Channel, 2015–2022

3.3 North America Portable Vacuum Cleaners Market by End-Use

3.3.1 Market Value & Volume Comparison by End-Use (2015-2031)
3.3.2 Market Value & Volume Market Share by End-Use in 2021
3.3.3 Market Attractiveness Analysis by End-Use, 2015–2022

3.4 North America Portable Vacuum Cleaners Market Outlook by Region

3.4.1 Market Value & Volume Comparison by Region (2015-2031)
3.4.2 Market Value & Volume Market Share by Region in 2021
3.4.3 Market Attractiveness Analysis by Region, 2015–2022

3.5 North America Portable Vacuum Cleaners Market Outlook (2015-2031)

3.5.1 Market Value & Volume (2015–2022)
3.5.2 Market Value & Volume (2023-2031)

3.6 North America Portable Vacuum Cleaners Market Value & Volume by Regions

3.6.1 Market Value & Volume Comparison by Region (2015–2022)
3.6.2 Market Value & Volume Comparison by Region (2023-2031)

3.7 North America Portable Vacuum Cleaners Market Value & Volume by Product Type

3.7.1 Market Value & Volume Comparison by Product Type (2015–2022)
3.7.2 Market Value & Volume Comparison by Product Type (2023-2031)

3.8 North America Portable Vacuum Cleaners Market Value & Volume by Distribution Channel

3.8.1 Market Value & Volume Comparison by Distribution Channel (2015–2022)
3.8.2 Market Value & Volume Comparison by Distribution Channel (2023-2031)

3.9 North America Portable Vacuum Cleaners Market Value & Volume by End-Use

3.9.1 Market Value & Volume Comparison by End-Use (2015–2022)
3.9.2 Market Value & Volume Comparison by End-Use (2023-2031)

3.10 North America Portable Vacuum Cleaners Market Y-o-Y Growth Rate Comparison 2016–2031

3.10.1 Market Y-o-Y Growth Rate by Region
3.10.2 Market Y-o-Y Growth Rate by Product Type
3.10.3 Market Y-o-Y Growth Rate by Distribution Channel
3.10.4 Market Y-o-Y Growth Rate by End-Use

3.11 Market Share Comparison 2015–2030

3.11.1 Market Share by Region
3.11.2 Market Share by Product Type
3.11.3 Market Share by Distribution Channel
3.11.4 Market Share by End-Use

Chapter 4 Europe Portable Vacuum Cleaners Market Overview

4.1 Europe Portable Vacuum Cleaners Market by Product Type

4.1.1 Market Value & Volume Comparison by Product Type (2015-2031)
4.1.2 Market Value & Volume Market Share by Product Type in 2021

4.2 Europe Portable Vacuum Cleaners Market Value & Volume Comparison by Distribution Channel (2015-2031)

4.2.1 Market Value & Volume Market Share by Distribution Channel in 2021
4.2.2 Market Attractiveness Analysis by Distribution Channel, 2015–2022

4.3 Europe Portable Vacuum Cleaners Market by End-Use

4.3.1 Market Value & Volume Comparison by End-Use (2015-2031)
4.3.2 Market Value & Volume Market Share by End-Use in 2021
4.3.3 Market Attractiveness Analysis by End-Use, 2015–2022

4.4 Europe Portable Vacuum Cleaners Market Outlook by Region

4.4.1 Market Value & Volume Comparison by Region (2015-2031)
4.4.2 Market Value & Volume Market Share by Region in 2021
4.4.3 Market Attractiveness Analysis by Region, 2015–2022

4.5 Europe Portable Vacuum Cleaners Market Outlook (2015-2031)

4.5.1 Market Value & Volume (2015–2022)
4.5.2 Market Value & Volume (2023-2031)

4.6 Europe Portable Vacuum Cleaners Market Value & Volume by Regions

4.6.1 Market Value & Volume Comparison by Region (2015–2022)
4.6.2 Market Value & Volume Comparison by Region (2023-2031)

4.7 Europe Portable Vacuum Cleaners Market Value & Volume by Product Type

4.7.1 Market Value & Volume Comparison by Product Type (2015–2022)
4.7.2 Market Value & Volume Comparison by Product Type (2023-2031)

4.8 Europe Portable Vacuum Cleaners Market Value & Volume by Distribution Channel

4.8.1 Market Value & Volume Comparison by Distribution Channel (2015–2022)
4.8.2 Market Value & Volume Comparison by Distribution Channel (2023-2031)

4.9 Europe Portable Vacuum Cleaners Market Value & Volume by End-Use

4.9.1 Market Value & Volume Comparison by End-Use (2015–2022)
4.9.2 Market Value & Volume Comparison by End-Use (2023-2031)

4.10 Europe Portable Vacuum Cleaners Market Y-o-Y Growth Rate Comparison 2016–2031

4.10.1 Market Y-o-Y Growth Rate by Region
4.10.2 Market Y-o-Y Growth Rate by Product Type
4.10.3 Market Y-o-Y Growth Rate by Distribution Channel
4.10.4 Market Y-o-Y Growth Rate by End-Use

4.11 Europe Portable Vacuum Cleaners Market Share Comparison 2015–2030

4.11.1 Market Share by Region
4.11.2 Market Share by Product Type
4.11.3 Market Share by Distribution Channel
4.11.4 Market Share by End-Use

Chapter 5 Asia-Pacific Portable Vacuum Cleaners Market Overview

5.1 Asia-Pacific Portable Vacuum Cleaners Market by Product Type

5.1.1 Market Value & Volume Comparison by Product Type (2015-2031)
5.1.2 Market Value & Volume Market Share by Product Type in 2021

5.2 Asia-Pacific Portable Vacuum Cleaners Market Value & Volume Comparison by Distribution Channel (2015-2031)

5.2.1 Market Value & Volume Market Share by Distribution Channel in 2021
5.2.2 Market Attractiveness Analysis by Distribution Channel, 2015–2022

5.3 Asia-Pacific Portable Vacuum Cleaners Market by End-Use

5.3.1 Market Value & Volume Comparison by End-Use (2015-2031)
5.3.2 Market Value & Volume Market Share by End-Use in 2021
5.3.3 Market Attractiveness Analysis by End-Use, 2015–2022

5.4 Asia-Pacific Portable Vacuum Cleaners Market Outlook by Region

5.4.1 Market Value & Volume Comparison by Region (2015-2031)
5.4.2 Market Value & Volume Market Share by Region in 2021
5.4.3 Market Attractiveness Analysis by Region, 2015–2022

5.5 Asia-Pacific Portable Vacuum Cleaners Market Outlook (2015-2031)

5.5.1 Market Value & Volume (2015–2022)
5.5.2 Market Value & Volume (2023-2031)

5.6 Asia-Pacific Portable Vacuum Cleaners Market Value & Volume by Regions

5.6.1 Market Value & Volume Comparison by Region (2015–2022)
5.6.2 Market Value & Volume Comparison by Region (2023-2031)

5.7 Asia-Pacific Portable Vacuum Cleaners Market Value & Volume by Product Type

5.7.1 Market Value & Volume Comparison by Product Type (2015–2022)
5.7.2 Market Value & Volume Comparison by Product Type (2023-2031)

5.8 Asia-Pacific Portable Vacuum Cleaners Market Value & Volume by Distribution Channel

5.8.1 Market Value & Volume Comparison by Distribution Channel (2015–2022)
5.8.2 Market Value & Volume Comparison by Distribution Channel (2023-2031)

5.9 Asia-Pacific Portable Vacuum Cleaners Market Value & Volume by End-Use

5.9.1 Market Value & Volume Comparison by End-Use (2015–2022)
5.9.2 Market Value & Volume Comparison by End-Use (2023-2031)

5.10 Asia-Pacific Portable Vacuum Cleaners Market Y-o-Y Growth Rate Comparison 2016–2031

5.10.1 Market Y-o-Y Growth Rate by Region
5.10.2 Market Y-o-Y Growth Rate by Product Type
5.10.3 Market Y-o-Y Growth Rate by Distribution Channel
5.10.4 Market Y-o-Y Growth Rate by End-Use

5.11 Asia-Pacific Portable Vacuum Cleaners Market Share Comparison 2015–2030

5.11.1 Market Share by Region
5.11.2 Market Share by Product Type
5.11.3 Market Share by Distribution Channel
5.11.4 Market Share by End-Use

Chapter 6 Latin America Portable Vacuum Cleaners Market Overview

6.1 Latin America Portable Vacuum Cleaners Market by Product Type

6.1.1 Market Value & Volume Comparison by Product Type (2015-2031)
6.1.2 Market Value & Volume Market Share by Product Type in 2021

6.2 Latin America Portable Vacuum Cleaners Market Value & Volume Comparison by Distribution Channel (2015-2031)

6.2.1 Market Value & Volume Market Share by Distribution Channel in 2021
6.2.2 Market Attractiveness Analysis by Distribution Channel, 2015–2022

6.3 Latin America Portable Vacuum Cleaners Market by End-Use

6.3.1 Market Value & Volume Comparison by End-Use (2015-2031)
6.3.2 Market Value & Volume Market Share by End-Use in 2021
6.3.3 Market Attractiveness Analysis by End-Use, 2015–2022

6.4 Latin America Portable Vacuum Cleaners Market Outlook by Region

6.4.1 Market Value & Volume Comparison by Region (2015-2031)
6.4.2 Market Value & Volume Market Share by Region in 2021
6.4.3 Market Attractiveness Analysis by Region, 2015–2022

6.5 Latin America Portable Vacuum Cleaners Market Outlook (2015-2031)

6.5.1 Market Value & Volume (2015–2022)
6.5.2 Market Value & Volume (2023-2031)

6.6 Latin America Portable Vacuum Cleaners Market Value & Volume by Regions

6.6.1 Market Value & Volume Comparison by Region (2015–2022)
6.6.2 Market Value & Volume Comparison by Region (2023-2031)

6.7 Latin America Portable Vacuum Cleaners Market Value & Volume by Product Type

6.7.1 Market Value & Volume Comparison by Product Type (2015–2022)
6.7.2 Market Value & Volume Comparison by Product Type (2023-2031)

6.8 Latin America Portable Vacuum Cleaners Market Value & Volume by Distribution Channel

6.8.1 Market Value & Volume Comparison by Distribution Channel (2015–2022)
6.8.2 Market Value & Volume Comparison by Distribution Channel (2023-2031)

6.9 Latin America Portable Vacuum Cleaners Market Value & Volume by End-Use

6.9.1 Market Value & Volume Comparison by End-Use (2015–2022)
6.9.2 Market Value & Volume Comparison by End-Use (2023-2031)

6.10 Latin America Portable Vacuum Cleaners Market Y-o-Y Growth Rate Comparison 2016–2031

6.10.1 Market Y-o-Y Growth Rate by Region
6.10.2 Market Y-o-Y Growth Rate by Product Type
6.10.3 Market Y-o-Y Growth Rate by Distribution Channel
6.10.4 Market Y-o-Y Growth Rate by End-Use

6.11 Latin America Portable Vacuum Cleaners Market Share Comparison 2015–2030

6.11.1 Market Share by Region
6.11.2 Market Share by Product Type
6.11.3 Market Share by Distribution Channel
6.11.4 Market Share by End-Use

Chapter 7 Middle East & Africa Portable Vacuum Cleaners Market Overview

7.1 Middle East & Africa Portable Vacuum Cleaners Market by Product Type

7.1.1 Market Value & Volume Comparison by Product Type (2015-2031)
7.1.2 Market Value & Volume Market Share by Product Type in 2021

7.2 Middle East & Africa Portable Vacuum Cleaners Market Value & Volume Comparison by Distribution Channel (2015-2031)

7.2.1 Market Value & Volume Market Share by Distribution Channel in 2021
7.2.2 Market Attractiveness Analysis by Distribution Channel, 2015–2022

7.3 Middle East & Africa Portable Vacuum Cleaners Market by End-Use

7.3.1 Market Value & Volume Comparison by End-Use (2015-2031)
7.3.2 Market Value & Volume Market Share by End-Use in 2021
7.3.3 Market Attractiveness Analysis by End-Use, 2015–2022

7.4 Middle East & Africa Portable Vacuum Cleaners Market Outlook by Region

7.4.1 Market Value & Volume Comparison by Region (2015-2031)
7.4.2 Market Value & Volume Market Share by Region in 2021
7.4.3 Market Attractiveness Analysis by Region, 2015–2022

7.5 Middle East & Africa Portable Vacuum Cleaners Market Outlook (2015-2031)

7.5.1 Market Value & Volume (2015–2022)
7.5.2 Market Value & Volume (2023-2031)

7.5 Middle East & Africa Portable Vacuum Cleaners Market Value & Volume by Regions

7.6.1 Market Value & Volume Comparison by Region (2015–2022)
7.6.2 Market Value & Volume Comparison by Region (2023-2031)

7.7 Middle East & Africa Portable Vacuum Cleaners Market Value & Volume by Product Type

7.7.1 Market Value & Volume Comparison by Product Type (2015–2022)
7.7.2 Market Value & Volume Comparison by Product Type (2023-2031)

7.8 Middle East & Africa Portable Vacuum Cleaners Market Value & Volume by Distribution Channel

7.8.1 Market Value & Volume Comparison by Distribution Channel (2015–2022)
7.8.2 Market Value & Volume Comparison by Distribution Channel (2023-2031)

7.9 Middle East & Africa Portable Vacuum Cleaners Market Value & Volume by End-Use

7.9.1 Market Value & Volume Comparison by End-Use (2015–2022)
7.9.2 Market Value & Volume Comparison by End-Use (2023-2031)

7.10 Middle East & Africa Portable Vacuum Cleaners Market Y-o-Y Growth Rate Comparison 2016–2031

7.10.1 Market Y-o-Y Growth Rate by Region
7.10.2 Market Y-o-Y Growth Rate by Product Type
7.10.3 Market Y-o-Y Growth Rate by Distribution Channel
7.10.4 Market Y-o-Y Growth Rate by End-Use

7.11 Middle East & Africa Portable Vacuum Cleaners Market Share Comparison 2015–2030

7.11.1 Market Share by Region
7.11.2 Market Share by Product Type
7.11.3 Market Share by Distribution Channel
7.11.4 Market Share by End-Use

Chapter 8 Global Portable Vacuum Cleaners Market Company Profiles

8.1 Market Competition Scenario Analysis, By Company
8.2 Competitor Landscape
8.3 Company Share Analysis
8.4 Company Profiles

8.4.1 Black+Decker

8.4.1.1 Company Overview
8.4.1.2 Business Description
8.4.1.3 Product Portfolio
8.4.1.4 Key Financials
8.4.1.5 Key Developments
8.4.1.6 SWOT Analysis

8.4.2 Hoover

8.4.2.1 Company Overview
8.4.2.2 Business Description
8.4.2.3 Product Portfolio
8.4.2.4 Key Financials
8.4.2.5 Key Developments
8.4.2.6 SWOT Analysis

8.4.3 Bissell

8.4.3.1 Company Overview
8.4.3.2 Business Description
8.4.3.3 Product Portfolio
8.4.3.4 Key Financials
8.4.3.5 Key Developments
8.4.3.6 SWOT Analysis

8.4.4 Dirt Devil

8.4.4.1 Company Overview
8.4.4.2 Business Description
8.4.4.3 Product Portfolio
8.4.4.4 Key Financials
8.4.4.5 Key Developments
8.4.4.6 SWOT Analysis

8.4.5 Dyson

8.4.5.1 Company Overview
8.4.5.2 Business Description
8.4.5.3 Product Portfolio
8.4.5.4 Key Financials
8.4.5.5 Key Developments
8.4.5.6 SWOT Analysis

8.4.6 Eureka Forbes

8.4.6.1 Company Overview
8.4.6.2 Business Description
8.4.6.3 Product Portfolio
8.4.6.4 Key Financials
8.4.6.5 Key Developments
8.4.6.6 SWOT Analysis

8.4.7 Panasonic

8.4.7.1 Company Overview
8.4.7.2 Business Description
8.4.7.3 Product Portfolio
8.4.7.4 Key Financials
8.4.7.5 Key Developments
8.4.7.6 SWOT Analysis

8.4.8 Worx

8.4.8.1 Company Overview
8.4.8.2 Business Description
8.4.8.3 Product Portfolio
8.4.8.4 Key Financials
8.4.8.5 Key Developments
8.4.8.6 SWOT Analysis

8.4.9 Ridgid

8.4.9.1 Company Overview
8.4.9.2 Business Description
8.4.9.3 Product Portfolio
8.4.9.4 Key Financials
8.4.9.5 Key Developments
8.4.9.6 SWOT Analysis

8.4.10 DeWalt

8.4.10.1 Company Overview
8.4.10.2 Business Description
8.4.10.3 Product Portfolio
8.4.10.4 Key Financials
8.4.10.5 Key Developments
8.4.10.6 SWOT Analysis

8.4.11 Other Key Players

Chapter 9 Research Methodology

9.1 Research Methodology
9.2 Primary Research
9.3 Secondary Research
9.4 Report Scope

Chapter 10 About Us
Chapter 11 Disclaimer

Inquiry Form

Why Choose Us

360 Degree Approach
Growth Consulting
24/7 Research Support
Comprehensive-Level of Customization
Comprehensive-Level of Customization
Competitive Intelligence
Single-Country/ Region Intelligence
Post-Sale Service Assistance
Access to Lead Analysts
Available in PDF, Excel, Word/ PPT

Request for Customization
Frequently Asked Questions (FAQ)
What Are Some Benefits Of A Portable Vacuum Cleaner?
A portable vacuum is easy to use and clean up places that a regular vacuum cannot reach. It's easy to store, lightweight, and versatile. It is also more affordable than a standard vacuum cleaner because it has a tiny motor that does not require much power. The suction power on the handheld vacuum is adequate for smaller areas.
Which Region Is A Leading Consumer Of Portable Vacuum Cleaners?
The European region dominates the global portable vacuum cleaners market in terms of revenue, accounting for over 25% sales. In the coming years, Asia-Pacific region is expected to be the most lucrative market for portable vacuum cleaners.
What Is The Price Of Portable Vacuum Cleaners?
A portable vacuum cleaner is highly affordable and is available from US$ 100 onwards. Prices vary according to its features and brand.
Which Are The Key Players In The Portable Vacuum Cleaners Market?
The Portable Vacuum Cleaners market landscape appears highly consolidated, with a significant chunk being European and American players.  Black+Decker  Hoover  Bissell  Dirt Devil  Dyson  Eureka Forbes  Panasonic  Worx  Ridgid  DeWalt  Other Players
OUR
CLIENTS
Don't just take our word. We are trusted by these great companies!