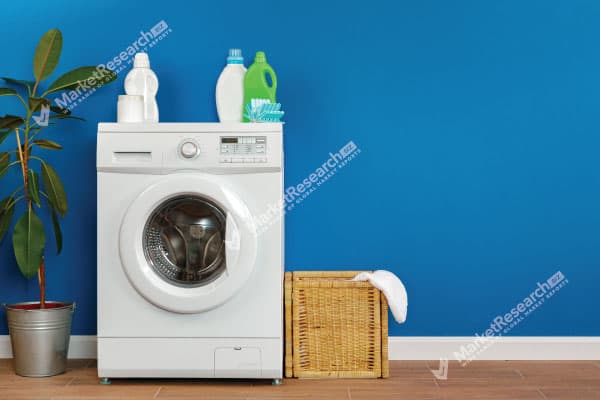 Global Portable Mini Washing Machine Market Forecast, Trend Analysis And Competition Tracking - Global Market Insights 2015 to 2031
Demand For Portable Mini Washing Machine From 2015 To 2020 Vs. Future Market Projections For 2021-2031

Introduction: The Mobile Washing Machine

A portable mini washing machine is a small machine that washes clothes and is a home appliance that will make loads of laundry easier to handle. It does not require any detergents or fabric softeners, but it can still clean clothes. This device is typically used by campers, boaters, and backpackers who don't have access to a washer. A portable mini washing machine is a small appliance that can be carried and used anywhere. This appliance can be used in remote areas, apartments, or any place where there is not an available washer. The appliance can be plugged into an electric outlet or run on battery power. It has a capacity of up to 5-10 pounds which is great for smaller loads of laundry. The appliance is lightweight and easy to carry with its plastic molded handles.

A portable mini washing machine uses less energy, is low-priced and has low maintenance. It is a small compact washing machine that is quiet and portable for easy use. It does not require a large space or a long set-up time. There are no installation costs required with it. It has an efficient motor with a high-speed spin to get clothes dry faster and more efficiently. The motor also lasts a more extended period of time due to the efficient design of the machine. This convenient device can be used for many different types of laundry, from delicates to moderate-sized beddings. The washing cycle has decreased from 80 minutes to just 18 minutes, saving both time and electricity. With a stainless steel drum, it is durable and rust-free.

These washing machines are good for small clothing such as socks, napkins, underwear, baby clothes. The mini washing machine can be placed on a desk and uses a water reservoir that needs to be refilled every few minutes or so. The machine has a heavy base which prevents it from moving while being used. It is ideal for places with insufficient space for a regular-sized washing machine.

Market Dynamics: Stow The Laundry When You're On The Go!!

A portable mini washing machine is suitable for bachelors and students alike. They are great because they take up very little space. Additionally, the user only needs a tap of water to clean them out for reuse! Bachelors and students typically live in small apartments that do not have a washer and dryer. They also do not have the time to go to the laundromat every other day, so they need a way to wash their clothes. The portable mini washing machine is helpful because it can be used in any tub of at least 9" deep, which makes it perfect for dorm bathrooms or apartments with bathtubs.

A portable mini washing machine is a great product for people who are always on the go and want to do laundry with minimal effort. The mini portable washing machine is able to clean clothes, linens, or other items in a hotel room or car. It has a compact size, which is perfect for people who often travel and need a convenient way to wash their clothes while away from home. A portable mini washing machine may be an excellent option for camping or outdoor trips when one does not have access to a fully functioning kitchen. It is easy to carry and can be put in the back of a car, making it easy enough to store away in the trunk when not in use. Ideally, it would be used with cold water only, but it may be an appropriate alternative if hot water is unavailable.

Mini washing machines, or washers, allow people to do their laundry at home with less time and effort. They are small enough to be set up on a countertop or in a closet and can often be left unattended. In addition, they take less water and electricity than the larger versions.

Regional Analysis: Made for Small Spaces

The US holds a major share in the mini washing machine market due to early adopter of technology. The US accounts for a large percentage of the world's mini washing machine sales, with a global market share of 28% in 2020. Several factors account for the high penetration rate of this product in the US. First, a strong culture of consumerism in America has resulted in many households purchasing this product. The Asia-Pacific region will have higher growth in the mini washing machine market due to its growing population, increased number of women entering the workforce, and continuously improving living standards.

The Key Players In The Portable Mini Washing Machine Market

The portable mini washing machine market landscape appears highly fragmented across various regions.

WAQIA
Intexca
DENSORS
oneConcept
Lavario
Tenflyer
DMR
Onida
Other Players

Report Scope

Forecast Period: 2022-2031
Actual Year: 2021
Historical Data Available for: 2015-2020

Key Segments Covered

Portable Mini Washing Machine Market, By Product Type

Portable Mini Washing Machine Market, By Distribution Channel

| Attribute | Report Details |
| --- | --- |
| Market Size | Ask For Market Size |
| Growth Rate | Ask For Growth Rate |
| Key Companies | Ask For Companies |
| Report Coverage | Revenue analysis, Competitive landscape, Key company analysis, Market Trends, Key segments, Distribution Channel, Market Dynamics, COVID-19 Impact Analysis and more… |
| Historical Data Period | 2015-2020 |
| Base Year | 2022 |
| Forecast Period | 2022-2031 |
| Region Scope | North America, Europe, Asia-Pacific, South America, Middle East & Africa |
| Country Scope | United States, Canada and Mexico, Germany, France, UK, Russia and Italy, China, Japan, Korea, India and Southeast Asia, Brazil, Argentina, Colombia etc.Saudi Arabia, UAE, Egypt, Nigeria and South Africa |
| Revenue in | US$ Mn |

WAQIA
Intexca
DENSORS
oneConcept
Lavario
Tenflyer
DMR
Onida
Other Players

Chapter 1 Global Portable Mini Washing Machine Market Outlook

1.1 Introduction
1.2 Segmentation of Portable Mini Washing Machine Market Based On Product Type, Distribution Channel, and Region
1.3 Drivers
1.4 Restraints
1.5 Opportunities
1.6 Trends
1.7 Macro-economic Factors
1.8 Regulatory Framework
1.9 Global Portable Mini Washing Machine Market Pricing Analysis by Region, 2021
1.10 Opportunity Map Analysis

1.10.1 Optimistic Scenario
1.10.2 Likely Scenario
1.10.3 Conservative Scenario

1.11 Opportunity Orbits
1.12 Market Investment Feasibility Index
1.13 PEST Analysis
1.14 PORTER'S Five Force Analysis
1.15 Drivers & Restraints Impact Analysis
1.16 Marketing Strategy
1.17 Product Life Cycle Analysis
1.18 Value Chain Analysis
1.19 Cost Structure Analysis
1.20 Regional Market Share and BPS Analysis in Portable Mini Washing Machine Market
1.21 COVID-19 Impact Analysis

Chapter 2 Global Portable Mini Washing Machine Market Overview

2.1 Global Market Value & Volume Comparison by Product Type (2015-2031)

2.1.1 Global Market Value & Volume Market Share by Product Type in 2021
2.1.2 Global Attractiveness Analysis by Product Type, 2015–2022

2.2 Global Market Value & Volume Comparison by Distribution Channel (2015-2031)

2.2.1 Global Market Value & Volume Market Share by Distribution Channel in 2021
2.2.2 Global Attractiveness Analysis by Distribution Channel, 2015–2022

2.3 Global Outlook by Region

2.3.1 Global Market Value & Volume Comparison by Region (2015-2031)
2.3.2 Global Market Value & Volume Market Share by Region in 2021
2.3.3 Global Attractiveness Analysis by Region, 2015–2022

2.4 Global Outlook (2015-2031)

2.4.1 Global Market Value & Volume (2015–2022)
2.4.2 Global Market Value & Volume (2023-2031)

2.5 Global Market Value & Volume by Regions

2.5.1 Global Market Value & Volume Comparison by Region (2015–2022)
2.5.2 Global Market Value & Volume Comparison by Region (2023-2031)

2.6 Global Market Value & Volume by Product Type

2.6.1 Global Market Value & Volume Comparison by Product Type (2015–2022)
2.6.2 Global Market Value & Volume Comparison by Product Type (2023-2031)

2.7 Global Market Value & Volume by Distribution Channel

2.7.1 Global Market Value & Volume Comparison by Distribution Channel (2015–2022)
2.7.2 Global Market Value & Volume Comparison by Distribution Channel (2023-2031)

2.8 Global Market Y-o-Y Growth Rate Comparison 2016–2031

2.8.1 Global Market Y-o-Y Growth Rate by Region
2.8.2 Global Market Y-o-Y Growth Rate by Product Type
2.8.3 Global Market Y-o-Y Growth Rate by Distribution Channel

2.9 Global Market Share Comparison 2015–2031

2.9.1 Global Market Share by Region
2.9.2 Global Market Share by Product Type
2.9.3 Global Market Share by Distribution Channel

Chapter 3 North America Portable Mini Washing Machine Market Overview

3.1 North America by Product Type

3.1.1 North America Market Value & Volume Comparison by Product Type (2015-2031)
3.1.2 North America Market Value & Volume Market Share by Product Type in 2021

3.2 North America Market Value & Volume Comparison by Distribution Channel (2015-2031)

3.2.1 North America Market Value & Volume Market Share by Distribution Channel in 2021
3.2.2 North America Attractiveness Analysis by Distribution Channel, 2015–2022

3.3 North America Outlook by Region

3.3.1 North America Market Value & Volume Comparison by Region (2015-2031)
3.3.2 North America Market Value & Volume Market Share by Region in 2021
3.3.3 North America Attractiveness Analysis by Region, 2015–2022

3.4 North America Outlook (2015-2031)

3.4.1 North America Market Value & Volume (2015–2022)
3.4.2 North America Market Value & Volume (2023-2031)

3.5 North America Market Value & Volume by Regions

3.5.1 North America Market Value & Volume Comparison by Region (2015–2022)
3.5.2 North America Market Value & Volume Comparison by Region (2023-2031)

3.6 North America Market Value & Volume by Product Type

3.6.1 North America Market Value & Volume Comparison by Product Type (2015–2022)
3.6.2 North America Market Value & Volume Comparison by Product Type (2023-2031)

3.7 North America Market Value & Volume by Distribution Channel

3.7.1 North America Market Value & Volume Comparison by Distribution Channel (2015–2022)
3.7.2 North America Market Value & Volume Comparison by Distribution Channel (2023-2031)

3.8 North America Market Y-o-Y Growth Rate Comparison 2016–2031

3.8.1 North America Market Y-o-Y Growth Rate by Region
3.8.2 North America Market Y-o-Y Growth Rate by Product Type
3.8.3 North America Market Y-o-Y Growth Rate by Distribution Channel

3.9 North America Market Share Comparison 2015–2031

3.9.1 North America Market Share by Region
3.9.2 North America Market Share by Product Type
3.9.3 North America Market Share by Distribution Channel

Chapter 4 Europe Portable Mini Washing Machine Market Overview

4.1 Europe by Product Type

4.1.1 Europe Market Value & Volume Comparison by Product Type (2015-2031)
4.1.2 Europe Market Value & Volume Market Share by Product Type in 2021

4.2 Europe Market Value & Volume Comparison by Distribution Channel (2015-2031)

4.2.1 Europe Market Value & Volume Market Share by Distribution Channel in 2021
4.2.2 Europe Attractiveness Analysis by Distribution Channel, 2015–2022

4.3 Europe Outlook by Region

4.3.1 Europe Market Value & Volume Comparison by Region (2015-2031)
4.3.2 Europe Market Value & Volume Market Share by Region in 2021
4.3.3 Europe Attractiveness Analysis by Region, 2015–2022

4.4 Europe Outlook (2015-2031)

4.4.1 Europe Market Value & Volume (2015–2022)
4.4.2 Europe Market Value & Volume (2023-2031)

4.5 Europe Market Value & Volume by Regions

4.5.1 Europe Market Value & Volume Comparison by Region (2015–2022)
4.5.2 Europe Market Value & Volume Comparison by Region (2023-2031)

4.6 Europe Market Value & Volume by Product Type

4.6.1 Europe Market Value & Volume Comparison by Product Type (2015–2022)
4.6.2 Europe Market Value & Volume Comparison by Product Type (2023-2031)

4.7 Europe Market Value & Volume by Distribution Channel

4.7.1 Europe Market Value & Volume Comparison by Distribution Channel (2015–2022)
4.7.2 Europe Market Value & Volume Comparison by Distribution Channel (2023-2031)

4.8 Europe Market Y-o-Y Growth Rate Comparison 2016–2031

4.8.1 Europe Market Y-o-Y Growth Rate by Region
4.8.2 Europe Market Y-o-Y Growth Rate by Product Type
4.8.3 Europe Market Y-o-Y Growth Rate by Distribution Channel

4.9 Europe Market Share Comparison 2015–2031

4.9.1 Europe Market Share by Region
4.9.2 Europe Market Share by Product Type
4.9.3 Europe Market Share by Distribution Channel

Chapter 5 Asia-Pacific Portable Mini Washing Machine Market Overview

5.1 Asia-Pacific by Product Type

5.1.1 Asia-Pacific Market Value & Volume Comparison by Product Type (2015-2031)
5.1.2 Asia-Pacific Market Value & Volume Market Share by Product Type in 2021

5.2 Asia-Pacific Market Value & Volume Comparison by Distribution Channel (2015-2031)

5.2.1 Asia-Pacific Market Value & Volume Market Share by Distribution Channel in 2021
5.2.2 Asia-Pacific Attractiveness Analysis by Distribution Channel, 2015–2022

5.3 Asia-Pacific Outlook by Region

5.3.1 Asia-Pacific Market Value & Volume Comparison by Region (2015-2031)
5.3.2 Asia-Pacific Market Value & Volume Market Share by Region in 2021
5.3.3 Asia-Pacific Attractiveness Analysis by Region, 2015–2022

5.4 Asia-Pacific Outlook (2015-2031)

5.4.1 Asia-Pacific Market Value & Volume (2015–2022)
5.4.2 Asia-Pacific Market Value & Volume (2023-2031)

5.5 Asia-Pacific Market Value & Volume by Regions

5.5.1 Asia-Pacific Market Value & Volume Comparison by Region (2015–2022)
5.5.2 Asia-Pacific Market Value & Volume Comparison by Region (2023-2031)

5.6 Asia-Pacific Market Value & Volume by Product Type

5.6.1 Asia-Pacific Market Value & Volume Comparison by Product Type (2015–2022)
5.6.2 Asia-Pacific Market Value & Volume Comparison by Product Type (2023-2031)

5.7 Asia-Pacific Market Value & Volume by Distribution Channel

5.7.1 Asia-Pacific Market Value & Volume Comparison by Distribution Channel (2015–2022)
5.7.2 Asia-Pacific Market Value & Volume Comparison by Distribution Channel (2023-2031)

5.8 Asia-Pacific Market Y-o-Y Growth Rate Comparison 2016–2031

5.8.1 Asia-Pacific Market Y-o-Y Growth Rate by Region
5.8.2 Asia-Pacific Market Y-o-Y Growth Rate by Product Type
5.8.3 Asia-Pacific Market Y-o-Y Growth Rate by Distribution Channel

5.9 Asia-Pacific Market Share Comparison 2015–2031

5.9.1 Asia-Pacific Market Share by Region
5.9.2 Asia-Pacific Market Share by Product Type
5.9.3 Asia-Pacific Market Share by Distribution Channel

Chapter 6 Latin America Portable Mini Washing Machine Market Overview

6.1 Latin America by Product Type

6.1.1 Latin America Market Value & Volume Comparison by Product Type (2015-2031)
6.1.2 Latin America Market Value & Volume Market Share by Product Type in 2021

6.2 Latin America Market Value & Volume Comparison by Distribution Channel (2015-2031)

6.2.1 Latin America Market Value & Volume Market Share by Distribution Channel in 2021
6.2.2 Latin America Attractiveness Analysis by Distribution Channel, 2015–2022

6.3 Latin America Outlook by Region

6.3.1 Latin America Market Value & Volume Comparison by Region (2015-2031)
6.3.2 Latin America Market Value & Volume Market Share by Region in 2021
6.3.3 Latin America Attractiveness Analysis by Region, 2015–2022

6.4 Latin America Outlook (2015-2031)

6.4.1 Latin America Market Value & Volume (2015–2022)
6.4.2 Latin America Market Value & Volume (2023-2031)

6.5 Latin America Market Value & Volume by Regions

6.5.1 Latin America Market Value & Volume Comparison by Region (2015–2022)
6.5.2 Latin America Market Value & Volume Comparison by Region (2023-2031)

6.6 Latin America Market Value & Volume by Product Type

6.6.1 Latin America Market Value & Volume Comparison by Product Type (2015–2022)
6.6.2 Latin America Market Value & Volume Comparison by Product Type (2023-2031)

6.7 Latin America Market Value & Volume by Distribution Channel

6.7.1 Latin America Market Value & Volume Comparison by Distribution Channel (2015–2022)
6.7.2 Latin America Market Value & Volume Comparison by Distribution Channel (2023-2031)

6.8 Latin America Market Y-o-Y Growth Rate Comparison 2016–2031

6.8.1 Latin America Market Y-o-Y Growth Rate by Region
6.8.2 Latin America Market Y-o-Y Growth Rate by Product Type
6.8.3 Latin America Market Y-o-Y Growth Rate by Distribution Channel

6.9 Latin America Market Share Comparison 2015–2031

6.9.1 Latin America Market Share by Region
6.9.2 Latin America Market Share by Product Type
6.9.3 Latin America Market Share by Distribution Channel

Chapter 7 MEA Portable Mini Washing Machine Market Overview

7.1 MEA by Product Type

7.1.1 MEA Market Value & Volume Comparison by Product Type (2015-2031)
7.1.2 MEA Market Value & Volume Market Share by Product Type in 2021

7.2 MEA Market Value & Volume Comparison by Distribution Channel (2015-2031)

7.2.1 MEA Market Value & Volume Market Share by Distribution Channel in 2021
7.2.2 MEA Attractiveness Analysis by Distribution Channel, 2015–2022

7.3 MEA Outlook by Region

7.3.1 MEA Market Value & Volume Comparison by Region (2015-2031)
7.3.2 MEA Market Value & Volume Market Share by Region in 2021
7.3.3 MEA Attractiveness Analysis by Region, 2015–2022

7.4 MEA Outlook (2015-2031)

7.4.1 MEA Market Value & Volume (2015–2022)
7.4.2 MEA Market Value & Volume (2023-2031)

7.5 MEA Market Value & Volume by Regions

7.5.1 MEA Market Value & Volume Comparison by Region (2015–2022)
7.5.2 MEA Market Value & Volume Comparison by Region (2023-2031)

7.6 MEA Market Value & Volume by Product Type

7.6.1 MEA Market Value & Volume Comparison by Product Type (2015–2022)
7.6.2 MEA Market Value & Volume Comparison by Product Type (2023-2031)

7.7 MEA Market Value & Volume by Distribution Channel

7.7.1 MEA Market Value & Volume Comparison by Distribution Channel (2015–2022)
7.7.2 MEA Market Value & Volume Comparison by Distribution Channel (2023-2031)

7.8 MEA Market Y-o-Y Growth Rate Comparison 2016–2031

7.8.1 MEA Market Y-o-Y Growth Rate by Region
7.8.2 MEA Market Y-o-Y Growth Rate by Product Type
7.8.3 MEA Market Y-o-Y Growth Rate by Distribution Channel

7.9 MEA Market Share Comparison 2015–2031

7.9.1 MEA Market Share by Region
7.9.2 MEA Market Share by Product Type
7.9.3 MEA Market Share by Distribution Channel

Chapter 8 Global Portable Mini Washing Machine Market Company Profiles

8.1 Market Competition Scenario Analysis, By Company
8.2 Competitor Landscape
8.3 Company Share Analysis
8.4 Company Profiles

8.4.1 WAQIA

8.4.1.1 Company Overview
8.4.1.2 Business Description
8.4.1.3 Product Portfolio
8.4.1.4 Key Financials
8.4.1.5 Key Developments
8.4.1.6 SWOT Analysis

8.4.2 Intexca

8.4.2.1 Company Overview
8.4.2.2 Business Description
8.4.2.3 Product Portfolio
8.4.2.4 Key Financials
8.4.2.5 Key Developments
8.4.2.6 SWOT Analysis

8.4.3 DENSORS

8.4.3.1 Company Overview
8.4.3.2 Business Description
8.4.3.3 Product Portfolio
8.4.3.4 Key Financials
8.4.3.5 Key Developments
8.4.3.6 SWOT Analysis

8.4.4 oneConcept

8.4.4.1 Company Overview
8.4.4.2 Business Description
8.4.4.3 Product Portfolio
8.4.4.4 Key Financials
8.4.4.5 Key Developments
8.4.4.6 SWOT Analysis

8.4.5 Lavario

8.4.5.1 Company Overview
8.4.5.2 Business Description
8.4.5.3 Product Portfolio
8.4.5.4 Key Financials
8.4.5.5 Key Developments
8.4.5.6 SWOT Analysis

8.4.6 Tenflyer

8.4.6.1 Company Overview
8.4.6.2 Business Description
8.4.6.3 Product Portfolio
8.4.6.4 Key Financials
8.4.6.5 Key Developments
8.4.6.6 SWOT Analysis

8.4.7 DMR

8.4.7.1 Company Overview
8.4.7.2 Business Description
8.4.7.3 Product Portfolio
8.4.7.4 Key Financials
8.4.7.5 Key Developments
8.4.7.6 SWOT Analysis

8.4.8 Onida

8.4.8.1 Company Overview
8.4.8.2 Business Description
8.4.8.3 Product Portfolio
8.4.8.4 Key Financials
8.4.8.5 Key Developments
8.4.8.6 SWOT Analysis

8.4.9 Other Key Players

Chapter 9 Research Methodology

9.1 Research Methodology
9.2 Primary Research
9.3 Secondary Research
9.4 Report Scope

Chapter 10 About Us
Chapter 11 Disclaimer

Inquiry Form

Why Choose Us

360 Degree Approach
Growth Consulting
24/7 Research Support
Comprehensive-Level of Customization
Comprehensive-Level of Customization
Competitive Intelligence
Single-Country/ Region Intelligence
Post-Sale Service Assistance
Access to Lead Analysts
Available in PDF, Excel, Word/ PPT

Request for Customization
Frequently Asked Questions (FAQ)
Is Mini Washing Machine Useful?
Using a mini washing machine can be great for travelers, particularly in a camper or motor home. Mini washers can be stored in drawers or vehicles when not in use and set up when needed. This makes laundry easy while traveling.
How Much Do Portable Mini Washing Machine Cost?
The average cost of a portable mini washing mahine ranges from US$ 40 to US$ 120, depending on the brand and features of the product.
What Are The Growth Prospects Of The Global Portable Mini Washing Machine Market?
Global portable mini washing machine market is valued at US$ 286.2 Mn in 2021 and is expected to register a CAGR of about 3-4% over the forecast period. The North America region will dominate the market in 2021.
Which Are The Key Players In The Portable Mini Washing Machine Market?
The portable mini washing machine market landscape appears highly fragmented across various regions.  WAQIA  Intexca  DENSORS  oneConcept  Lavario  Tenflyer  DMR  Onida  Other Players
OUR
CLIENTS
Don't just take our word. We are trusted by these great companies!