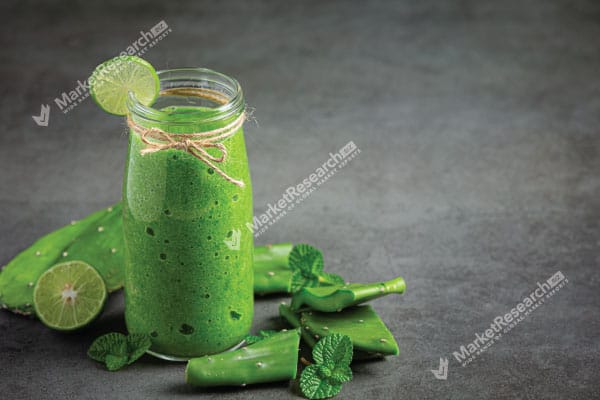 Global Detox Drinks Market Forecast, Trend Analysis And Competition Tracking - Global Market Insights 2015 to 2031
Demand For Detox Drinks From 2015 To 2020 Vs. Future Market Projections For 2021-2031

Introduction: How Raw Juice Cleanses Your System

Detoxing aims to rid the body of toxins to ensure good health. Detox drinks are a great way to jump-start your diet. They flush out toxins and give you plenty of vitamins and minerals for the day. Most detox drinks contain water, fruit juice, vegetable juice, and sometimes other ingredients like ginger or cayenne pepper. Some contain caffeine or green tea extract. Detox drinks can be taken at any time of the day and will help speed up your metabolism and improve your digestive system. Detoxing one's body is becoming a progressively more popular trend in fitness-related circles. While the concept of detoxification has quite a few definitions, supporters of detoxification as an essential part of their fitness regimen can't stop extolling its reliable health benefits.

The body has many natural pathways for the disposal of certain substances through the liver, sweat, urine, and other means. However, rapid urbanization and exposure to pollutants, heavy metals, preservatives, and pesticides have led to a steep rise in chronic diseases and mortality. Toxins stored in our cells and tissues get distilled in our vital organs and cause metabolic, reproductive, and mental toxicities. This may result in discomfort, bloating, diarrhea, gas, exhaustion, bleeding, tension, headaches, malaise, skin inflammation, bad breath, and lower energy levels. Toxins in large quantities can even trigger cancerous growths. Our vital organs can effectively cleanse themselves of the toxins by detoxing, helping the liver function appropriately. Detox drinks are gaining recognition in the health community to prevent toxic overload and both large and minor health problems.

New product advancements have improved the sales of detox drinks. In recent years, expanding green tea has grown in popularity as an effective and efficient method to increase metabolism and boost immunity. While growing awareness regarding enhancing metabolism, the demand in the detox drinks industry has increased. The high investment towards technology development primarily drives the rise in revenue, and the leading service providers are also adopting expansion strategies, which are boosting the detox drink industry.

Market Dynamics: Unlock Your Healthy Potential

The rising demand for tasty, healthy drinks due to a rise in the global incidence of chronic diseases, including cancer, cardiovascular disease, and diabetes, is likely to incite an increased demand for detox drinks, further boosting the global market of these.

People residing in developed economies are facing the risk from the elevated levels of chemicals in their internal body parts due to chemicals in the food they eat, the relatively poor air quality they breathe, and other substances they generally consume. People's renewed focus on detox, and wholesome living in general, has led to the widespread adoption of detox beverages. A complete detox drink ultimately supports the body's cleansing and recodification process and recharges it with fresh nutrients. Popular detox drinks, such as fresh-squeezed lemonade, beet ginger detox juices, ginger shots, and fruit-infused turmeric tea, are well-received by consumers.

Significant players are boosting their strategies by expanding, advertising, and developing manufacturing technologies that enable detoxification drinks to grow in popularity. These factors are anticipated to strengthen the projected profit margins for this market during the forecast period.

However, since more people make detox drinks at home, the market for manufactured drinks may be hampered. Making these drinks at home is better because it cuts down on costs and provides a sense of accomplishment, as the drink is customized to your specifications. The growing number of individuals making these drinks at home may lead to decreased demand for off-the-market detox drinks.

COVID-19 Impact Analysis: A Wholesome Way To Keep Cleansing

The pandemic has increased health consciousness in people, thus increasing the adoption of detox drinks. Due to the viral nature of the pandemic, many people are looking for various ways to cope with their anxiety about their health-related behaviors. One popular way to do this is through the use of detox drinks. The use of detox drinks is an example of a coping strategy, which is demonstrated by its popularity amongst anxiety-prone populations.

Regional Analysis

North America has been the fastest-growing region in the global market for detox drinks in the past decade. In addition to a shift towards a more modern lifestyle and a high-spending consumer base, there is also a clear shift in consumer demand for natural products. Alternative health and wellness regimes such as raw foodism and veganism may be driving this trend, as people who adopt these lifestyles tend to be drawn towards natural products.

The Key Players In The Detox Drinks Market

The detox drinks market landscape appears highly fragmented across various regions.

Unilever
Suja Life, LLC
Project Juice
Terranova Synergistic Nutrition
Raw Generation
Pukka Herbs
Hain Celestial
Dr Stuart's
Jus By Julie
Temple Turmeric
Other Players

Report Scope

Forecast Period: 2022-2031
Actual Year: 2021
Historical Data Available for: 2015-2020

Key Segments Covered

Detox Drinks Market, By Product Type

Detox Water
Detox Juice
Detox Smoothies
Detox Tea/ Coffee
Other Product Types

Detox Drinks Market, By Source

Detox Drinks Market, By Packaging Type

Bottles
Pouches
Other Packaging Types

Detox Drinks Market, By Distribution Channel

Hypermarkets/ Supermarkets
Retail Stores
Online Markets
Other Distribution Channels

| Attribute | Report Details |
| --- | --- |
| Market Size | Ask For Market Size |
| Growth Rate | Ask For Growth Rate |
| Key Companies | Ask For Companies |
| Report Coverage | Revenue analysis, Competitive landscape, Key company analysis, Market Trends, Key segments, Distribution Channel, Market Dynamics, COVID-19 Impact Analysis and more… |
| Historical Data Period | 2015-2020 |
| Base Year | 2022 |
| Forecast Period | 2022-2031 |
| Region Scope | North America, Europe, Asia-Pacific, South America, Middle East & Africa |
| Country Scope | United States, Canada and Mexico, Germany, France, UK, Russia and Italy, China, Japan, Korea, India and Southeast Asia, Brazil, Argentina, Colombia etc.Saudi Arabia, UAE, Egypt, Nigeria and South Africa |
| Revenue in | US$ Mn |

Unilever
Suja Life, LLC
Project Juice
Terranova Synergistic Nutrition
Raw Generation
Pukka Herbs
Hain Celestial
Dr Stuart's
Jus By Julie
Temple Turmeric
Other Players

Chapter 1 Global Detox Drinks Market Outlook

1.1 Introduction
1.2 Segmentation of Detox Drinks Market Based On Product Type, Source, Packaging, Distribution Channel and Region
1.3 Drivers
1.4 Restraints
1.5 Opportunities
1.6 Trends
1.7 Macro-economic Factors
1.8 Regulatory Framework
1.9 Global Detox Drinks Market Pricing Analysis by Region, 2021
1.10 Opportunity Map Analysis

1.10.1 Optimistic Scenario
1.10.2 Likely Scenario
1.10.3 Conservative Scenario

1.11 Opportunity Orbits
1.12 Market Investment Feasibility Index
1.13 PEST Analysis
1.14 PORTER'S Five Force Analysis
1.15 Drivers & Restraints Impact Analysis
1.16 Marketing Strategy
1.17 Product Life Cycle Analysis
1.18 Value Chain Analysis
1.19 Cost Structure Analysis
1.20 Regional Market Share and BPS Analysis in Detox Drinks Market
1.21 COVID-19 Impact Analysis

Chapter 2 Global Detox Drinks Market Overview

2.1 Global Market Value & Volume Comparison by Product Type (2015-2031)

2.1.1 Global Market Value & Volume Market Share by Product Type in 2021
2.1.2 Global Market Attractiveness Analysis by Product Type , 2015–2022

2.2 Global Market Value & Volume Comparison by Source (2015-2031)

2.2.1 Global Market Value & Volume Market Share by Source in 2021
2.2.2 Global Market Attractiveness Analysis by Source , 2015–2022

2.3 Global Market by Packaging

2.3.1 Global Market Value & Volume Comparison by Packaging (2015-2031)
2.3.2 Global Market Value & Volume Market Share by Packaging in 2021
2.3.3 Global Market Attractiveness Analysis by Packaging , 2015–2022

2.4 Global Market Value & Volume Comparison by Distribution Channel (2015-2031)

2.4.1 Global Market Value & Volume Market Share by Distribution Channel in 2021
2.4.2 Global Market Attractiveness Analysis by Distribution Channel , 2015–2022

2.5 Global Market Outlook by Region

2.5.1 Global Market Value & Volume Comparison by Region (2015-2031)
2.5.2 Global Market Value & Volume Market Share by Region in 2021
2.5.3 Global Market Attractiveness Analysis by Region, 2015–2022

2.6 Global Market Outlook (2015-2031)

2.6.1 Global Market Value & Volume (2015–2022)
2.6.2 Global Market Value & Volume (2023-2031)

2.7 Global Market Value & Volume by Regions

2.7.1 Global Market Value & Volume Comparison by Region (2015–2022)
2.7.2 Global Market Value & Volume Comparison by Region (2023-2031)

2.8 Global Market Value & Volume by Product Type

2.8.1 Global Market Value & Volume Comparison by Product Type (2015–2022)
2.8.2 Global Market Value & Volume Comparison by Product Type (2023-2031)

2.9 Global Market Value & Volume by Source

2.9.1 Global Market Value & Volume Comparison by Source (2015–2022)
2.9.2 Global Market Value & Volume Comparison by Source (2023-2031)

2.10 Global Market Value & Volume by Packaging

2.10.1 Global Market Value & Volume Comparison by Packaging (2015–2022)
2.10.2 Global Market Value & Volume Comparison by Packaging (2023-2031)

2.11 Global Market Value & Volume by Distribution Channel

2.11.1 Global Market Value & Volume Comparison by Distribution Channel (2015–2022)
2.11.2 Global Market Value & Volume Comparison by By Distribution Channel (2023-2031)

2.12 Global Market Y-o-Y Growth Rate Comparison 2016–2031

2.12.1 Global Market Y-o-Y Growth Rate by Region
2.12.2 Global Market Y-o-Y Growth Rate by Product Type
2.12.3 Global Market Y-o-Y Growth Rate by Source
2.12.4 Global Market Y-o-Y Growth Rate by Packaging
2.12.5 Global Market Y-o-Y Growth Rate by Distribution Channel

2.13 Global Market Share Comparison 2015–2030

2.13.1 Global Market Share by Region
2.13.2 Global Market Share by Product Type
2.13.3 Global Market Share by Source
2.13.4 Global Market Share by Packaging
2.13.5 Global Market Share by Distribution Channel

Chapter 3 North America Detox Drinks Market Overview

3.1 North America Market by Product Type

3.1.1 North America Market Value & Volume Comparison by Product Type (2015-2031)
3.1.2 North America Market Value & Volume Market Share by Product Type in 2021

3.2 Global Market Value & Volume Comparison by Source (2015-2031)

3.2.1 North America Market Value & Volume Market Share by Source in 2021
3.2.2 North America Market Attractiveness Analysis by Source , 2015–2022

3.3 North America Market by Packaging

3.3.1 North America Market Value & Volume Comparison by Packaging (2015-2031)
3.3.2 North America Market Value & Volume Market Share by Packaging in 2021
3.3.3 North America Market Attractiveness Analysis by Packaging , 2015–2022

3.4 North America Market Value & Volume Comparison by Distribution Channel (2015-2031)

3.4.1 North America Market Value & Volume Market Share by Distribution Channel in 2021
3.4.2 North America Market Attractiveness Analysis by Distribution Channel , 2015–2022

3.5 North America Market Outlook by Region

3.5.1 North America Market Value & Volume Comparison by Region (2015-2031)
3.5.2 North America Market Value & Volume Market Share by Region in 2021
3.5.3 North America Market Attractiveness Analysis by Region, 2015–2022

3.6 North America Market Outlook (2015-2031)

3.6.1 North America Market Value & Volume (2015–2022)
3.6.2 North America Market Value & Volume (2023-2031)

3.7 North America Market Value & Volume by Regions

3.7.1 North America Market Value & Volume Comparison by Region (2015–2022)
3.7.2 North America Market Value & Volume Comparison by Region (2023-2031)

3.8 North America Market Value & Volume by Product Type

3.8.1 North America Market Value & Volume Comparison by Product Type (2015–2022)
3.8.2 North America Market Value & Volume Comparison by Product Type (2023-2031)

3.9 North America Market Value & Volume by Source

3.9.1 North America Market Value & Volume Comparison by Source (2015–2022)
3.9.2 North America Market Value & Volume Comparison by Source (2023-2031)

3.10 North America Market Value & Volume by Packaging

3.10.1 North America Market Value & Volume Comparison by Packaging (2015–2022)
3.10.2 North America Market Value & Volume Comparison by Packaging (2023-2031)

3.11 North America Market Value & Volume by Distribution Channel

3.11.1 North America Market Value & Volume Comparison by Distribution Channel (2015–2022)
3.11.2 North America Market Value & Volume Comparison by By Distribution Channel (2023-2031)

3.12 North America Market Y-o-Y Growth Rate Comparison 2016–2031

3.12.1 North America Market Y-o-Y Growth Rate by Region
3.12.2 North America Market Y-o-Y Growth Rate by Product Type
3.12.3 North America Market Y-o-Y Growth Rate by Source
3.12.4 North America Market Y-o-Y Growth Rate by Packaging
3.12.5 North America Market Y-o-Y Growth Rate by Distribution Channel

3.13 North America Market Share Comparison 2015–2030

3.13.1 North America Market Share by Region
3.13.2 North America Market Share by Product Type
3.13.3 North America Market Share by Source
3.13.4 North America Market Share by Packaging
3.13.5 North America Market Share by Distribution Channel

Chapter 4 Europe Detox Drinks Market Overview

4.1 Europe Market by Product Type

4.1.1 Europe Market Value & Volume Comparison by Product Type (2015-2031)
4.1.2 Europe Market Value & Volume Market Share by Product Type in 2021

4.2 Europe Market Value & Volume Comparison by Source (2015-2031)

4.2.1 Europe Market Value & Volume Market Share by Source in 2021
4.2.2 Europe Market Attractiveness Analysis by Source , 2015–2022

4.3 Europe Market by Packaging

4.3.1 Europe Market Value & Volume Comparison by Packaging (2015-2031)
4.3.2 Europe Market Value & Volume Market Share by Packaging in 2021
4.3.3 Europe Market Attractiveness Analysis by Packaging , 2015–2022

4.4 Europe Market Value & Volume Comparison by Distribution Channel (2015-2031)

4.4.1 Europe Market Value & Volume Market Share by Distribution Channel in 2021
4.4.2 Europe Market Attractiveness Analysis by Distribution Channel , 2015–2022

4.5 Europe Market Outlook by Region

4.5.1 Europe Market Value & Volume Comparison by Region (2015-2031)
4.5.2 Europe Market Value & Volume Market Share by Region in 2021
4.5.3 Europe Market Attractiveness Analysis by Region, 2015–2022

4.6 Europe Market Outlook (2015-2031)

4.6.1 Europe Market Value & Volume (2015–2022)
4.6.2 Europe Market Value & Volume (2023-2031)

4.7 Europe Market Value & Volume by Regions

4.7.1 Europe Market Value & Volume Comparison by Region (2015–2022)
4.7.2 Europe Market Value & Volume Comparison by Region (2023-2031)

4.8 Europe Market Value & Volume by Product Type

4.8.1 Europe Market Value & Volume Comparison by Product Type (2015–2022)
4.8.2 Europe Market Value & Volume Comparison by Product Type (2023-2031)

4.9 Europe Market Value & Volume by Source

4.9.1 Europe Market Value & Volume Comparison by Source (2015–2022)
4.9.2 Europe Market Value & Volume Comparison by Source (2023-2031)

4.10 Europe Market Value & Volume by Packaging

4.10.1 Europe Market Value & Volume Comparison by Packaging (2015–2022)
4.10.2 Europe Market Value & Volume Comparison by Packaging (2023-2031)

4.11 Europe Market Value & Volume by Distribution Channel

4.11.1 Europe Market Value & Volume Comparison by Distribution Channel (2015–2022)
4.11.2 Europe Market Value & Volume Comparison by By Distribution Channel (2023-2031)

4.12 Europe Market Y-o-Y Growth Rate Comparison 2016–2031

4.12.1 Europe Market Y-o-Y Growth Rate by Region
4.12.2 Europe Market Y-o-Y Growth Rate by Product Type
4.12.3 Europe Market Y-o-Y Growth Rate by Source
4.12.4 Europe Market Y-o-Y Growth Rate by Packaging
4.12.5 Europe Market Y-o-Y Growth Rate by Distribution Channel

4.13 Europe Market Share Comparison 2015–2030

4.13.1 Europe Market Share by Region
4.13.2 Europe Market Share by Product Type
4.13.3 Europe Market Share by Source
4.13.4 Europe Market Share by Packaging
4.13.5 Europe Market Share by Distribution Channel

Chapter 5 Asia-Pacific Detox Drinks Market Overview

5.1 Asia-Pacific Market by Product Type

5.1.1 Asia-Pacific Market Value & Volume Comparison by Product Type (2015-2031)
5.1.2 Asia-Pacific Market Value & Volume Market Share by Product Type in 2021

5.2 Asia-Pacific Market Value & Volume Comparison by Source (2015-2031)

5.2.1 Asia-Pacific Market Value & Volume Market Share by Source in 2021
5.2.2 Asia-Pacific Market Attractiveness Analysis by Source , 2015–2022

5.3 Asia-Pacific Market by Packaging

5.3.1 Asia-Pacific Market Value & Volume Comparison by Packaging (2015-2031)
5.3.2 Asia-Pacific Market Value & Volume Market Share by Packaging in 2021
5.3.3 Asia-Pacific Market Attractiveness Analysis by Packaging , 2015–2022

5.4 Asia-Pacific Market Value & Volume Comparison by Distribution Channel (2015-2031)

5.4.1 Asia-Pacific Market Value & Volume Market Share by Distribution Channel in 2021
5.4.2 Asia-Pacific Market Attractiveness Analysis by Distribution Channel , 2015–2022

5.5 Asia-Pacific Market Outlook by Region

5.5.1 Asia-Pacific Market Value & Volume Comparison by Region (2015-2031)
5.5.2 Asia-Pacific Market Value & Volume Market Share by Region in 2021
5.5.3 Asia-Pacific Market Attractiveness Analysis by Region, 2015–2022

5.6 Asia-Pacific Market Outlook (2015-2031)

5.6.1 Asia-Pacific Market Value & Volume (2015–2022)
5.6.2 Asia-Pacific Market Value & Volume (2023-2031)

5.7 Asia-Pacific Market Value & Volume by Regions

5.7.1 Asia-Pacific Market Value & Volume Comparison by Region (2015–2022)
5.7.2 Asia-Pacific Market Value & Volume Comparison by Region (2023-2031)

5.8 Asia-Pacific Market Value & Volume by Product Type

5.8.1 Asia-Pacific Market Value & Volume Comparison by Product Type (2015–2022)
5.8.2 Asia-Pacific Market Value & Volume Comparison by Product Type (2023-2031)

5.9 Asia-Pacific Market Value & Volume by Source

5.9.1 Asia-Pacific Market Value & Volume Comparison by Source (2015–2022)
5.9.2 Asia-Pacific Market Value & Volume Comparison by Source (2023-2031)

5.10 Asia-Pacific Market Value & Volume by Packaging

5.10.1 Asia-Pacific Market Value & Volume Comparison by Packaging (2015–2022)
5.10.2 Asia-Pacific Market Value & Volume Comparison by Packaging (2023-2031)

5.11 Asia-Pacific Market Value & Volume by Distribution Channel

5.11.1 Asia-Pacific Market Value & Volume Comparison by Distribution Channel (2015–2022)
5.11.2 Asia-Pacific Market Value & Volume Comparison by By Distribution Channel (2023-2031)

5.12 Asia-Pacific Market Y-o-Y Growth Rate Comparison 2016–2031

5.12.1 Asia-Pacific Market Y-o-Y Growth Rate by Region
5.12.2 Asia-Pacific Market Y-o-Y Growth Rate by Product Type
5.12.3 Asia-Pacific Market Y-o-Y Growth Rate by Source
5.12.4 Asia-Pacific Market Y-o-Y Growth Rate by Packaging
5.12.5 Asia-Pacific Market Y-o-Y Growth Rate by Distribution Channel

5.13 Asia-Pacific Market Share Comparison 2015–2030

5.13.1 Asia-Pacific Market Share by Region
5.13.2 Asia-Pacific Market Share by Product Type
5.13.3 Asia-Pacific Market Share by Source
5.13.4 Asia-Pacific Market Share by Packaging
5.13.5 Asia-Pacific Market Share by Distribution Channel

Chapter 6 South America Detox Drinks Market Overview

6.1 South America Market by Product Type

6.1.1 South America Market Value & Volume Comparison by Product Type (2015-2031)
6.1.2 South America Market Value & Volume Market Share by Product Type in 2021

6.2 South America Market Value & Volume Comparison by Source (2015-2031)

6.2.1 South America Market Value & Volume Market Share by Source in 2021
6.2.2 South America Market Attractiveness Analysis by Source , 2015–2022

6.3 South America Market by Packaging

6.3.1 South America Market Value & Volume Comparison by Packaging (2015-2031)
6.3.2 South America Market Value & Volume Market Share by Packaging in 2021
6.3.3 South America Market Attractiveness Analysis by Packaging , 2015–2022

6.4 South America Market Value & Volume Comparison by Distribution Channel (2015-2031)

6.4.1 South America Market Value & Volume Market Share by Distribution Channel in 2021
6.4.2 South America Market Attractiveness Analysis by Distribution Channel , 2015–2022

6.5 South America Market Outlook by Region

6.5.1 South America Market Value & Volume Comparison by Region (2015-2031)
6.5.2 South America Market Value & Volume Market Share by Region in 2021
6.5.3 South America Market Attractiveness Analysis by Region, 2015–2022

6.6 South America Market Outlook (2015-2031)

6.6.1 South America Market Value & Volume (2015–2022)
6.6.2 South America Market Value & Volume (2023-2031)

6.7 South America Market Value & Volume by Regions

6.7.1 South America Market Value & Volume Comparison by Region (2015–2022)
6.7.2 South America Market Value & Volume Comparison by Region (2023-2031)

6.8 South America Market Value & Volume by Product Type

6.8.1 South America Market Value & Volume Comparison by Product Type (2015–2022)
6.8.2 South America Market Value & Volume Comparison by Product Type (2023-2031)

6.9 South America Market Value & Volume by Source

6.9.1 South America Market Value & Volume Comparison by Source (2015–2022)
6.9.2 South America Market Value & Volume Comparison by Source (2023-2031)

6.10 South America Market Value & Volume by Packaging

6.10.1 South America Market Value & Volume Comparison by Packaging (2015–2022)
6.10.2 South America Market Value & Volume Comparison by Packaging (2023-2031)

6.11 South America Market Value & Volume by Distribution Channel

6.11.1 South America Market Value & Volume Comparison by Distribution Channel (2015–2022)
6.11.2 South America Market Value & Volume Comparison by By Distribution Channel (2023-2031)

6.12 South America Market Y-o-Y Growth Rate Comparison 2016–2031

6.12.1 South America Market Y-o-Y Growth Rate by Region
6.12.2 South America Market Y-o-Y Growth Rate by Product Type
6.12.3 South America Market Y-o-Y Growth Rate by Source
6.12.4 South America Market Y-o-Y Growth Rate by Packaging
6.12.5 South America Market Y-o-Y Growth Rate by Distribution Channel

6.13 South America Market Share Comparison 2015–2030

6.13.1 South America Market Share by Region
6.13.2 South America Market Share by Product Type
6.13.3 South America Market Share by Source
6.13.4 South America Market Share by Packaging
6.13.5 South America Market Share by Distribution Channel

Chapter 7 MEA Detox Drinks Market Overview

7.1 MEA Market by Product Type

7.1.1 MEA Market Value & Volume Comparison by Product Type (2015-2031)
7.1.2 MEA Market Value & Volume Market Share by Product Type in 2021

7.2 MEA Market Value & Volume Comparison by Source (2015-2031)

7.2.1 MEA Market Value & Volume Market Share by Source in 2021
7.2.2 MEA Market Attractiveness Analysis by Source , 2015–2022

7.3 MEA Market by Packaging

7.3.1 MEA Market Value & Volume Comparison by Packaging (2015-2031)
7.3.2 MEA Market Value & Volume Market Share by Packaging in 2021
7.3.3 MEA Market Attractiveness Analysis by Packaging , 2015–2022

7.4 MEA Market Value & Volume Comparison by Distribution Channel (2015-2031)

7.4.1 MEA Market Value & Volume Market Share by Distribution Channel in 2021
7.4.2 MEA Market Attractiveness Analysis by Distribution Channel , 2015–2022

7.5 MEA Market Outlook by Region

7.5.1 MEA Market Value & Volume Comparison by Region (2015-2031)
7.5.2 MEA Market Value & Volume Market Share by Region in 2021
7.5.3 MEA Market Attractiveness Analysis by Region, 2015–2022

7.6 MEA Market Outlook (2015-2031)

7.6.1 MEA Market Value & Volume (2015–2022)
7.6.2 MEA Market Value & Volume (2023-2031)

7.7 MEA Market Value & Volume by Regions

7.7.1 MEA Market Value & Volume Comparison by Region (2015–2022)
7.7.2 MEA Market Value & Volume Comparison by Region (2023-2031)

7.8 MEA Market Value & Volume by Product Type

7.8.1 MEA Market Value & Volume Comparison by Product Type (2015–2022)
7.8.2 MEA Market Value & Volume Comparison by Product Type (2023-2031)

7.9 MEA Market Value & Volume by Source

7.9.1 MEA Market Value & Volume Comparison by Source (2015–2022)
7.9.2 MEA Market Value & Volume Comparison by Source (2023-2031)

7.10 MEA Market Value & Volume by Packaging

7.10.1 MEA Market Value & Volume Comparison by Packaging (2015–2022)
7.10.2 MEA Market Value & Volume Comparison by Packaging (2023-2031)

7.11 MEA Market Value & Volume by Distribution Channel

7.11.1 MEA Market Value & Volume Comparison by Distribution Channel (2015–2022)
7.11.2 MEA Market Value & Volume Comparison by By Distribution Channel (2023-2031)

7.12 MEA Market Y-o-Y Growth Rate Comparison 2016–2031

7.12.1 MEA Market Y-o-Y Growth Rate by Region
7.12.2 MEA Market Y-o-Y Growth Rate by Product Type
7.12.3 MEA Market Y-o-Y Growth Rate by Source
7.12.4 MEA Market Y-o-Y Growth Rate by Packaging
7.12.5 MEA Market Y-o-Y Growth Rate by Distribution Channel

7.13 MEA Market Share Comparison 2015–2030

7.13.1 MEA Market Share by Region
7.13.2 MEA Market Share by Product Type
7.13.3 MEA Market Share by Source
7.13.4 MEA Market Share by Packaging
7.13.5 MEA Market Share by Distribution Channel

Chapter 8 Global Detox Drinks Market Company Profiles

8.1 Market Competition Scenario Analysis, By Company
8.2 Competitor Landscape
8.3 Company Share Analysis
8.4 Company Profiles

8.4.1 Unilever

8.4.1.1 Company Overview
8.4.1.2 Business Description
8.4.1.3 Product Portfolio
8.4.1.4 Key Financials
8.4.1.5 Key Developments
8.4.1.6 SWOT Analysis

8.4.2 Suja Life, LLC

8.4.2.1 Company Overview
8.4.2.2 Business Description
8.4.2.3 Product Portfolio
8.4.2.4 Key Financials
8.4.2.5 Key Developments
8.4.2.6 SWOT Analysis

8.4.3 Project Juice

8.4.3.1 Company Overview
8.4.3.2 Business Description
8.4.3.3 Product Portfolio
8.4.3.4 Key Financials
8.4.3.5 Key Developments
8.4.3.6 SWOT Analysis

8.4.4 Terranova Synergistic Nutrition

8.4.4.1 Company Overview
8.4.4.2 Business Description
8.4.4.3 Product Portfolio
8.4.4.4 Key Financials
8.4.4.5 Key Developments
8.4.4.6 SWOT Analysis

8.4.5 Raw Generation

8.4.5.1 Company Overview
8.4.5.2 Business Description
8.4.5.3 Product Portfolio
8.4.5.4 Key Financials
8.4.5.5 Key Developments
8.4.5.6 SWOT Analysis

8.4.6 Pukka Herbs

8.4.6.1 Company Overview
8.4.6.2 Business Description
8.4.6.3 Product Portfolio
8.4.6.4 Key Financials
8.4.6.5 Key Developments
8.4.6.6 SWOT Analysis

8.4.7 Hain Celestial

8.4.7.1 Company Overview
8.4.7.2 Business Description
8.4.7.3 Product Portfolio
8.4.7.4 Key Financials
8.4.7.5 Key Developments
8.4.7.6 SWOT Analysis

8.4.8 Dr Stuart's

8.4.8.1 Company Overview
8.4.8.2 Business Description
8.4.8.3 Product Portfolio
8.4.8.4 Key Financials
8.4.8.5 Key Developments
8.4.8.6 SWOT Analysis

8.4.9 Jus By Julie

8.4.9.1 Company Overview
8.4.9.2 Business Description
8.4.9.3 Product Portfolio
8.4.9.4 Key Financials
8.4.9.5 Key Developments
8.4.9.6 SWOT Analysis

8.4.10 Temple Turmeric

8.4.10.1 Company Overview
8.4.10.2 Business Description
8.4.10.3 Product Portfolio
8.4.10.4 Key Financials
8.4.10.5 Key Developments
8.4.10.6 SWOT Analysis

8.4.11 Other Key Players

Chapter 9 Research Methodology

9.1 Research Methodology
9.2 Primary Research
9.3 Secondary Research
9.4 Report Scope

Chapter 10 About Us
Chapter 11 Disclaimer

Inquiry Form

Why Choose Us

360 Degree Approach
Growth Consulting
24/7 Research Support
Comprehensive-Level of Customization
Comprehensive-Level of Customization
Competitive Intelligence
Single-Country/ Region Intelligence
Post-Sale Service Assistance
Access to Lead Analysts
Available in PDF, Excel, Word/ PPT

Request for Customization
✖
Request a Sample Report
We'll get back to you as quickly as possible
Frequently Asked Questions (FAQ)
What Are The Benefits Of Detox Drinks?
Detox beverages have a number of benefits, including aiding weight loss, aiding digestion, improving liver function, inhibiting inflammation, and improving skin conditions.
What Is The Difference Between A Juice Cleanse And A Detox?
While both focus on detoxifying your body, "cleanses" generally focus on gut health, while "detoxes" are a targeted detoxification approach that involves feeling refreshed, restored and revitalized on a cellular level.
What Are The Growth Prospects Of The Global Detox Drinks Market?
Global Detox Drinks Market is valued at US$ 1,155.0 Mn and is expected to register a CAGR of about 8% over the forecast period. The North America region dominates the market in 2021.
Which Are The Most Popular Detox Drinks?
Some of the popular detox drinks include lemon and ginger detox, cucumber and mint, cinnamon and honey, honey-lemon-ginger tea and fruit-infused tea.
Which Are The Key Players In The Detox Drinks Market?
The detox drinks market landscape appears highly fragmented across various regions.  Unilever  Suja Life, LLC  Project Juice  Terranova Synergistic Nutrition  Raw Generation  Pukka Herbs  Hain Celestial  Dr Stuart's  Jus By Julie  Temple Turmeric  Other Players
OUR
CLIENTS
Don't just take our word. We are trusted by these great companies!