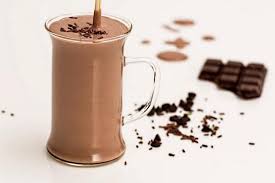 Global Chocolate Powdered Drinks Market Trends, Applications, Analysis, Growth, and Forecast: 2019 to 2028
find_in_page Our Research Methodology is based on the following main points:

Data Collections and Interpretation
Analysis
Data Validation
Final Projections and Conclusion



"Global Chocolate Powdered Drinks Market" is the latest title and report updated by MarketResearch.biz. With a 10-year forecast, the report offers fresh and in-depth insights, historical and projected revenues, and other information regarding the market. Included are the various trends, drivers, restraints, opportunities, and threats in the market. Besides Porter's and PEST analysis, the report offers thoroughly researched and analyzed information, and profiles of the top players operating in the market, their financials, innovations in recent years, key developments, agreements and strategies, acquisitions and mergers, and regions of operation. The global chocolate powdered drinks market report has been segmented on the basis of ingredients, type, distribution channel, and region.

Overview

Instant chocolate drinks can simply be prepared by adding contents to a glass or cup, adding water or milk and serving cold or hot. Water-based chocolate powdered drinks are generally cold beverages which include soft drinks or energy drinks. Milk-based chocolate drinks include chocolate drinks, protein shakes, cappuccino mixes, etc. Such drinks are beneficial for health, and have good taste and flavor which appeals to consumers of all age groups, by young children and teenagers make up most of the consumer base. Improvements and advancements in chocolate powdered drinks such as addition of dry fruits, natural flavors, and herb offers additional health benefits to chocolate powdered drinks.

Dynamics

Chocolate has always been a popular product in various forms for a vast majority of consumers globally. Chocolate products and drinks are widely consumed at home, in cafes, stores, and cafeterias, in tetra packs, bottles, sachets, over-the-counter in mugs, cups, glasses, and others. Changing lifestyle, rise in disposable income, and changing food habits are among some of the key factors driving demand for cholate drinks. Factors such as low production cost and health benefits are some growth drivers.

Influence of the western culture is impacting growth of the market in a positive way. Development of newer products and reducing cost of end-products will open up new market opportunities. Moreover, enhancing taste and effective branding of powder drink products by manufacturers is a significant factor supporting growth of the market.

However, adulteration and poor quality of products is a restraining factor affecting growth of target market.

Regional Analysis

On the basis of geography, the market is segmented into North America, Europe, Asia Pacific, Latin America, and Middle East & Africa. Over 50% of the world's cocoa comes from West African countries including Nigeria, Ghana, and Cameroon, and maximum volume of cocoa seeds in the world and produced here. Brazil has emerged as the largest consumer of powder chocolate drinks as compared to other countries. Markets in North America, Europe, as well as Asia Pacific are projected to account for major revenue share in the global market.

Segmentation on the basis of Type

Segmentation on the basis of Distribution Channel

Non-store Based
Store Based

Segmentation on the basis of End-use  

Milk Beverages
Protein Shakes
Energy Drinks
Chocolate Drinks
Cappuccino Mixes

Segmentation on the basis of Region:

North America
Europe
Asia Pacific
Latin America
Middle East & Africa

Particular
Scope
Region

North America
Europe

Germany
UK
France
Italy
Spain
Russia
Rest of Europe

Asia Pacific

China
India
Japan
Australia
South Korea
Rest of Asia Pacific

Latin America

Brazil
Mexico
Rest of Latin America

Middle East and Africa

GCC
South Africa
Rest of Middle East and Africa

Actual Year
2019
Estimated Year
2020
Forecast Period
2020–2029
Revenue in
US$

Nestlé S.A.
Mars Inc.
PepsiCo Inc.
Mondelez
Gatorade
GlaxoSmithKline Plc.
Kanegrade Ltd.
OUR
CLIENTS
Don't just take our word. We are trusted by these great companies!