Japan Pharmaceutical Market
Japan is one of the largest pharmaceutical markets in the world. According to the Annual Pharmaceutical Production Statistics, published by Ministry of Health, Labor and Welfare (MHLW)'s, the Japanese market for prescription and nonprescription pharmaceuticals in 2019 accounted for US$ 105 Billion. Prescription pharmaceuticals comprise of approximately 90 % of the total market of pharmaceuticals. In the year, 2019, Imports of foreign pharmaceuticals accounted for approximately 30 % of the total Japanese market. The new coronavirus infection (COVID-19) is expected to have a significant impact on the domestic pharmaceutical market. The Japan's overall pharmaceutical market growth will be the slowest among with some negative compound annual growth rate (CAGR) between -1.2% and 0% in 2020-2024, while the worldwide growth is projected with a positive CAGR between 3.0% and 6.5 % during the 2020-2024period. However, despite the challenging pricing environment and negative effect on growth rate, the Japan pharmaceutical market is anticipated to be the 3rd largest market in the world.
Japan Pharmaceutical Market Overview and Trade Data, 2016–2019
| Particular | 2016 | 2017 | 2018 | 2019 |
| --- | --- | --- | --- | --- |
| Total Local Production | 60960 | 59958 | 62570 | 84600 |
| Total Exports | 1617 | 1489 | 1714 | 1350 |
| Total Imports | 36310 | 30671 | 28516 | 24971 |
| Imports from the U.S. | 6313 | 6484 | 6688 | 4944 |
| Total Market Size | 95856 | 89141 | 89372 | 105545 |
| Exchange Rates | 109 | 112 | 110 | 110 |
Source: Ministry of Health, Labor and Welfare of Japan, 2021
Health Medicine Spending Trends of Major Countries, 2020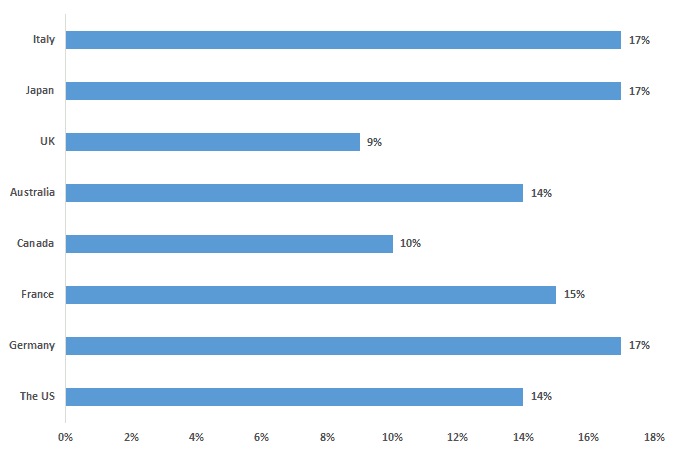 Leading Pharmaceutical Company Market Share (%), 2021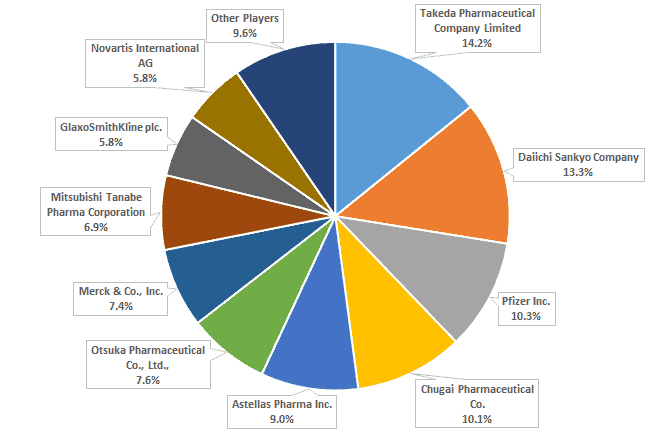 Japan's healthcare system has the highest marks for providing both basic care to the people of Japan and a free choice of doctors to all citizens, at an affordable cost, under the National Health Insurance (NHI) system established in 1961. The OECD defines the health/ well-being rank of the Japanese people as best in the world. The japan have world's highest life expectancy rate and also the lowest rate of infant mortality. The country spends about 10% of its GDP on healthcare system and infrastructure. However, Japan's aging population, coupled with a fading number of children has led to serious financial difficulties for Japan's healthcare/medical system. In the recent times, the Japanese government has been taken numerous measures to cut healthcare expenditure. Major companies have expressed serious concerns that frequent changes to the Japanese pricing and reimbursement systems have made Japan an unpredictable market in the world. Additionally, the current biennial reimbursement price revision to the annual revision scheduled from JFY 2021 is expected to have major impact on the prices of pharmaceutical products depending on the scope of products covered under the off-year revision.
Leading 10 Pharmaceutical Companies Worldwide by Revenue in 2020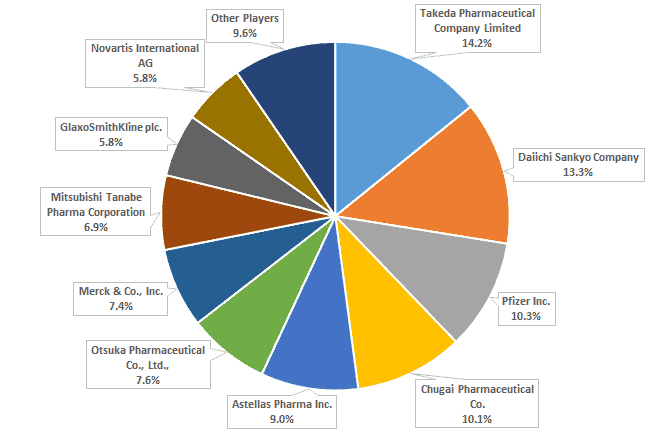 In Japan, the new drug prices are decided solely by the government. With competition among wholesalers, the drug prices are under constant pressure for offers and discounting, and the resulting market price is fluctuation in the biennial price revision. Recent reform of the pricing system of pharmaceutical products has seen innovative drugs as well as a price – premium and price – security for a limited period. It is crucial for many companies to demonstrate how innovative and indispensable their developing drugs are as well as how to negotiate the right premium up front, since this will define its value for the entire product lifecycle.
Pricing Premium System for Medicines in  Japan                                                                                                        
| Type of premium | Premium (%) | Basic rules |
| --- | --- | --- |
| Novelty premium | 70–120 | Meeting all three conditions: clinically useful new mechanism of action, high efficacy/safety, improvement of disease treatment method |
| Utility premium (i) | 35–60 | Meeting two conditions of novelty premium: clinically useful new mechanism of action, high efficacy/safety, improvement of disease treatment method |
| Utility premium (ii) | 5–30 | Meeting one condition of above (tier i) or a formulation improvement shows a high medical usefulness |
| Marketability premium (i) | 10–20 | The orphan drug, etc. |
| Marketability premium (ii) | 5 | Efficacy and effectiveness shows superiority over comparison drug |
| Pediatric use premium | 5–20 | Dosage and usage expressly include those pertaining to children, etc. |
| Sakigake designation premium | 10–20 | Newly entered drugs that have Sakigake designation, including drugs where pharmaceutical approval was obtained in Japan ahead of other countries, etc. |
Source: JMPA & MHLW
There are many local and global biotech companies in Japan to. Nearly 20 years ago, there were more than 500 pharmaceutical/biotech companies in Japan. This number has been reduced to 100 companies through M&As, but the partnership opportunities remain vast. Many small companies that haven't generated new treatments for years have historically been protected by government regulations. The new pricing system reform means that these companies must look beyond Japan for partnerships in order to survive. In return, they can bring value in helping to navigate the aforementioned Japanese business environment.
Some Major Highlights of Japan Pharmaceutical Sector
Japan Pharma's Prescription Market – revenue is forecast to grow to US$ 69.5 Bn by 2025.
Largest Pharma Company Growth – Ono Pharmaceutical Co., Ltd. is expected to account for the highest growth rate in the forecoming years
Company's Revenue Decline – Daiichi Sankyo Company is expected to register a decline in the revenue
Most Valuable Therapy Areas – Oncology and CNS are the two most valuable therapy areas in the Japan