Cosmetic And Beauty Trends
Cosmetic and beauty trends in Japan are shifting in this ongoing COVID-19 pandemic. People are gaining interest in various skincare and skin microbiome products. People started growing interest in functional and customized cosmetics, which has changed consumers' purchasing habits during covid and post-COVID-19. @cosme is a cosmetics portal established and owned by firm istyle Inc. – Japanese beauty retail and media. This online platform operates across Japan, Taiwan, Hong Kong and Thailand. @cosme has won the Best Cosmetics Award is a bi-annual ranking, and is planning to expand their presence in the middle at the end of the year. The line-up of award-winning products is based on product reviews and opinions of @cosme customers in Japan. This year, @cosme registered approximately one million reviews, up 130% from last year, and awarded the 1st​ Grand Prize to Lancôme Advanced Génifique Youth Activating Serum.
Global Cosmetics and Toiletries Market Share by Product Type, 2020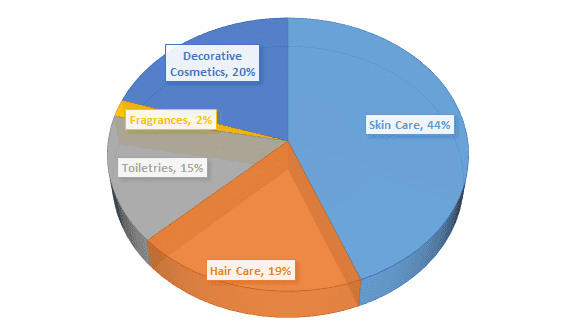 @cosme is an online Japanese cosmetics portal/shopping site, which is the biggest and the most influential online beauty community in Asia today. The Best Cosmetics Awards are released in June (mid-year) and December (year-end) every year, listing up the most popular and trending beauty products by category (skincare, makeup, body care, etc.). The rankings are based on real users' votes, so it's genuine and trustworthy. The cosmetics industry and market in Japan are huge and incredibly fast-moving, and tons of new beauty products are released every season, from high-end makeup brands to affordable drugstore skincare brands.
@Cosme Grand Prize Product List
| Rank | Products |
| --- | --- |
| 1 | Canmake – Plump Lip Care Scrub |
| 2 | SUQQU – Signature Color Eyes |
| 3 | Kanebo – Scrubbing Mud Wash |
| 4 | CEZANNE – Watery Tint Lip |
| 5 | Maquillage – Dramatic Nude Jelly BB SPF 50 PA+++ |
| 6 | ELIXIR – Balancing Mizu Cream |
| 7 | My Beauty Diary – Rejuvenate Deep Hydration Mask |
| 8 | Fujiko – Nuance Wrap Tint |
| 9 | Maquillage – Dramatic Powdery EX Foundation SPF 25 PA+++ |
| 10 | Dior – Forever Cushion Powder |
Beauty may be in the eye of the beholder, but there is little debate when it comes to the long-term attractiveness of the global beauty industry. Not only has it grown steadily, but it has also created generations of loyal consumers. Based on the scenarios most expected by global executives and current trends, we estimate global beauty industry revenues could fall 20 to 30 percent in 2020. The beauty industry is edging deeper into a pivotal, post-pandemic year. And as 2021 advances, interest in the skin microbiome continues to soar as science and innovation deepen and consumer curiosity rises – fuelled by a self-care society fixated on skincare and holistic wellbeing.
Leading Regions/ Countries Market Shares for Cosmetics and Toiletries Market in 2020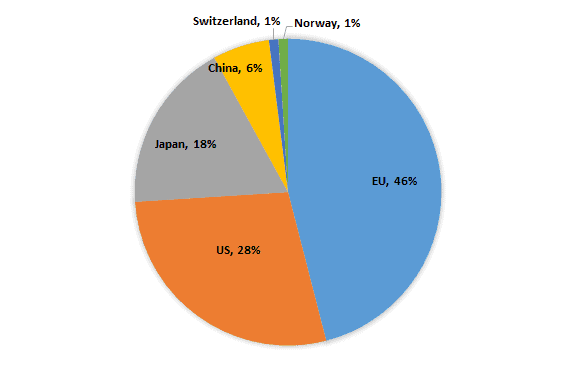 UrCosme (@cosme TAIWAN), a Taiwanese makeup review website run by the @cosme group, has also released its "UrCosme (@cosme TAIWAN) THE BEST COSMETICS AWARDS 2020 Mid-Year New Products". In this ranking of the cosmetic products released in the first half of 2020 with the most support from Taiwanese users, 21 of the most popular new products reflecting Taiwan beauty trends from the first half of the year were chosen.